Horror
Like This Season of AMERICAN HORROR STORY? Read This Book!
This list of books paired with American Horror Story is sponsored by Tor Teen.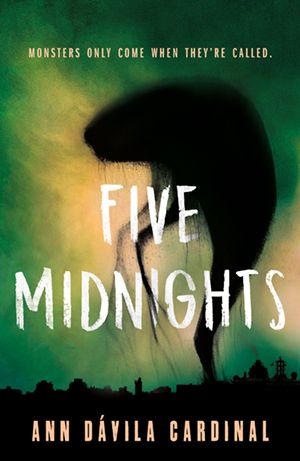 Five friends cursed. Five deadly fates. Five nights of retribución. If Lupe Dávila and Javier Utierre can survive each other's company, together they can solve a series of grisly murders sweeping through Puerto Rico. But the clues lead them out of the real world and into the realm of myths and legends. And if they want to catch the killer, they'll have to step into the shadows to see what's lurking there—murderer or monster?
---
Fans of American Horror Story can all agree on one thing—that no one can agree on the best season. For those who aren't familiar with this cult show, each season features a full story arc, with a beginning, middle, and end, making each its own story that remains independent of the other seasons. Many actors play different roles across seasons, and many celebrities make appearances (usually to die a gruesome death).
While certain seasons top a lot of people's lists (Murder House is listed often at the top), it's a hotly debated topic among fans, and people never stop arguing about what their favorite is.
This spooky season, why not pick up some books to fit with your favorite season of American Horror Story? Whether it's Roanoke or Coven or 1984, this selection of books spans across the horror genre, and you'll love spending time creeping yourself reading these terrifying books.
Murder House
This House Is Haunted by John Boyne
It's the mid-1800s, and Eliza is a young governess newly hired at Gaudlin Hall. She is greeted by the two children in her care, but to her confusion, she can find no parents at the house and no explanation as to where they are. Eliza senses something is wrong, and in order to keep the children—and herself—safe, she'll have to uncover the secrets and demons of the house.
We Have Always Lived in the Castle by Shirley Jackson
There once were seven Blackwoods, until a fatal dose of arsenic killed members of the family one night. Constance, acquitted of the murders, has returned home to her sister Merricat and her uncle. The villagers do not trust the Blackwoods, and when mysterious cousin Charles appears, it seems there may be a new danger to look out for.
Asylum
The Poison Thread by Laura Purcell
Dorothea is delighted she is sent to work at Oakgate Prison, where she can further study her interest in phrenology and its connection to committing crimes. She soon meets Ruth, a teenage prisoner, who claims her crimes were not committed by her, but instead, by her needle and thread wielding supernatural powers. Though Dorothea doubts Ruth's far-fetched stories, as she learns more about the prison and its inhabitants, she wonders if there may be supernatural forces at work after all.
Asylum by Madeleine Roux
Dan Crawford cannot be more excited to leave his high school for New Hampshire College Prep's summer program. But when he arrives, he learns his dorm used to be a sanatorium for the criminally insane. He is fascinated, and Dan and his new friends explore the history and the structure of their summer home, but soon they're in over their heads as they uncover secrets that refuse to stay buried.
Coven
The Witch of Willow Hall by Hester Fox
After a scandal in the early 1800s, the Montrose family and their three daughters leave Boston for a country home, Willow Hall. But the idyllic home soon turns sinister, with a dark history calling to the sisters.
The Familiars by Stacey Halls
Fleetwood Shuttleworth is pregnant again after many miscarriages, and her husband is anxious for an heir to carry their family legacy. But Fleetwood discovers a hidden letter that predicts she will not survive another birth. Soon she meets a midwife named Alice, who promises to keep her and her baby healthy. Then Alice is accused of witchcraft, and Fleetwood's world begins to unravel.
Freak Show
Something Wicked This Way Comes by Ray Bradbury
A carnival rolls into a small town in the Midwest, a week before Halloween, and the local townspeople are lured by promises of wishes granted and dreams come true. But two young boys will soon learn the cost of bargaining for wishes.
Wonderland by Jennifer Hillier
Wonderland is a magical, retro carnival, entertaining children and families with candy and games. But in the early hours of the night, a dead decaying body is discovered in the midway for all to see. Vanessa Castro, deputy police chief, is now responsible for discovering the identity of the victim and the cause of his death. And seedy rumors surrounding the dark history of the amusement park lurk eerily closer and she comes closer to solving the mystery.
Hotel
The Graveyard Apartment by Mariko Koike, translated by Deborah Boliver Boehm
A young married couple move into a brand-new building next to a graveyard. But their new home is not as idyllic as it seems, as strange occurrences startle them and their neighbors, and one by one residents begin to move out.
Night Film by Marisha Pessl
A young woman is found dead in lower Manhattan, ruled a suicide, but investigative journalist Scott McGrath doubts this verdict. As he digs into the case, he comes face to face with her father's legacy—a horror film director with a fan-cult-like following, who also hasn't been seen in public for more than 30 years.
Roanoke
The Confessions of Frannie Langton by Sara Collins
Frannie Langton, a servant and former slave, is accused of the brutal double murder of her employers. The courtroom draws hordes of enraptured people, eagerly following the case as it unfolds. The reports in the papers accuse Frannie of being a seductress, a witch, and much much more. But she claims she cannot remember that evening at all.
Widdershins by Helen Steadman
Jane is an apprentice healer, using herbs to cure the sick. But her sheltered life in a small village can't protect her from what is about to happen. John Sharpe finds his purpose—to find witches and save people from the sins of witchcraft, and soon, Jane and her mother find their safety may not be as secure as they once thought.
Cult
The Ballad of Black Tom by Victor LaValle
Charles Thomas Tester works hard to keep his family afloat, using his knowledge of magic to profit and provide. But when he delivers an occult book to a sorceress in the heart of Queens, Tom inadvertently opens the door to a deeper—and darker—world in the underbelly of New York.
A Head Full of Ghosts by Paul Tremblay
Fourteen-year-old Marjorie, to her parents despair, begins to display signs of acute schizophrenia. Doctors are unable to stop or help her, and as their once-stable suburban New England home unravels more and more, they turn to a Catholic priest for help. With expenses piling up, the family also agrees to be filmed, and soon are the stars of a hit reality television show documenting their daughters descent into illness and the priest's attempt to exorcise her demons, until everything explodes in tragedy.
Apocalypse
After the Fire by Will Hill
Moonbeam has only known life inside the Fence. If she follows Father John's rules, she will be safe. But when a newcomer joins their family, Moonbeam starts to question Father John. And bad things happen when people question Father John. Based on the real Branch Davidians cult in Texas led by David Koresh, this novel follows a young girl's journey to discovering that asking questions may be the way to set her free.
(Disclaimer: The writer of this post works for the publisher of this book.)
The Glass Woman by Caroline Lea
Rosa has always dreamed of leading a simple life surrounded by her family, but after unspeakable tragedy, she marries a visiting trader in exchange for a dowry to stay afloat. The two journey across the countryside of Iceland to his remote home near the sea, and his expectations are that Rosa maintain the house and remain a good Christian wife. But Rosa becomes lonely, forbidden to interact with neighbors and locals, so she is forced to socialize in secret. Soon, she learns some unsettling things about her new husband.
1984
Ghost Summer: Stories by Tananarive Due
This collection of summertime haunts takes readers from a small Florida town with ghosts to a futuristic scenario that is frighteningly real.
The Troop by Nick Cutter
Tim Riggs leads a troop of boys into the wilderness once a year—a three-day camping trip that has become a comforting tradition. But this year, an unexpected intruder stumbles upon their campsite, a carrier of a bioengineered nightmare that threatens their existence. It soon becomes the boys against the elements, the disease, and one another.