Children's
Florida Book Banner Claims ARTHUR'S BIRTHDAY Could "Damage Souls"
This content contains affiliate links. When you buy through these links, we may earn an affiliate commission.
In Florida's Clay County School District, the 1989 book Arthur's Birthday by Marc Brown is one of at least eight books conservative activist Bruce Friedman has challenged in the last month, trying to get them removed from school libraries. In a November school board meeting, Friedman said he had compiled a list of 3,600 books he found objectionable and would challenge each and every one to "overwhelm your awful, awful procedures and policies."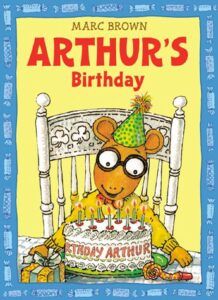 On the book challenge form for Arthur's Birthday, Friedman answered the question "What do you believe might be the result of a student using this material?" with "Damaged souls." Later in the form, he said that it was not appropriate for any age group and that there was nothing good in the book.
His objection to Arthur's Birthday was a line in which a character asks if they will be playing spin the bottle at Arthur's birthday party, though the game is not played or explained in the story.
Friedman is the president of the Florida chapter of the group "No Left Turn in Education," which purports to fight "radical indoctrination in K-12 education" — and there's nothing more radical than Arthur.