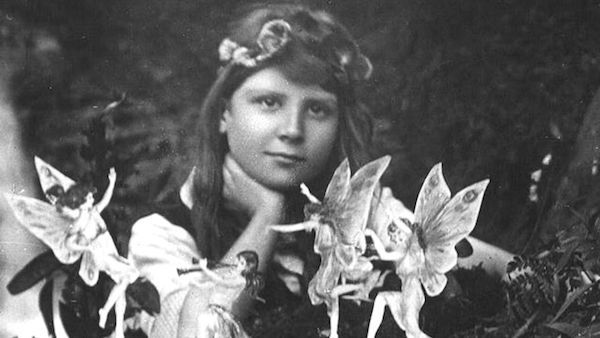 This content contains affiliate links. When you buy through these links, we may earn an affiliate commission.
To celebrate the birthday of Arthur Conan Doyle, we're writing about all things Sherlockian/ACD today. This piece on Arthur Conan Doyle, spiritualism, and fairies is sponsored by The 7 ½ Deaths of Evelyn Hardcastle by Stuart Turton.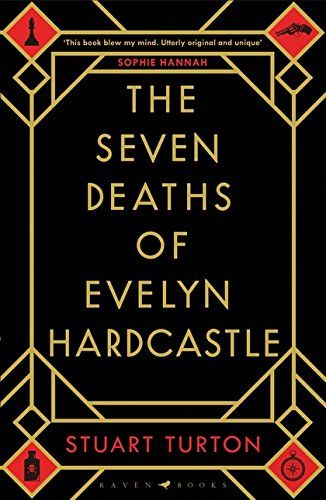 The most inventive debut of 2018, this clever, mind-bending murder mystery will leave readers guessing until the very last page.
One of Stylist Magazine's 20 Must-Read Books of 2018.
One of Harper's Bazaar's 10 Must-Read Books of 2018.
One of Marie Claire, Australia's 10 Books You Absolutely Have to Read in 2018
At a gala party thrown by her parents, Evelyn Hardcastle will be killed. Again. She's been murdered hundreds of times, and each day, Aiden Bishop is too late to save her. Doomed to repeat the same day over and over, Aiden's only escape is to solve Evelyn Hardcastle's murder. However nothing and no one are quite what they seem.
---
May 22nd is Sir Arthur Conan Doyle's 159th birthday. Huzzah! Of all the many things Arthur Conan Doyle is known for, most people likely think instantly of Sherlock Holmes. Certainly that is what I think of. Well, I think of Benedict Cumberbatch first, because honestly. And then I think of Sherlock. But a fact about Arthur Conan Doyle that maybe isn't quite as well known is his utter belief in fairies.
Enter the Cottingley fairy pictures.
In 1917, two cousins, Elsie Wright and Frances Griffiths, decided to use Frances's father's camera to take pictures of fairies they had cut out of a magazine, artfully arranged, and claimed they were real. They did this as a prank because Frances had gotten into trouble for falling into a nearby stream and getting her dress dirty. When asked how it got dirty, she told her mother it happened while playing with the fairies. Mother was not amused and punished her.
When word of the Cottingley fairy photos started spreading, naturally there were plenty of skeptics. But lending credence to the photos was the voice of Arthur Conan Doyle, who wrote personally to the girls and their father, asking if he could use the images in an article he was writing for The Strand about fairy sightings. Griffiths and the girls were delighted to have been contacted by such a famous author and gave him permission to use the photos.
I think it's a natural thing to wonder why anyone would think that those photos were real, and certainly why someone like Conan Doyle, who created arguably the most logical character in literature, believed it. But I think we also have to realize that, at the time, the world was just coming out of World War I and spiritualism was having a really big moment. Spiritualism is communing with spirits or ghosts, usually through the use of a medium. Spectral or spirit photography was also highly in fashion at the time as well. Many thought that cameras could pick up images that human eyes couldn't. Many people were also bereaved by the war. As a result, people would pay a shitload of money for a photograph of a loved one who died in the war. Spirit photography was perhaps a more modern extension of the Victorian practice of death photography. Given the contemporary interest in spiritualism, it doesn't seem too much of a stretch that people would believe that fairies could also be photographed as well as spirits of the dead.
Belief in fairies, the unseelie, the Little Folk, the fae, and whatever else you want to call them is simply in the bones of the earth in certain parts of the world. Britain, Ireland, Scotland, Wales, generally the Celtic lands, all happily have a still-thriving feel of the otherworldly. British literature from centuries past bears out a strong belief in the existence of fairies or other such beings. It's really no wonder. You try coming up a hill in the early morning and seeing a stone circle or tower rise out of the mist, and tell me you don't believe in fairies. I'm as atheist as they come and *I* believed in fairies when I wandered through the mist and up the side of Glastonbury Tor and saw the whole place shrouded in mists. Fairies are fucking real in places like that. To a person who was deeply invested in the spiritualist movement, such as Conan Doyle and many others at the time were, the belief in fairies and spirits seems a natural response not only to their cultural and historical surroundings, but also to the lingering traumas of war. As with all myth and legend, fairy stories serve a purpose and fulfill a need on some level. The Cottingley fairies filled some kind of need in people, and Arthur Conan Doyle was no exception to that need.
If you want to know more about the fairies, as Arthur Conan Doyle did, perhaps these books will pique your interest. Hit me up with some of your own recommendations as well!
I mean…this one has the entire history of spiritualism, up to the time it was written. It is a tome. A doorstop. A bible-length book you can use to learn about spiritualism, or as a blunt force weapon with which to make new spirits. Conan Doyle tries hard to be objective, but he really can't be about something he actually believed. Take this with a grain of salt, but this really is worth a look at.
Really, ALL of Froud's faerie books should be on your shelves if you love the fae, especially his iconic book, Faeries, but this one seems especially appropriate if you have an interest in the Cottingley fairies. It is a cheeky book, written as though by a young girl out to catch faeries. N.B. no faeries were harmed in the making of this book.
I actually use some of this in the university class I teach on fairy tales and folklore. It deals with some ways in which psychology can be applied to fairy tales. You'll never be able to read "Little Red Riding Hood" the same way again.
This one isn't so much fairy nonfiction as it is kickass girls saving their sisters from the angels of the apocalypse and street gangs, and getting help from fallen angels and quests for various kinds of salvation. It's so awesome.
Meghan has never felt quite right, or quite accepted, since her father disappeared before her eyes when she was six. Now weird things are happening to her, and oh hey! She's the daughter of a fairy king and is being used as a pawn in a supernatural war. A fun, light read, perfect for a day at the beach, or in the woods while you look for fairies.