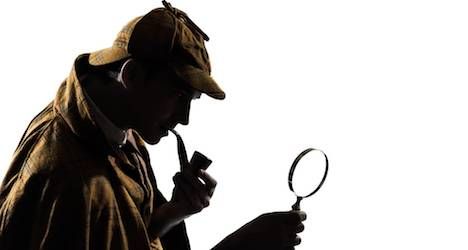 To celebrate the birthday of Arthur Conan Doyle, we're writing about all things Sherlockian/ACD today. "Who Owns Sherlock Holmes?" is sponsored by The 7 ½ Deaths of Evelyn Hardcastle by Stuart Turton.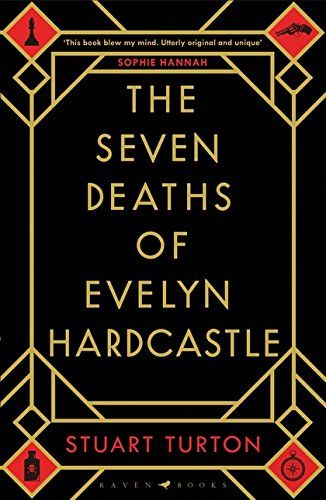 The most inventive debut of 2018, this clever, mind-bending murder mystery will leave readers guessing until the very last page.
One of Stylist Magazine's 20 Must-Read Books of 2018.
One of Harper's Bazaar's 10 Must-Read Books of 2018.
One of Marie Claire, Australia's 10 Books You Absolutely Have to Read in 2018
At a gala party thrown by her parents, Evelyn Hardcastle will be killed. Again. She's been murdered hundreds of times, and each day, Aiden Bishop is too late to save her. Doomed to repeat the same day over and over, Aiden's only escape is to solve Evelyn Hardcastle's murder. However nothing and no one are quite what they seem.
---
Sherlock Holmes has existed since the 1800s, since Edgar Allan Poe created Detective Dupin, who worked for the French police. We know our Sherlock as the clever detective, who makes it a point to observe men and make deductions about their behavior. Artistic license such as the "speckled band" swamp adder could pass muster because his tales showed Sherlock's brilliance. If someone ever outwitted him, like Irene Adler, he viewed them with grudging respect. Watson in turn earned his respect by telling the stories; Sherlock, on trying to write one such tale found it harder. With that said, when did the writer use control?
Metaphorical Death of the Author
Sir Arthur Conan Doyle intended for Holmes to merely exist for a few years. He wrote other characters, stories, and so-called facts; he also nurtured a belief in spiritualism and the fantastic. Even when his friends disproved these notions, Doyle insisted on believing. Perhaps this is why he came to loathe how people adored the logical, calm Sherlock. And perhaps this is also why Watson in the Basil Rathbone incarnations got the short end of the stick, despite being a doctor and war veteran. People don't forget cynical authors.
We all know that Doyle tried to kill off Sherlock, albeit in a heroic manner; Sherlock sends away Watson before he confronts Moriarity, and they both die fighting at the Reichenbach Falls. The story makes it clear that Sherlock would not suffer a loss of reputation, or of his platonic love. Watson mourns Sherlock but understands why he made his sacrifice. We got a proper goodbye.
The public wouldn't accept this. Doyle's mother wouldn't accept this. So Doyle wrote that both men survived the fall, and that Sherlock went into hiding, so as to keep Watson safe. In time, Sherlock's platonic love for Watson, his death, and his resurrection entered the detective's mythos. No matter which version we see, from the animated Great Mouse Detective to the modern BBC series with Benedict Cumberbatch, Sherlock would fall, only to rise again. Nothing could kill him, not even the author. Sherlock has become, for all intents and purposes, immortal.
New Owners?
With this, who owns Sherlock? Who decides if he lives or dies in his story? Do we Americans have claim to one facet of Victorian literature? After all, several successful American films and books feature Sherlock, with American actors portraying him.The newest incarnation, Elementary, has earned its spot as a remarkable adaptation.
Even so, can the British put down their stronghold? They have the copyright. Is it the pop culture image where he smokes a pipe and wears a deer cap? The modern image of a man lacking in social skills but proud of his astute observation, who can charm flies with his violin? The drug addict who lives on Baker Street and needs a doctor to keep him clean, whether his doctor is the crack-shot veteran played by Jude Law, or the budding apprentice played by Lucy Liu?
Mundane, but Elementary Solution
The copyright may provide the answer. In 2014, Sherlock established that he belongs to the public domain. It may provide the answers that we need. If no estate or heir or corporation owns Sherlock, then he belongs to everyone. Despite that, however, that fact seems to stand pale and stark in contrast with how we know Sherlock and Watson. They seem to be more than characters we can freely use for our fan fiction and published fiction. In fact, they seem to transcend the need.
We also have various interpretations on the lore. Neil Gaiman, for example, wrote a tale where Sherlock exists in a Lovecraftian London. He wrote another where Sherlock decides to investigate the mystery of death, and how to stop it; cue the beekeeping and travels to other lands to find the answer. We also have Laurie King's series, where Sherlock adopts a protege named Mary who understands him and his bees.
Film also has its versions. As mentioned before, we have the Great Mouse Detective, an adaptation of the Basil of Baker Street series. The series itself is an affectionate parody, but the film shows Sherlock and Watson conversing. The incarnations persist through time, sometimes. Do any of these authors, artists and companies have claim? Doubtful. We remember when Sherlock fans harassed Elementary fans, and so does Tumblr.
A Free Fictional Entity
No one owns Sherlock. That is what I conclude. We may believe that we have claim to him, but the truth is that if any one person did, they would decide the rest of the narrative. But they haven't. The narrative keeps changing and gaining more, like a separate organism crawling into the world. Sherlock has grown beyond the printed page, and far beyond the many cinematic outings. He is a free fictional entity, who doesn't care how the world sees him. Sherlock simply reenters the world with each adaptation, like an avatar of a fallible god. Watson may argue, since Watson chronicles for him, but the story keeps changing. Who knows what other lore we can add?
Also, why? What makes Sherlock special? It's quite simple: he owns the world merely by using his eyes and his brain. We enjoy seeing his conclusions, what he learns about human nature and individuals. He solves the case, by applying cool facts to behavior and emotion.