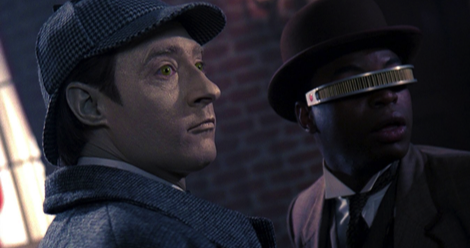 This content contains affiliate links. When you buy through these links, we may earn an affiliate commission.
To celebrate the birthday of Arthur Conan Doyle, we're writing about all things Sherlockian/ACD today. This list of takes on Sherlock Holmes in sci-fi and fantasy is sponsored by The 7 ½ Deaths of Evelyn Hardcastle by Stuart Turton.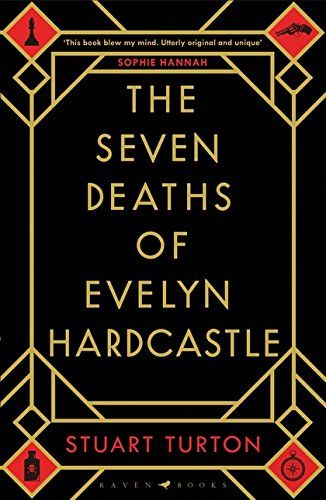 The most inventive debut of 2018, this clever, mind-bending murder mystery will leave readers guessing until the very last page.
One of Stylist Magazine's 20 Must-Read Books of 2018.
One of Harper's Bazaar's 10 Must-Read Books of 2018.
One of Marie Claire, Australia's 10 Books You Absolutely Have to Read in 2018
At a gala party thrown by her parents, Evelyn Hardcastle will be killed. Again. She's been murdered hundreds of times, and each day, Aiden Bishop is too late to save her. Doomed to repeat the same day over and over, Aiden's only escape is to solve Evelyn Hardcastle's murder. However nothing and no one are quite what they seem.
---
The great detective has long been lovingly referred to in science fiction, thanks to a combination of him being an utterly beloved character and out of copyright. Isaac Asimov edited a sci-fi short story collection about him, and I'll of course never forget watching Star Trek: The Next Generation as a kid and loving every time Mr. Data played Holmes on the holodeck.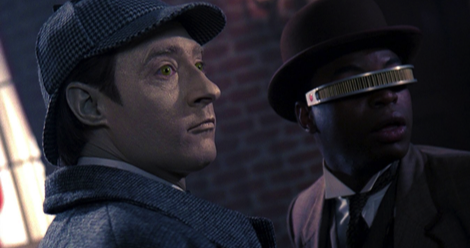 Maybe part of why Holmes has such a home (sorry not sorry) in speculative fiction is he was rather speculative himself when Sir Arthur Conan Doyle invented him. The "science of deduction" used by the detective was as much a what if then as the flip-phone style communicators of the original Star Trek were in its day. And because Sherlock Holmes leans so heavily on viewing his world and solving his cases through the lens of science, which makes him a natural to leap ahead into what is speculative now…or switch over to a more fantastical perspective where the laws of the universe allow magic. Ryan Britt wrote a great piece over at Clarkesworld about this.
While Sherlock Holmes pastiches and homages aren't quite as common in science fiction and fantasy as they are in the mystery genre, we've still got our fair share. Here are five of my favorites:
An homage with a female Holmes character (named Long Chau), a female Watson character who also happens to be a sentient space ship (named The Shadow's Child), and as you'd imagine if there's a space ship, it's set in space. This novella takes place in Aliette de Bodard's Xuya universe, a far future built on the foundation of China having gone to the Americas before Europeans did. It's a gorgeous and fascinating book, where Holmes and Watson are both recognizable and at home in this unique universe. I also love how The Shadow's Child's traumatic experience in battle so effectively touches on the original John Watson's history of having been in the war in Afghanistan.
This is the third book in Cornell's "Shadow Police" series, in which a supernaturally-powered London runs partially on the collective memory of its residents, which gives places and personifications a strange kind of life. And even if Sherlock Holmes was never a real person, enough people know his story and believe in him that he does sort of exist…up until he gets murdered. I found this book dark and fascinating, particularly because it considers the many incarnations we've known Holmes in.
This book is something of a pastiche to end all other pastiches, without being quite as ridiculous as The League of Extraordinary Gentlemen. This book mixes up six other books into Victorian London, with Sherlock Holmes as only one of many characters—and not even the main one. But what he lacks in page count in this book, he makes up for by being incredibly charming in his own Holmesian way.
A pastiche with the serial numbers only vaguely filed off, this puts Holmes and Watson (known as Brihtric Donne and Weston) in an alternate Victorian London where magic is real and the queen is guarded by druids. Unfortunately, the druids weren't guarding her quite hard enough, because the magic tome that gives Victoria her power has been stolen—so of course the great detective must find it. There's a ton of fun alternate history and recognizable figures in this book (including Ada Lovelace) even if the time does get a bit wibbly-wobbly to let it all happen.
An anthology that crosses over Sherlock Holmes's Victorian London and the mythos of H.P. Lovecraft, sometimes to very great effect. The horrors of the outer gods work incredibly well set in the 1890s, with Holmes, Watson, and Irene Adler notably facing them down. This anthology is also home to Neil Gaiman's Hugo Award-winning short story, A Study in Emerald.