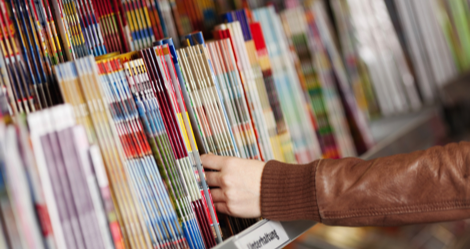 This content contains affiliate links. When you buy through these links, we may earn an affiliate commission.
We asked our contributors to share the best comic book, graphic novel, or webcomic that they read last month and here they are! We have memoirs, Neanderthal kids, the Civil Rights Movement, delightful fantasy, and more! There's new, and old, and not-out-yet. And remember to pop into the comments and tell us your favorite read in November!
In this middle-grade graphic memoir, Vera tells of the summer she spent at a Russian summer camp. The child of immigrants, she struggled to fit in with her more affluent suburban friends, but being surrounded by other Russian kids at camp didn't automatically make things easier like she imagined. This book reminded me a lot of Shannon Hale's Real Friends in its portrayal of how messy and mean childhood friendships and power structures can be. It also manages to be funny, smart, and heartfelt. Be Prepared tells a specific story in a way that makes it universally relatable to any reader who's ever gone to summer camp, felt homesick, or struggled to find her place among her peers.
—Emily Polson
A gorgeous, sad memoir about Bui's parents and their experiences growing up in Vietnam. The author and illustrator grapples with her relationship with her parents, and asks them questions about the past, eventually telling the reader of their lives from when they were young to their eventual flight from Vietnam to America. It is a story of revelation, past sorrows, and struggle, and I adored the art style—faded, natural, more monochrome, simple, expressive. In the end, the memoir says, all parents can do for their children is their best.
—Leah Rachel von Essen
A reimagining of DC's heroines, all during WWII, all as friends/teammates? Yep, yep, yep. I'll be honest, the first time I saw a cover for a Bombshells comic, I wasn't really sure what the point was—why the pinup-girl-like getup? But reading it proved me wrong. (I mean, other than the cuteness factor and the aesthetic the costumes still don't serve much of a purpose, but I came around on that front, too.) A story centered around Wonder Woman and a cast of her superhero friends trying to prevent the American government from putting Japanese American citizens in internment camps feels both important (we don't discuss the scale of awfulness that that was enough) and timely. To borrow a quote from the comic: "The sorry truth of 'but it couldn't happen here' is that it already has."
—Rachel Brittain
Tom Sukanen had an incredible story. Decades after migrating from Finland to the U.S., then Canada, he was living in a farming community hit hard by the Dust Bowl. In the midst of the hardship, he set about building a massive ship right in the prairies, with the aim of returning to Finland. His neighbors were flummoxed, and sometimes outraged, by this seemingly unhinged project. To tell Sukanen's story, this comic adapts a novel by the same name. It uses spare black-and-white drawings and attention to interpersonal dynamics to show just how driven Sukanen had to have been.
—Christine Ro
This graphic memoir is smarter than I am. Using a combination of memoir and literary analysis, Bechdel compares herself to her father, who you learn early on has died by suicide. And just a few months before his death, Bechdel had come out to her family, and then learned that her father is also gay. While this sounds like a depressing read, it really isn't, though neither is it light-hearted. It's philosophical, nostalgic, meta, literary, and very, very good.
—Margaret Kingsbury
Grand Theft Horse by G. Neri and Corban Wilkin (Lee & Low Books)
This is probably one of the most bizarre true stories you'll read all year! G. Neri tells the story of his cousin, Gail Ruffu, a horse trainer with decades of experience who has advocated for humane treatment of horses and is anti-doping. She was part-owner of a promising racehorse that became injured, and when her co-owners insisted the horse race anyway, she "stole" her own horse to protect him. For years she kept him in hiding and lived in poverty to keep her horse safe while fighting legal battles and dodging P.I.'s hired to find her horse. She even argued her case before the California Supreme Court! I loved the illustrations—Gail's determination and joy in horses are beautifully rendered.
—Tirzah Price
I tore through this graphic memoir in one night because I couldn't stop reading. Nourigat tells the story of how she got her start working in animation. Part memoir, part how-to guide, this book is a deeply honest, funny, and intriguing look at getting started in the arts and moving somewhere new. At the end, she has some of her friends tell their stories about how they got into the comics/graphic arts fields, as well, which I really enjoyed. Her voice is immensely likable, her art is fun, and the story one that anyone in the arts can relate to.
—Jaime Herndon
Stories about prehistoric humans are my catnip! This is the story of two Neanderthal kids living in the Stone Age, Lucy and Andy living Neanderthal life, hunting mammoths (or not), looking after their baby brother, making clothes, dealing with injury without medicine, and navigating social hierarchies. I love that Brown broke up the chapters with little bits of historical accuracy with two archaeologists (a white woman and a dark-skinned man). The anecdotes for each chapter are silly, but for the most part, they are based on current research about how Neanderthals lived. Brown even includes the Neanderthal family meeting a group of humans, showing the Neanderthals as light-skinned and ginger-haired, while the humans are a mix of skin colors, both of which are based on scientific evidence. Lots of fun with some archaeology seaming it together—sign me up!
—Aimee Miles
March: Book One by John Lewis, Andrew Aydin, and Nate Powell
This is book one of a three book set that focuses on Congressman John Lewis's childhood and early years in the Civil Rights movement during the 1950s and his role organizing sit-ins at segregated lunch counters in Nashville. I definitely will finish the set. What an engaging, wonderful way to learn about this fascinating man's contributions to a pivotal moment in our country's history.
—Heather Bottoms
Mera: Tidebreaker by Danielle Paige and Stephen Byrne (DC Ink; April 2, 2019)
As a generally rule, Mera has been ancillary to Arthur Curry in the DC comics-verse: his queen, his conscience, his rock, even ruler in his stead, but rarely the sole protagonist of the adventure. In Tidebreaker, though, the future queen of Atlantis is the focus: her youthful rebellion, her struggle to find her place, her confusion, her brilliance, her will, and her conscience. Arthur, to quote the other guys, it little more than her mission. It's a perfect time for kick ass ladies and Mera fills that role admirably. Also? Dark-haired Arthur is now comics canon.
—S.W. Sondheimer
Ellen Forney's first graphic memoir, Marbles, was about her life as an artist living with bipolar disorder—before and after her diagnosis. In Rock Steady, published eight years later, we get her tips 'n' tricks for managing mood disorders. Each chapter is a different segment of your mental health to focus on (sleep, human contact, meds, therapy, etc.), and at the end, there are merit badges! Her art style is wonderful, and she's so wise. Please do yourself a favor and read this book. Or just keep it on your shelf for reference when things get hard.
—Ashley Holstrom
This comic is such a mood. It's about a princess held hostage that decides to at least improve her sleep because the castle constantly exhausts her. Princess Syalis appears spoiled, but she's a great representation on self-care and the importance of changing what you can during bad circumstances.
—Priya Sridhar
Saga, Vol. 9 by Fiona Staples and Brian K. Vaughn
Ugh. UGH UGH UGH. Okay, for real though, I'd kind of forgotten to keep caught up with Saga around volume 7, but this month I went back and read volumes 5 through 9, which is the most recent edition of this incredible series. And the last volume is just…ugh. I don't want to introduce spoilers but if you've been, like me, slacking on keeping up, please just stop what you're doing and join the sob-fest with me.
—Rachel Manwill
An utterly delightful and imaginative story about a young a blacksmith apprentice who also finds herself learning about the world of of tea dragons. While it's easily a one sitting read, because it is separated into seasons you can make the magic last by reading it in bites. The artwork is just so lovely, and the characters beautiful I want to move to this world immediately.
—Jamie Canaves