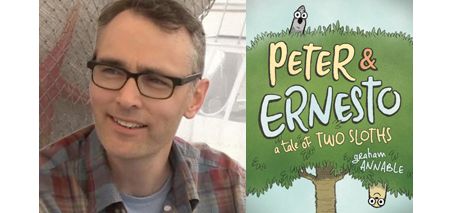 Children's
Interview with Graham Annable, Creator of PETER & ERNESTO
This content contains affiliate links. When you buy through these links, we may earn an affiliate commission.
Peter & Ernesto is about friendship, courage and fear. Two sloths enjoy watching shapes in the clouds while munching on hibiscus. One decides that the clouds are not enough, however; Ernesto wants to see the world. His friend Peter, though scared, decides to take off and find him. Their adventures bring a lot of heart.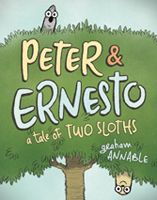 Peter & Ernesto is a graphic novel by Graham Annable, a flourishing animation director and creator. He has worked for Laika Studios, which has put out masterpieces such as Coraline and Kubo and the Two Strings. Annable has also created the comic Grickle. We are happy to have him here on Book Riot.
Peter & Ernesto is a charming tale that reassures us about our comfort zones and seeing what's out there. What was your inspiration for the tale?
The inspiration came from a lot of places for me. Probably the biggest was my love for Arnold Lobel's work, specifically his Frog and Toad series. I wanted to create a story that would hopefully capture a similar feeling of sincerity and simplicity between two friends who are very opposite. I wanted to show that there is equal value in their different approaches to life.
I'm more like Peter than Ernesto, in that I won't travel unless with family. Between the two sloths, which one is more similar to you?
I definitely am more like Peter as well! I tend to stick close to home and my routine. But I have a lot of Ernestos in my life and I admire their fearlessness and willingness to go out into the big world! They continually inspire me and help me get out of my comfort zone, and I know that's such an important element in my life.
Your previous credits are impressive; you've directed The Boxtrolls and served as a storyboard artist on Coraline, Paranorman, and Kubo and the Two Strings. How is working as a director different from working as a storyboard or cleanup artist?
It's a big difference in my opinion. The roots of what you need as a director are certainly found in the role of a storyboard artist. The focus on the big picture of what the film is about and why the characters are doing what they do is integral to navigating your way to a successful telling of a story on screen. And that is what you zero in on as a story artist and the thing you need to keep most central in your mind as you direct a movie.
But being in the position of director means you need to be a whole lot more things to more people to keep a production going. Every department needs to check in with you constantly and every element needs your attention and commitment to be at its best for the film. It's a lot more responsibility for sure. As a story artist I felt like someone who had gotten really adept at making paper airplanes but when I stepped into the role of a director I suddenly found myself in front of the controls of a 747 jet. That's the best way I can describe the difference for me.
Singing is an important motif for Peter and Ernesto, with both using song as a form of communication and to keep up spirits. What are your thoughts on music, especially in comics?
I love music and its ability to abstract and amplify emotion. It's an odd device to use in comics I will admit because you can't actually hear anything in the outside world. But I was really inspired by the Frances character in the Russell and Lillian Hoban books and how she would always sing silly songs to herself. When she sang I could hear the songs in my inside world in my head and it added so much to the story for me. I hope that when kids read Peter & Ernesto they will hear their own versions of the songs in their heads and that it helps to immerse them in the book.
How did you get started in animation and comic book work? What brings you joy when making art?
I've always drawn my whole life. It started out with dinosaurs and Spider-man and I just never really stopped. When it came time to choose a career I decided upon animation because it combined two things I loved, drawing and film. I had no clue about the actual process when I first showed up at Sheridan College for their traditional animation program and I still feel like I learn something new every day in this industry. The thing that brings me the most joy about art is when you create a moment or feeling in your work. When the animation or drawing truly connects to you and provides a sense of place and time. Almost like manufacturing a dream in front of someone. It's like a magic trick.
What is your favorite part about working on either comic art or animation?
I've been lucky enough to do both comic art and animation in my career and I like them both for different things. Working on comics for me has largely been a solo effort where I get to really delve into my own personal perspective on things and totally control the result. I love the creative control that comics offer. In animation things are much more team based in my mind. It's all about getting on board with an idea as a group and finding ways to elevate it and hit an overall vision as a team. I love being able to jump between the individual and team environments that both disciplines have.
Do you have advice for aspiring animators and comic artists, especially those that lack time or money to go to a professional art college?
Drawing. Interpreting and visualizing your experiences. The more you do something the more you inevitably refine it. The nice thing in the art world is at the end of the day it doesn't really matter where you got your training from, all that truly shows is the work you have in your portfolio. So keep at it!
What other projects, comics or otherwise, can we expect from you?
I've completed a second Peter & Ernesto book that I'm really proud of and I'm deep at work on another graphic novel aimed at slightly older kids that I'm very excited about as well! On top of that I'm still managing to put up a daily cartoon on my Instagram (grickle14) every day and continue to create animated shorts for the Grickle Channel on Youtube as well as work at Laika as a story artist on all their upcoming stop motion features. It keeps me busy! 🙂
Peter & Ernesto is out this month! Be sure to pick up a copy!
Looking for more comics for young readers? Check out A Guide to Comics, Webcomics, and Graphic Novels for Reluctant Readers, 50 Must-Read Middle Grade Graphic Novels, and check out all of our comics discussions.
Also In This Story Stream