This content contains affiliate links. When you buy through these links, we may earn an affiliate commission.
Happy Galentine's Day!
According to Leslie Knope (who is basically a professional best friend and therefore an authority on female friendship) it is a day to celebrate your lady friends while eating breakfast. "Ladies celebrating ladies. It's like Lilith Fair minus the angst. Plus frittatas."
And I don't know about you, but one of favorite ways to celebrate my friends is by sharing books with them. So, in honor of Galentine's Day, I've rounded up some of my favorite comics about female friendships.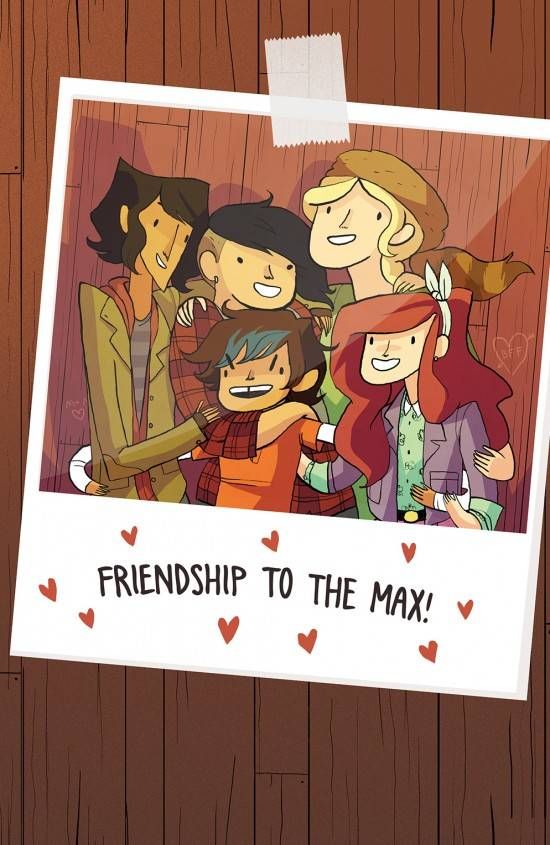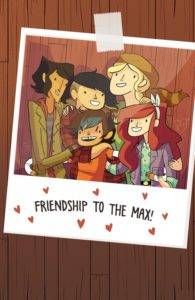 Lumberjanes by Shannon Watters, Grace Ellis, Noelle Stevenson, Brooke Allen, and many more
A comic whose overarching theme is "friendship to the max" deserves to be on every Galentine's list ever. If you haven't picked up Lumberjanes yet—a comic where five girls at summer camp make friends, fight mythical creatures, and also do crafts while cracking jokes and making many feminist references—grab your favorite ladies and get yourself to the comic book store.
Giant Days by John Allison, Lissa Treiman, and Max Sarin
I am late to the Giant Days party (I only just picked up the first trade, and the fourth comes out in March), but so glad I finally made it. This comic is laugh-out-loud funny and features a trio of girl friends at University who support and tease each other. As Susan Ptolemy says in Issue #1, Giant Days is "a walking advert for the Bechdel test." Also, sometimes they chant flashback, and then do a flashback, which I find hilariously meta.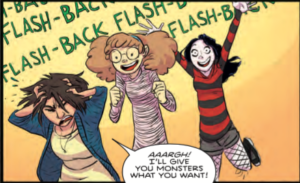 Squirrel Girl by Ryan North, Erica Henderson, and a bunch of other rad people
If Squirrel Girl is the Leslie Knope of superheroes (and she absolutely is: they're cheerful, unstoppable, and huge fans of both justice and teamwork) then Nancy Whitehead—roommate and best friend—is her Ann Perkins. Nancy and Doreen are so in sync in their friendship that when Doreen was sent back in time they figured out how to communicate across the decades.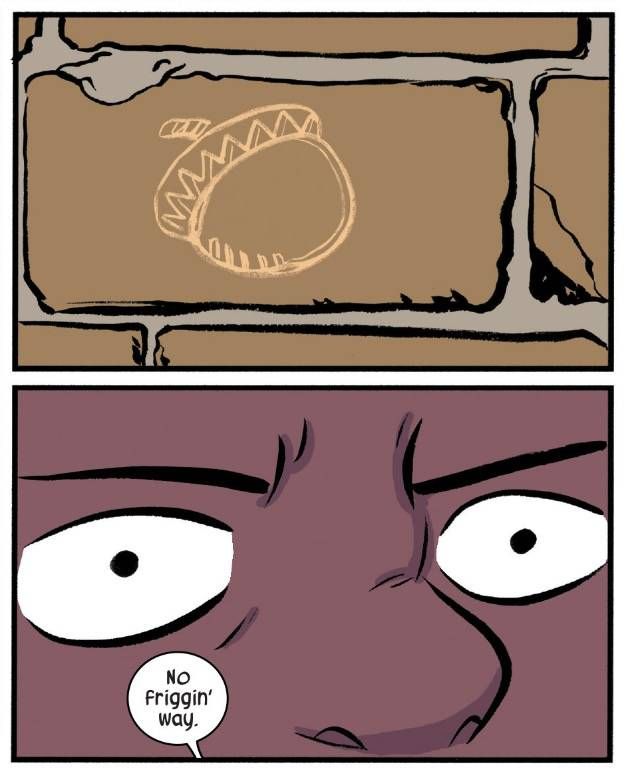 Kim & Kim by Magdalene Visaggio, Eva Cabrera, and Claudia Aguirre
They are best friends, they are bounty hunters IN SPACE, they are totally punk rock, they are Kim & Kim. I could go on and tell you about the sandworm they brought to life using necromancy and their first attempts at defeating it with a guitar and a machine gun, but if bounty hunters in space didn't lead you to immediately read this comic, I don't know what will.
This One Summer by Jillian and Mariko Tamaki
In This One Summer the Tamakis somehow manage to evoke both the nostalgia and comfort of summer vacations and the awkward, angst-filled transition from pre-teen to teenager. Windy and Rose—who see each other every summer, and only during the summer—have a sweet, self-conscious rapport I think we can all relate to. Unlike my other recs, their friendship is not chock full of literal adventures, but I think the emotions of growing up can sometimes be adventure enough. Plus there is some very un-self-conscious dancing.
Besties by Leah Reena Goren
A bit different from my other recs, Besties has no plot; instead, it is a love letter to female friendship, an exploration of why best friends are the best through the excavation of Goren's own best friendship. This is the kind of book you'll dip into with your bestie sitting next to you, and you won't be able to stop pointing out all the similarities and recalling the memories and artifacts of your own friendship.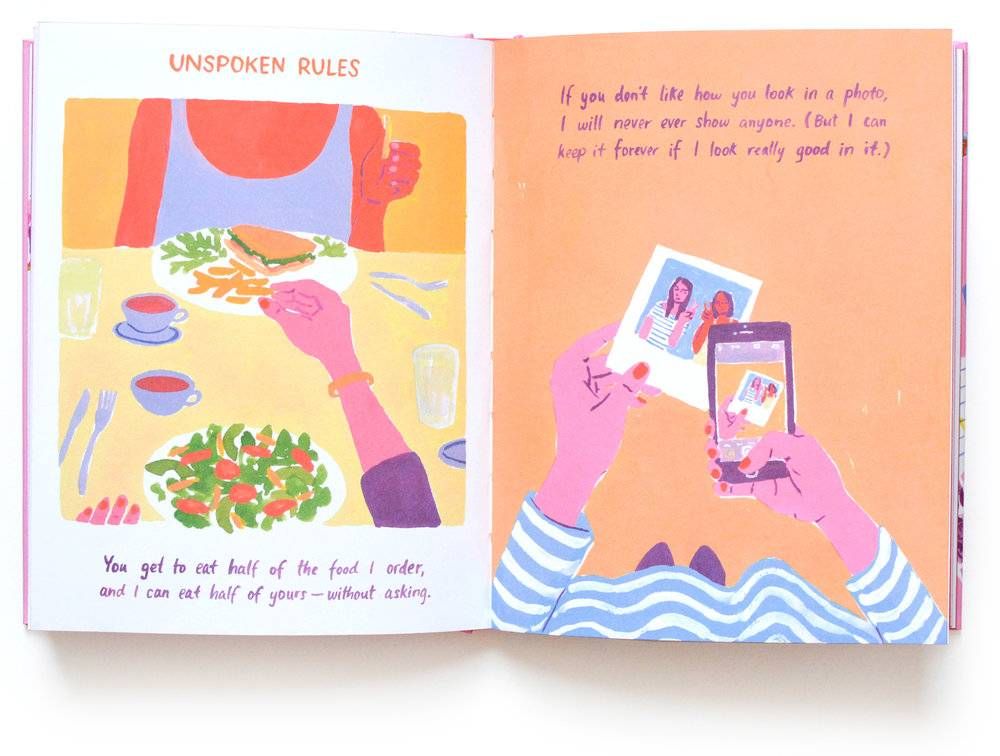 I Think I Am In Friend Love With You by Yumi Sakugawa
Similar to Besties, Sakugawa's book is more love letter than fiction, but think of this as Bestie's prequel. You know that friend who you wanted to invite to Galentine's Day brunch, but worried it was too soon, the friendship too new? And all you want to do is tell this new friend how super awesome you think they are and how you really want to spend more time together? Give them I Think I Am In Friend Love With You, and hopefully they'll think you're super awesome too.