Inbox/Outbox: November 13, 2015
Howdy, readerly types! As I am prone to do when I sit in the drivers seat for the Inbox/Outbox post, I am declaring guest contributor privilege, and I'm extending my peek at my reading piles back a few weeks. I feel like October is the most bookish of all the months, so it deserves some attention whilst I have the reins.
Inbox
So, the last few weeks have kinda been a big deal in terms of book acquisitions. Not gonna lie. I have some impressive stuff. 
I went to the Texas Book Festival in mid-October, and I came home with signed copies of Stone Mattress and The Heart Goes Last by Our Lady of Literary Greatness, Margaret Atwood.  I also picked up a copy of That Mad Game: Growing up in a Warzone from Cinco Puntos Press.
As a pre-Halloween treat to myself, I bought a copy of Audrey Niffenegger's Ghostly collection of – you guessed it – ghost stories. I checked out the table of contents, thinking I would be seeing some new stuff, but it's a collection of her favorites, some that have been around a while. And that's okay with me.
On Halloween, I had the privilege of attending an event at Rice University with the Nobel prize-winning author Mario Vargas Llosa. He signed my copy of his latest, A Discreet Hero.
Outbox 
I have been on a podcast binge, so I haven't done as much reading in recent weeks as I would like, but I did finish a few audiobooks.  A Vision of Fire by Gillian Anderson and Jeff Rovin is really good.  It takes a very different approach to the supernatural thriller than what I have ever read. And I like the fact that the protagonist is a child psychologist, instead of a police officer or FBI agent.  It definitely has an X-Files vibe – not truly out there, but in the neighborhood. Anderson gets an A+ for narration. I've never really heard her do accents, so I had no idea that she could do so many so well.  The best part? Book 2 is coming in just a few weeks!
I'm also just about finished with The Library at Mount Char which is nothing like I expected, even after everyone told me it would be nothing like I expected and I tried to expect nothing. It's crazy and gruesome and kinda sweet sometimes. It's a delightfully trippy read.
Pending 
Next up, I'm listening to Daniel Jose Older read his novel, Half-Resurrection Blues. I've also got Welcome to Night Vale in my audible queue (after listening to the podcast, there was no way I wasn't listening to the audiobook). I'm not feeling very print-oriented these days. We'll see how long that lasts.
Did I mention that Mario Vargas Llosa totally photobombed my friend Liana and I, while sitting in a chair across the room?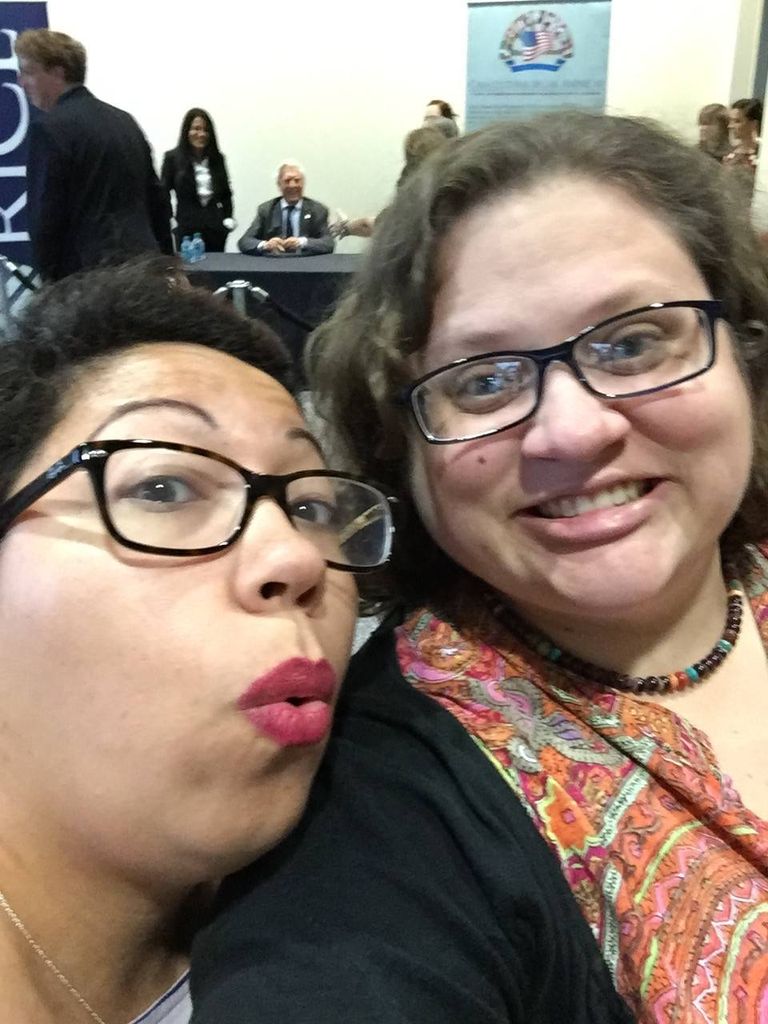 It happened. I swear (just maybe not like I said).
In a book lover's life, there's nothing as magical as a perfect, surprising recommendation from someone who just
gets
you. But finding those people can be tough! That's where
TBR
comes in. Go here to find out more, or just click the image below: