Critical Linking: December 16th, 2014
Vox writers, editors, and designers, recommend the most illuminating, interesting books in their areas of expertise.
I don't have a 2015 reading list set out, but if I did, many of these 30 books to read to understand the world would be on it.
____________________
Although JK Rowling's Harry Potter series is adored by children worldwide, the novels are not without their unjust and tragic plot lines as characters die from the effects of dark magic. However, in a new short essay uploaded onto Pottermore, Rowling has revealed that she only feels guilty about writing in the death of one character: the little-known Florean Fortescue.
What I like about Rowling's regret here is that it shows that she always wanted there to be reasons behind the things that happen in her books.
____________________
For the first three quarters of the year, sales across all categories of publishing were up 4.9 percent, according to the Association of American Publishers (AAP). The overall Trade publishing sector saw sales increase 2.8 percent for the first three quarters of the year.
Another interesting stat in this survey, children's/YA titles were up more than 20%(!).
____________________
Asia Pulp and Paper Group (APP), which has facilities throughout Indonesia and China and is one of the world's largest paper manufacturers, has come under fire over the years from environmental groups, as well as publishers, for its business practices in the Indonesian rain forest. In the last several years, however, the company has announced a number of initiatives to improve its environmental policies.
Ever thought about where the paper in your books comes from? And if it is sustainably harvested? Me neither.
____________________
Bookselling today is about bright lighting, friendly staff, cleverly designed bookcases that display new hardbacks – yes, hardbacks – to best advantage, an espresso coffee machine behind the checkout counter and finally – how can we put this ? – many unbookish things such as novelty items, jigsaws, games, children's toys, Paddington bears, greetings cards and upmarket stationery.
Welcome to the very model of a modern major bookstore.
____________________
We run a pretty sweet little bookish Instagram account, if we do say so ourselves (and we do). Come check it out.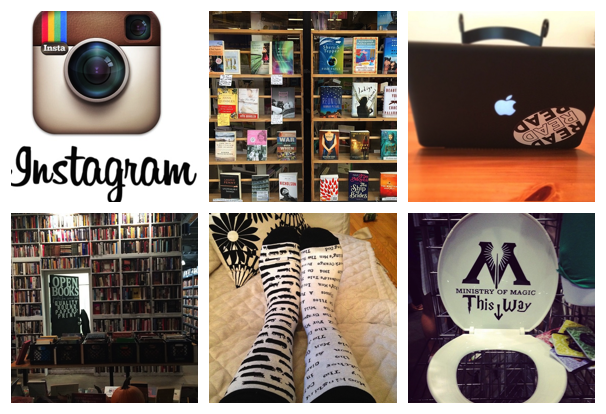 By signing up you agree to our Terms of Service
In a book lover's life, there's nothing as magical as a perfect, surprising recommendation from someone who just
gets
you. But finding those people can be tough! That's where
TBR
comes in. Go here to find out more, or just click the image below: