Buy, Borrow, Bypass: June 17, 2014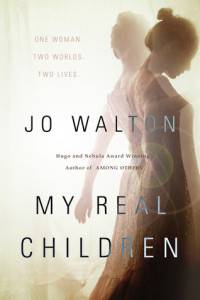 Jo Walton, My Real Children
I might not have kept reading this book past the first few chapters, to be honest, if I hadn't just love-love-loved Kate Atkinson's Life After Life. The premise here—a woman remembers multiple versions of her life across the twentieth century in England—promised hints of Atkinson, and so I kept with it. I'm glad I did. While it was a bit slow to start, and often seemed to describe more than actually help the reader experience the story's world (one feels rushed through at many points), My Real Children ends up cohering into a quite interesting reflection on history, feminism, sexuality, and memory.
Verdict: Borrow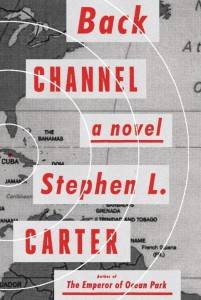 Stephen L. Carter, Back Channel (July 29, Knopf)
Back Channel is a fictionalized treatment of the apparently (?) true story of secret negotiations carried out during the Cuban Missile Crisis. It's a largely clever smooshing together of fact and fiction. But at times, as happens with a great deal of historical fiction, Carter gets so caught up in the realness, the actually-lived-ness, of the people wandering around his pages that they end up, ironically, not seeming very real at all. JFK and McGeorge Bundy do what they did, but we don't really get a sense about why. They are figures in a historical diorama rather than people who act and feel in rich, complex, and fully-realized ways. But Back Channel isn't really about characterization; it's about plot. And it has a pretty riveting one, expertly raveled really quite suspenseful. Plus, just look at that cover.
Verdict: Buy if you're into smart, plot-driven spy fiction; borrow or bypass if character-driven is more your thing
David Shafer, Whiskey Tango Foxtrot (August 5, Mulholland Books)
A little bit gonzo and a little bit haunting, Shafer's Whiskey Tango Foxtrot is a surprise of a book. It tells the story of a group of characters whose lives intersect, often strangely, in the midst of a global info-conspiracy. A group of oligarchs (led by the CEO of a Google-Microsoft hybrid) want to claim all the world's digital information and then rent access back to people. An Anonymous-like secret hacker society—armed in this world with computers grown like plants—oppose them. An NGO worker, a self-help author, and a preschool-teaching paranoiac heir get caught up in between. It's a rollicking ride, though I occasionally wished that Shafer had either reined in the craziness or just gone whole hog on the weird. But despite the sometimes confusing tone, the book is a solidly fun, often intriguing read.
Verdict: Borrow
Stephanie Feldman, Angel of Losses (July 29, Ecco)
Since it's coming out soonish, I thought I'd remind you all how awesome this book is. I read it late last year, and sang its praises in an Inbox/Outbox in December. My opinion hasn't changed—in fact, it's deepened, and The Angel of Losses remains one of my favorite releases of the year. As I said then: "It's beautifully constructed and just plain beautiful. Mark your calendars now, people. Mark them now."
Verdict: Buy. Seriously. Come on.
Enter to win
$250 to spend at Barnes and Noble!