The Week's Most Popular Posts: June 8-14, 2013
"Well-read" for this person then has a number of connotations: a familiarity with the monuments of Western literature, an at least passing interest in the high-points of world literature, a willingness to experience a breadth of genres, a special interest in the work of one's immediate culture, a desire to share in the same reading experiences of many other readers, and an emphasis on the writing of the current day.
from From Zero to Well-Read in 100 Books by Jeff O'Neal
______________________
In raised, reversed letters, the floor depicts words from the 11 languages represented in the Seattle Public Library collections. It's a sensual, readerly treat, as your eyes catch the light on the letters' raised edges and your feet, even through sneakers, feel the bumps ridges of language: 
from Awesome Bookish Flooring by Derek Attig
______________________
Calvin and Hobbes retirement cake based on its last strip: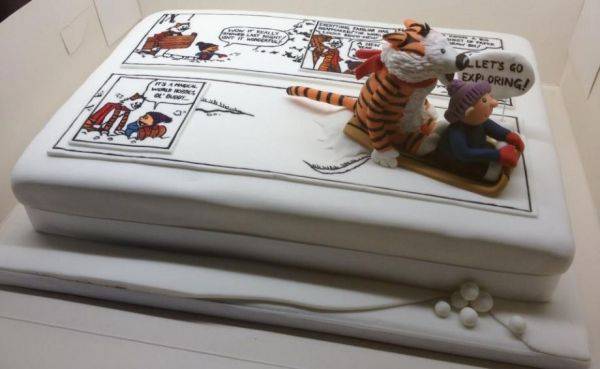 from Literary Desserts for Your Bookish Sweet Tooth by Amanda Nelson
_____________________
Bennett Madison's September Girls is about a teen boy spending his summer with dad and older brother on the beach in a world inhabited by the Girls. These sirens throw themselves at boys, and boys, in turn, indulge without shame. This novel uses the message of what it means to be misogynistic to in turn tell a story about a teen boy who wants to learn to love and care for the individual and very human girls in his life. Plus points for a mother's midlife crisis and a son's understanding it. 
from Feminism in Young Adult Fiction by Kelly Jensen
______________________
And this week's most popular post over at Food Riot is…
Deep Thoughts
Your child suddenly realizes how deeply disturbing "Go, Diego, Go" actually is. "Children, picking up animals in distress. I mean, he's my age. What am I doing with my life? You won't even let me pick up healthy cats, but Diego gets to have a cool jungle cat for his friend and help injured whales without adult supervision? This is bullshit!"
-from Seven Ways to Tell if Applebee's (Allegedly) Accidentally Got Your Kid Drunk by Dana Staves
______________________
Sign up for our newsletter to have the best of Book Riot delivered straight to your inbox every two weeks. No spam. We promise.
To keep up with Book Riot on a daily basis, follow us on Twitter, like us on Facebook, , and subscribe to the Book Riot podcast in iTunes or via RSS. So much bookish goodness–all day, every day.
By signing up you agree to our Terms of Service
As part of Season 2 of our podcast series Annotated, we are giving away 10 of the best books about books of 2017. Go
here to enter for a chance to win
, or just click the image below: