Name Those Authors!: The Answers for February 7, 2013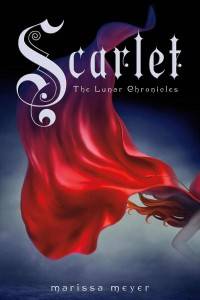 This round of Name Those Authors! is sponsored by Scarlet by Marissa Meyer.
In Book Two of the New York Times-bestselling The Lunar Chronicles, Cinder is back and we are introduced to Scarlet. An inventive take on Little Red Riding Hood, get ready for romance, adventure, and high suspense!
Cinder is trying to break out of prison—even though she'll be the Commonwealth's most wanted fugitive if she does.
Halfway around the world, Scarlet Benoit's grandmother is missing. It turns out there are many things Scarlet doesn't know about her grandmother, or the grave danger she has lived in her whole life. When Scarlet encounters Wolf, a street fighter who may have information as to her grandmother's whereabouts, she is loath to trust this stranger, but is inexplicably drawn to him, and he to her. As Scarlet and Wolf unravel one mystery, they encounter another when they meet Cinder. Now, all of them must stay one step ahead of the vicious Lunar Queen Levana.
_________________________
Before we share a selection of answers, let's revisit last week's prompt:
Requirement: Authors who have written a book based on/inspired by another literary work.
Here are some of the most frequently submitted and most interesting responses:
The Wide Sargasso Sea by Jean Rhys (based on Jane Eyre)
Wicked by Gregory Maguire (based on The Wonderful Wizard of Oz)
The Hours by Michael Cunningham (based in part on Mrs. Dalloway)
number9dream by David Mitchell (based on Norwegian Wood)
Ulysses by James Joyce (based on The Odyssey)
The Magicians by Lev Grossman (inspired by The Chronicles of Narnia)
RailSea by China Mieville (inspired by Moby Dick)
Bridget Jones' Diary by Helen Fielding (based on Pride & Prejudice)
Rosencrantz & Guildenstern Are Dead by Tom Stoppard (based on Hamlet)
Death Comes to Pemberly by P.D. James (based on Pride & Prejudice)
A Thousand Acres by Jane Smiley (based on King Lear)
By signing up you agree to our Terms of Service