Buy, Borrow, Bypass: February 7, 2013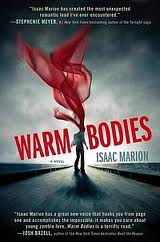 Warm Bodies by Isaac Marion
R is a young professional with a pleasant life, or at least he was before he became a zombie. Or he think he was, he can't really remember. Now he lives in an airport with other zombies, listening to old Frank Sinatra records for days at a time and, you know, eating people. His existential ennui finally manifests when he saves a young woman from himself and tries to make the world a better place one grunted syllable at a time. While the movie trailer makes the story seem like a CW-style teen comedy (the movie comes out February 1), the book is decidedly more adult, darkly funny, and violent (obviously). Not your typical zombie book, if there is any such thing.
VERDICT: Borrow if you're not generally into zombie fare, buy if you are.
Man in the Empty Suit by Sean Ferrell
Every year for his birthday, a lonely and jaded time traveler revisits the same decrepit New York hotel in the year 2071 to celebrate, along with all his other selves. The party is always the same: drunkenness, rice pilaf, bad time travel movies, etc., until his 39th year, when he finds his 40 year old self dead in the hotel elevator. All the selves over 40 are understandably upset (with Self #40 dead, how are we all still here- and will we still be here five minutes from now?), and hoist the responsibility of solving the crime onto Self 39. Enter a mysterious woman with parrot tattoos, a post-apocalyptic Manhattan, Vonnegut-sharp humor and Hemingway-spare prose, and you've got some seriously good sci-fi.
VERDICT: Buy, you fools!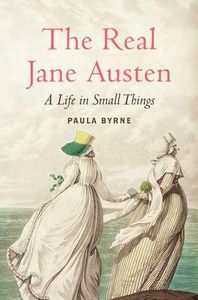 The Real Jane Austen: A Life in Small Things by Paula Byrne
A Jane Austen biography told through small items she would have encountered in her personal life- a method that brings the reader a more intimate look at Austen. It's two parts narrative about the author's life and one part about how her life influenced her work (for the literary critic among us). An example: Austen discussed Indian shawls in her letters, which Byrne uses to discuss how internationally traveled Austen's family was, and uses that to defend Austen against accusations of being myopically regional. The book walks a fine line between being academic and being slow, so if you're not a dedicated Austenophile, it's probably not for you (but then, any Austen bio probably isn't).
VERDICT: Buy if you love Austen with all the loves, bypass if not
Frances and Bernard by Carlene Bauer
A novel-in-letters inspired by the lives of Flannery O'Connor and Robert Lowell- but you don't need to be familiar with them to love this book. The two characters (she a hard and no-nonsense Catholic novelist and he a man-about-town poet) meet at a writer's workshop and begin exchanging letters, developing an unlikely but natural friendship. It's the wittiest, most heart-breaking book I've read in recent memory. It has several of my literary hot-buttons: dry humor, discourse on faith or the lack thereof, romance, New York, mockery of writers colonies, feminist considerations about sacrificing your own art for those you love (or not), smart literary allusions a-plenty. The characters' voices are clear, the writing is heart-stopping-good. I haven't heard much buzz about this book, but it deserves All The Buzz. ALL OF IT.
Verict: Buy It. Buy All The Copies You Can Find, and Use the Extras To Decorate Your Town With Amazing Prose.
By signing up you agree to our Terms of Service
We have 10 copies of
A Gentleman in Moscow
by Amor Towles to give away to Book Riot readers!
Go here to enter for a chance to win
, or just click the image below. Good luck!