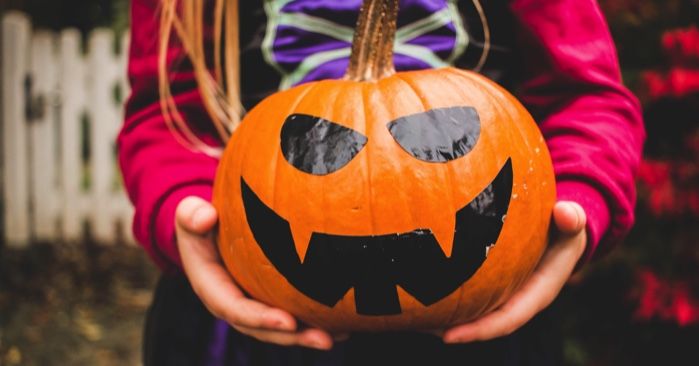 It's the most wonderful time of the year! Halloween season! Though this seems to have been the shortest one we've ever had, you can make it last longer with some adorable picture books for Halloween. Adult or child, you'll find something heartwarming and fun here to put a spooky little pep in your step. Besides, as far as I'm concerned, it's Halloween until winter.
Picture Books for Halloween
The Little Ghost Who Was a Quilt by Riel Nason and Byron Eggenschwiler
Though most ghosts are sheets, this one is disappointed to be a quilt. It makes it hard for him to fly (he gets too hot) and he can't twirl around at all. So he's feels left out when all his friends go out to play. But when Halloween arrives, the little ghost who was a quilt realizes it's okay to be different because there are some experiences only he can have.
She Wanted to Be Haunted by Marcus Ewert and Susie Ghahremani
This sweet rhyming picture book about being yourself follows a cute little house that wants to be, like her parents, haunted. Clarissa's dad is a creepy castle that's home to vampires and Clarissa's mom is a witch's hut. But Clarissa is a cute little pink cottage that isn't scary at all. Determined to be haunted, Clarissa tries out some possibilities and ends up finding the perfect one for her.
Precious and the Boo Hag by Patricia McKissack, Onawumi Jean Moss, and Krysten Booker
This picture book from classic author Patricia McKissack is about Precious, left home by herself with a stomachache. Her Mama warns her not to let anyone in the house, including the Boo Hag, who tries to get kids to disobey their parents. When the Boo Hag, who can disguise herself as anyone she wants, arrives at Precious's door, she has to find a way to out-trick this trickster.
Gustavo, the Shy Ghost by Flavia Z. Drago
This cute and colorful picture book follows Gustavo, a ghost who's good at many ghostly things but fumbles when it's time for him to make friends or be around a lot of other monsters. And when he gets near to them, he realizes they can't see him at all. With the Day of the Dead approaching, Gustavo hopes he can make them notice him and share with them his love of the violin.
I Need My Monster by Amanda Noll and Howard McWilliam
This is part of the excellent four-book Monster series about Ethan, a little boy who looks under his bed one night and finds that his assigned monster, Gabe, is on a fishing trip and won't be there to scare Ethan into staying in bed. Knowing there's no way he'll go to bed without Gabe, Ethan interviews potential replacements who vary in their scaring abilities. But none of them measure up to Gabe.
How to Make Friends With A Ghost by Rebecca Nelson
This whimsical picture book is an amusing and sweet story of friendship and kindness about a girl who makes a lifelong friend in a ghost. It's both a story and a guide to caring for your ghost friend so you will be friends for your entire life.
At the Old Haunted House by Helen Ketteman and Nate Wragg
This rhyming picture book makes for a delightful read-aloud (and counting story!) as readers watch the inhabitants of a haunted house prepare for Halloween night. There are witches, goblins, and monsters galore!
Los Gatos Black on Halloween by Marisa Montes and Yuyi Morales
This bilingual picture book combines English and Spanish in this fun and exciting story of a Halloween party being thrown by monsters. Lively illustrations are balanced with humor, and it's even funnier to see who turns out to be the surprise guests.