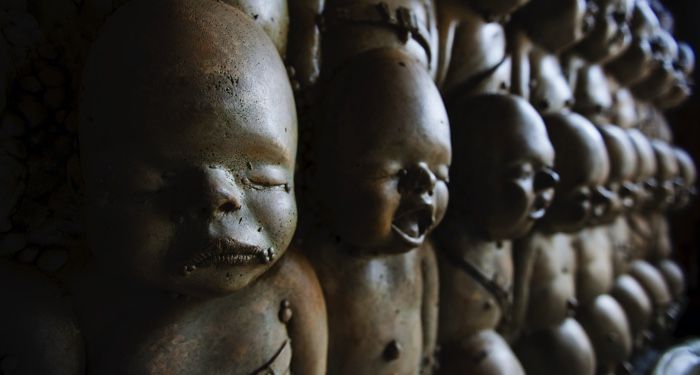 Fiction
Can't Touch This: 8 Great Books Featuring Cursed Objects
This content contains affiliate links. When you buy through these links, we may earn an affiliate commission.
Since scary season is upon us, I thought I would talk about fun books featuring cursed objects! They have been on my mind since I read Cursed Objects: Strange but True Stories of the World's Most Infamous Items by J.W. Ocker. It's an in-depth look at items throughout history that, for one reason or another, have been declared cursed. Some are very famous, like the Hope Diamond and King Tut's tomb, and some aren't even real. They're simply a story people tell to scare others.
The thing about cursed objects is that there's no actual way to actually prove they are having an effect on the things around them. Like God and ghosts, it's really based on what you believe. But coincidences can be a strong motivator when it comes to declaring an object cursed. One part of Osker's book that I found exceptionally fascinating was the huge "cursed object" market on eBay, where people actually pay to receive a cursed item.
I don't really believe in cursed objects, yet I am superstitious enough that I still wouldn't invite trouble into my house. (I already have three cats who I think might be possessed.) It is a fun subset of internet sales to think about, though. There are as many different objects that can be cursed as there are people to willingly receive them. Or maybe you buy one to give someone you don't like. (I wonder if the curse still works if the object is charged to your credit card.)
Whether they knew what they were getting into or not, here are eight fun books featuring cursed objects that became a part of people's lives.
Christine by Stephen King
As cursed objects go, if you have to have one, you should hope to get something small, like a GameBoy or a pudding cup. Because the bigger the object, the more dangerous it can be on its own. Arnold Cunningham doesn't know the history of the car he calls Christine, but he quickly learns she is hell on wheels: Christine has a mind of her own, and a terrible fate befalls anyone who gets in her way. (I always get a kick out of the fact that I also once owned a Plymouth Fury and the book is set in Libertyville.)
The Good House by Tananarive Due
And I think houses are probably the most often cursed objects in literature. Usually it's because something bad took place inside it, which leads to curses and/or ghosts. (*Archer voice* Do you want ghosts? Because that's how you get ghosts.) In this excellent scary story, a grieving mother returns to the house where her son died a year earlier. While she is back beneath its roof, she learns of the family tragedy that cursed the home and took her son from her.
The Blackstone Chronicles by John Saul
I don't know about you, but John Saul scared the hell out of me when I was a kid. I'm still not over reading Nathaniel when I was 10. This series of novellas—now in one convenient volume—came out when I was a bit older and tougher. Each book is about a specific cursed object from an abandoned old asylum that is unearthed when the wrecking crew comes in to demolish the building. OOPS. There's a doll (*Indiana Jones voice* Dolls. Why did it have to be dolls?), a locket, a handkerchief, a stereoscope, and more.
The Amulet by Michael McDowell
A book about haunted jewelry by the creator of Beetlejuice! (Raise your hand if you thought Tim Burton created Beetlejuice. Yep. That was me until recently, too.) "We've come for your necklace, Chuck." This nasty piece of work is about an unlucky family in Alabama and a cursed necklace. When Sarah's husband in severely injured in an accident, her mother-in-law blames it on an unlucky amulet. But when the amulet is given away, even more horribleness occurs. (Geesh, some people can't win!) Sarah and her friend must find the amulet and figure out how to keep its curse from harming anyone ever again.
Doll Bones by Holly Black
NOOOOOOOOO, NOT DOLLS AGAIN. JK, this is an awesome, award-winning book. It's about three friends who used to spend their days playing elaborate make-believe games with their dolls, until one of them is forced by his father to give up games with dolls. This displeases the Great Queen, a bone-china doll who it turns out is cursed with the ghost of a dead girl. Now the friends must find the dead girl's grave and lay the Queen to rest inside it if they want ever want to get any sleep again. This is a really fun one to read yourself, or share with younger readers who are into scary books.
The Ring by Koji Suzuki, Glynne Walley (Translator)
This Japanese classic has sold roughly one bazillion copies, and is the inspiration for the Ring horror film franchise. Remember the scary girl in the white dress who crawls around like a spider? Yeah, that one. It's about a cursed VHS tape that warns that the viewer will die in one week unless they perform a specific act exactly as they are told. It's probably the most unrealistic of all these books on the list now, only because the technology is outdated, lol. I think having to watch things on VHS would be curse enough now!
HEX by Thomas Olde Heuvelt
And the cursed item in question in this book is a whole town! It comes complete with its own scary witch-ghost, complete with a sewn mouth, who you might find standing in your living room when you get home from work, or hanging out at the foot of your bed while you sleep. FUN. The idea is that the town was cursed, and anyone who tries to leave it finds themselves unable to do so. And no one talks about it, so all these poor, unwitting people move to the town, and are stuck there while Stitchy McWitcherson floats around, bringing hexy back. But a group of teens decides to break the rules about talking, and it unleashes a whole new (g)host of problems.
Curse of the Night Witch (Emblem Island) by Alex Aster
And my last pick is less scary and more fun, but I love it so much that I wanted to include it anyway. Because it does involve a cursed object: a marking. The citizens of Emblem Island are all born with a marking that tells the story of their fates. But 12-year-old Tor Luna wishes he could choose his own path, so he makes a wish at Emblem Island's annual New Year's Eve celebration. Unfortunately, his wish is granted, and he wakes up with the mark of a curse and only a week to live. He and his friends will have to travel to see the Night Witch to try and get the curse removed, but will they make it in time?