Poetry
New Poetry Video Series from the Poetry Foundation & Complexly
This content contains affiliate links. When you buy through these links, we may earn an affiliate commission.
The Poetry Foundation is teaming up with video production company Complexly and poet Paige Lewis to bless the internet with Ours Poetica: a new poetry video series that focuses on the printed page.
In each video, viewers will see a guest presenter discuss a poem that is meaningful to them. When it's time to hear the poem itself, the camera will turn to the printed book and the person's hands as they recite.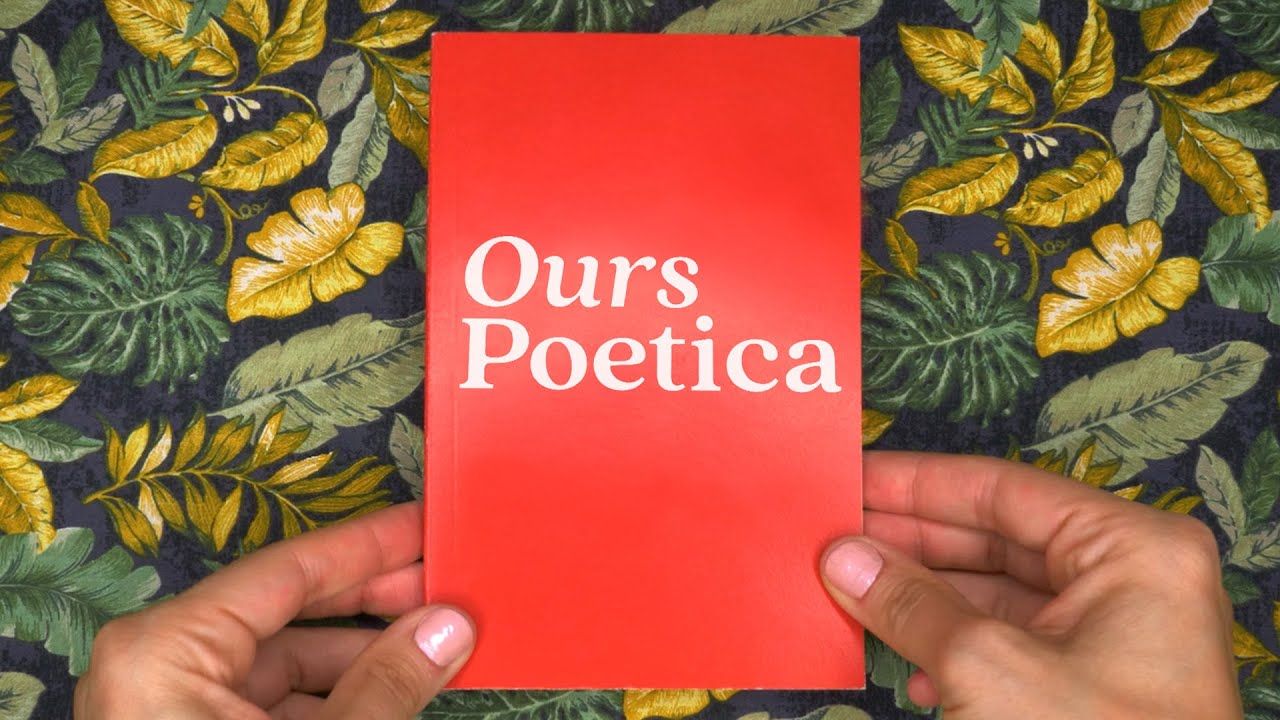 "There are many poetry videos online that focus on the reader's expression, movement or performance," said series curator Paige Lewis in the announcement from the Poetry Foundation. "We saw an opportunity to present a complementary and fresh visual way to discover poetry by focusing on the words, the language, and the readers' cadences. It's as if the viewer is holding the book in their own hands while hearing a poem read aloud."
I do love hearing poetry—love spoken word audiobooks and the atmosphere of a live reading—but I generally prefer reading poetry with my eyes. During a class in college, I came to appreciate how a poem's form can suggest and create meaning. The line and stanza breaks and even the spacing influence how I read and interpret a poem, so when listening to poetry, I often wish I could follow along visually. Ours Poetica offers this exact experience.
The poems and stories will be delivered by a range of poetry enthusiasts such as actor Shailene Woodley, writer Jacqueline Woodson, and poets Sarah Kay, Erika L. Sanchez, and Ilya Kaminsky. This lineup is curated by Paige Lewis, author of the forthcoming poetry collection Space Struck (Sarabande Books, October 2019). To get a taste of their work, I recommend reading: "You Can Take Off Your Sweater, I've Made Today Warm" (a great example of how form shapes meaning) and "When I Tell My Husband I Miss the Sun, He Knows" (possibly the sweetest love poem I've ever read).
I'm so excited to share the Ours Poetica trailer with you! I've been working on this project with @johngreen & @SWUSUG for over a year & I can't believe how many amazing people have agreed to be a part of it. Subscribe today & I'll give you my whole heart! https://t.co/pRc7U9lLpN

— Paige Lewis (@Paige_M_Lewis) August 8, 2019
Ours Poetica is produced by Sarah Urist Green and John Green of Complexly, an online video production company that aims to expand our understanding of ourselves, each other, and the world in which we live. The two have built interactive communities surrounding YouTube channels like The Art Assignment, Vlogbrothers, and Crash Course. John is also the author of YA novels like The Fault in Our Stars and Turtles All the Way Down, but he is not—as he will tell you—a poet.
"Poetry is vital and relevant, however as a non-poet myself I understand how it can be viewed as intimidating or academic," he stated in the Poetry Foundation press release. "We wanted to break down this potential barrier, and create a show for people who love poetry, and even more so, for people who love poetry but don't know it yet."
I used to be one of those people who didn't yet know I loved poetry—a reluctant, skeptical consumer of the genre, even as a creative writing major in college. It was actually at John's recommendation in a Vlogbrothers video that I read Calling a Wolf a Wolf by Kaveh Akbar, the collection that helped me overcome my fear of contemporary poetry.
Between Paige, John, Sarah, and the team at the Poetry Foundation, I am thrilled to see what new poets' work is featured on the show, and even more excited for the people who will discover their love of poetry through these videos.
As the Poetry Foundation's marketing and media director Sarah Whitcher noted in the announcement, "Ours Poetica can serve as a new discovery point to poetry. It's a simple yet elegant execution of poem videos, and its approachability reinforces the Poetry Foundation's belief that poetry is for everyone."
The year-long series launches on the Ours Poetica YouTube channel on September 16. New episodes premiere every Monday, Wednesday, and Friday, making this another excellent way to get your daily dose of poetry.
You can watch the trailer below, and don't forget to subscribe and follow Ours Poetica on Twitter, Facebook, and Instagram.
If you were a guest on Ours Poetica, what poem would you share? Let me know on Twitter!
For more poetry content, check out:
Also In This Story Stream