Book Fetish
15 Last Minute Bookish Gifts for the Reader in Your Life
This content contains affiliate links. When you buy through these links, we may earn an affiliate commission.
We've all been there: you can have all the time in the world to prepare for gift-giving season, but there is always at least one person on your list who is impossible to shop for, and you end up waiting until the last minute to get them a gift. The shops are busy (or altogether closed, if you're a real last minute gift buyer), and you need something that shows you know this person through and through, and totally had their gift planned for ages. Never fear, your friendly neighborhood Book Rioter is here to save the day and give you a few last-minute gift ideas for the reader in your life.
Printable Bookmarks
Bookmarks: you can never have enough of them, I always say. They make a cute and thoughtful gift, and they're very customizable. Give them as a gift on their own with some tea, pair them with a book, or add them to a stocking. Here are printable bookmarks to get you started.
These gorgeous Zodiac sign bookmarks from MirkwoodScribes are perfect for the person in your life who is all about astrology.
This printable from MouseAndMePrints allows the reader to track the books they're reading right onto the bookmark. It's a fun interactive way to encourage someone to keep reading!
Gift Cards
If you know the reader in your life's favorite place to shop for books or bookish items, gift cards to that specific shop are a perfect gift. Here are a few places you might consider.
Some might say it's the happiest place on earth. Barnes & Noble offers both physical and e-gift cards you can purchase online.
For the bargain hunter, Book Outlet has a handful of gift card prices to choose from. ThriftBooks
ThriftBooks is a great place to find affordable and hard-to-find books, both new and used!
Book Subscription Boxes
Subscription boxes are a great gift. Prepay for a monthly subscription, and have the box sent to the recipient! It's the gift that keeps on giving month after month. There are tons of bookish subscription boxes out there, but a few to consider are Owlcrate, Illumicrate, and LitJoy Crate.
Your Local Bookstore
Does the reader in your life prefer to shop locally? Give your local bookstore a call or look them up online and see if they offer e-gift cards.
Art Prints
Art prints are always a great way to decorate your space and there are tons of options available online. Choose a printable bookish art print and frame it for the bookish human in your life. Here are a few options to start with.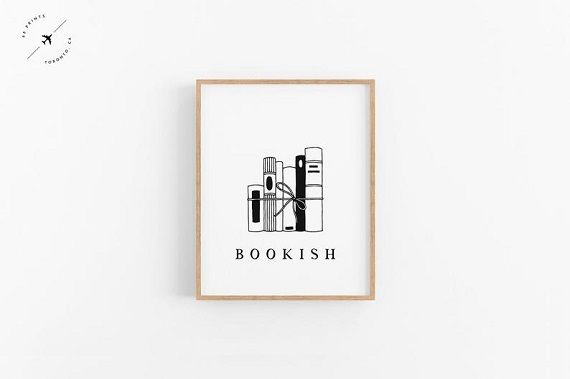 Pretty self-explanatory, and something any reader can appreciate. Designed by 88Prints.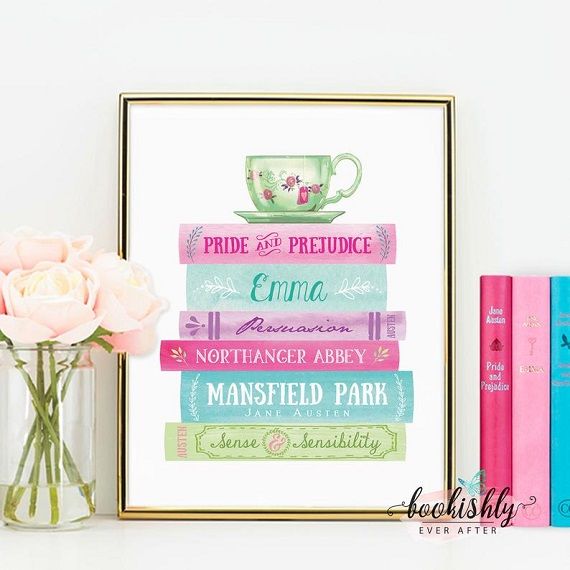 Book Stack art prints are very popular. This one in particular, designed by BookishlyEverAfter, is Jane Austen themed, but they can be found themed around any genre or author, you just have to look!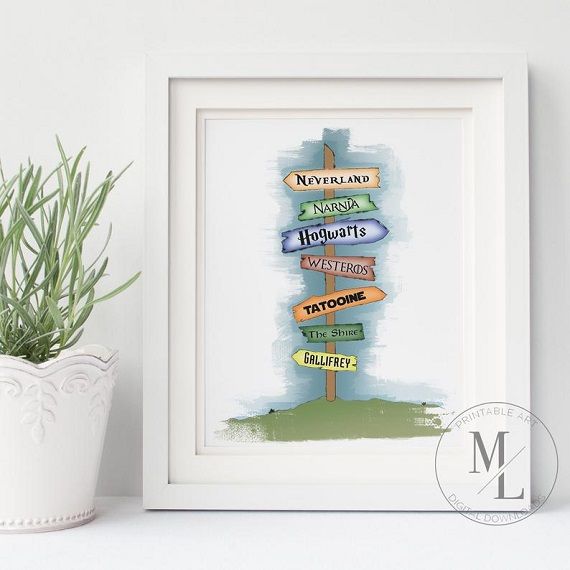 For the reader who loves going on an adventure. Designed by MaggieLongoDesigns.
Do It Yourself
If you have a few hours or maybe a few days to spare and you want to get a bit crafty, you can't go wrong with a handmade gift.
Your Own Bookmark
Create your own bookmark with good paper and some markers! Know your reader's favorite quote? Write it on the bookmark. Know their favorite character? Draw them on the bookmark. Have an inside joke? Put it on the bookmark! Do you see where I'm going with this? Anything can be turned into a bookmark.
Book Quote DIY
If you have a condemned (meaning totally unreadable) book lying around, recycle it into an art piece featuring a favorite bookish quote. I made one in the time it took to watch two episodes of Charmed. All you need is a book, a piece of paper, glue, a sharpie, paint (optional), and Mod Podge (also optional).
Start by ripping up a few book pages and gluing them down randomly to cover your piece of paper. Once you have a background of book pages, put down the quote. I lightly freehanded my quote with a pencil to get the placement centered before going in with a sharpie. You're more than welcome to stop there, but I decided to use some watercolor and acrylic paint to decorate around the edges. After that, I noticed some of my book pages were curling, so I used Mod Podge to seal everything down. Once dry, I put it in a frame and voila! A bookish art piece, ready to gift.