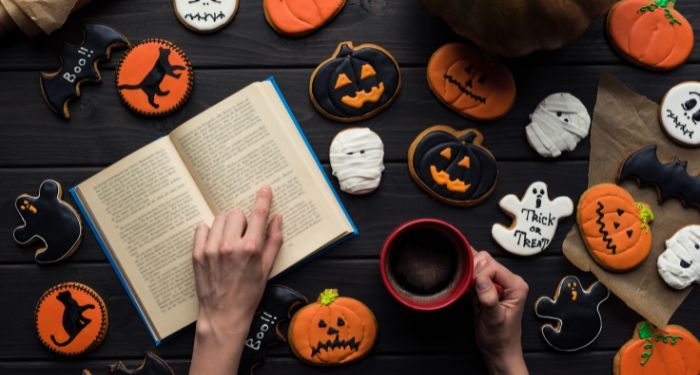 Lists
Halloween Reading Challenge Ideas for 2023
This content contains affiliate links. When you buy through these links, we may earn an affiliate commission.
Time to get spooky! With the best holiday of the year close at hand, it's time to talk about how book lovers can celebrate Gay Christmas by doing what you love best: reading! Below, you'll find enough Halloween reading challenge ideas and book suggestions to fill a plastic pumpkin bucket — and then some.
Let's face it: When you get too old to go trick-or-treating, having fun on Halloween becomes a different ballgame altogether. You've got to buy your own candy and costume. The whole itinerary becomes your responsibility. It can be a real pain.
(That goes double for the introverts and COVID-conscious folks forgoing this year's Halloween parties.)
Luckily, there's nothing a good old-fashioned readathon can't fix. No bookish costumes or Halloween decorations are required — but if you want to bust out your Log Lady costume, my log will not judge.
Since we're talking about the creepiest holiday on the calendar, I've stuck exclusively to horror and horror-adjacent recommendations to go with these Halloween reading challenge ideas. But if scary stories just aren't your thing, that's OK! There's no reason you can't read your preferred genres instead. Feel free to take what serves you from this list and leave what doesn't.
Here are some fantastic Halloween reading challenge ideas that will suit any kind of reader.
---
Need more horror to fuel your spooky Halloween reading challenge? Browse through these trans and nonbinary witch books, Halloween-related nonfiction, and spooky holiday books for adults to find your next read.