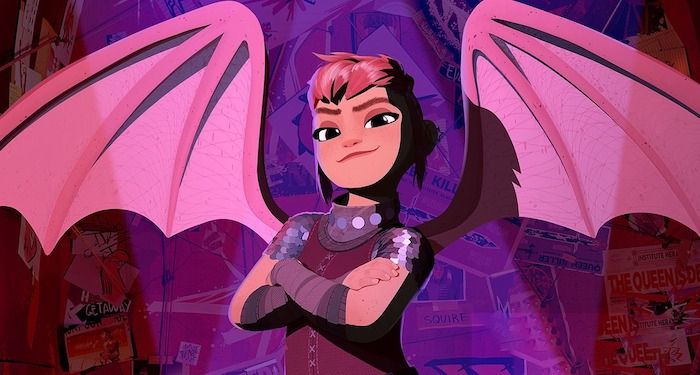 This content contains affiliate links. When you buy through these links, we may earn an affiliate commission.
Nimona: our favorite comic book murder girl and antihero teen with a secret heart of gold (kind of). I've loved her since the day my sister sent me a link to Stevenson's incredible webcomic, and my love has only continued to grow as that webcomic turned into a graphic novel and now, finally, a movie. I doubt I'll ever be able to recapture the magic of those early webcomic days since so much of what made it special was the community of commenters. (Bet those words will never come from my keyboard again.) Still, there are a lot of great graphic novels like Nimona out there featuring murder teens, unlikely friendships, queer pining, and unusual fantasy/sci-fi settings — not always in that order.
I have a lot of thoughts on graphic novels like Nimona and what makes them like Nimona, because it's not just a matter of *hand-wave* magic and technology and supervillains. But first, because we are in the Year of Our Lord 2023 and live in a dystopian capitalist hellscape where billionaires refuse to pay their employees fair wages, we have to talk strikes.
Regarding the current WGA and SAG-AFTRA strikes: current guidelines do not advise boycotting streamers or struck content, and unless or until it's called for it could do more harm than good. WGA member and author Neil Gaiman posted on his Tumblr to say that watching content from struck studios/streamers doesn't constitute "crossing the picket line," and that "until the WGA calls for it, I don't suggest doing it."
If you'd like to support the writers and actors who make great media like Nimona, consider donating to the Entertainment Community Fund to support creatives as they fight for fair pay and conditions. That's likely the best way to help at the moment.
Now on to the fun stuff: graphic novels like Nimona for all of you out there who just can't get enough!
This article was written during the 2023 WGA and SAG-AFTRA strikes. For more info check out WGA and SAG-AFTRA strike websites and then find more great comic and graphic novel recs with these lists: