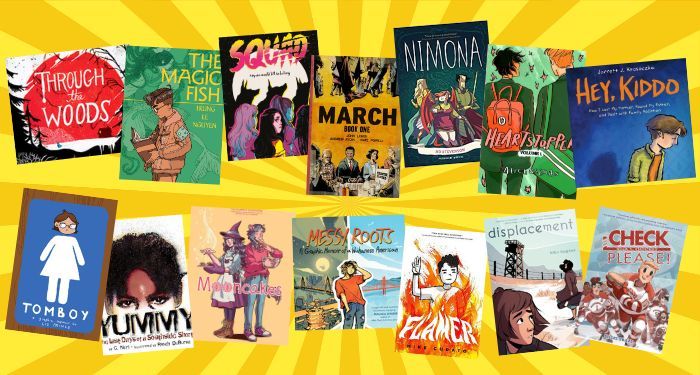 This content contains affiliate links. When you buy through these links, we may earn an affiliate commission.
Comics for teenagers used to be hard to come by. Or, to be more accurate, finding comics for teens that were not superhero comics was challenging; since the dawn of comics, teens have been a major market. In the '30s, '40s, and '50s, there were numerous non-superhero comics for teens, including teen humor comics and teen pulp comics, many of which trace lineage to Harold Teen. The history of teen comics is robust, but until the late-2000s, it was challenging to find manuscript-length comics for teens that were not the slick comic store serials. Even the late '00s YA comics were few and far between. But now? We're in one of the richest eras for YA comics in a long, long time. You'll find book-length illustrated stories across genres and time and there are plenty of graphic adaptations of both classics of YA and more "traditional" classics.
But whether you're new to the format or want to expand your knowledge of all things YA comics, it can be hard to know what are must-reads. While there's always an argument to be made that all books are must-reads to someone, that would not lend itself to a nice guide to a genre or format. This guide to 20+ must-read YA comics will get you going into some of the richest titles out there.
It's worth reiterating that comics are a format and not a genre. They can be any genre, and they can also take on any tone, from funny to horrifying. Not all comics writers do the illustration for their works, and as such, it is critical that in talking about comics, every person involved in their creation deserves credit. You'll find that here, which means you'll be able to also dig into the rest of the catalogs both the writers and illustrators have to their name.
Because this is a short must-reads list and meant to be a sampling of the array of YA comics out there, some limitations exist. First, there are no superhero comics or comics from the big two publishers, DC and Marvel, on this list. You won't see Miss Marvel, though it is absolutely a must-read. Likewise, there is no manga on this list, as must-read YA manga is a post unto itself. Manga was one of the most popular formats for teens when I worked in libraries, and as manga publishing has only become stronger in the U.S., I suspect this is still the case in many libraries. Finally, there are not any illustrated editions of novels on this list. There are excellent comic adaptations of novels, but again: that is a list unto itself.
Comics also continue to be the most commonly challenged and banned books across the United States. This trend is not slowing down, and among the must-reads below you'll find plenty that also appear on the most commonly banned comics and the comics that groups like Moms For Liberty want to remove from libraries. All of the comics were written with teen audiences in mind; nothing on this list is published for adults with YA crossover appeal — that, too, is a whole post in itself.
One last note: "comics" and "graphic novels" are two interchangeable terms. I do, however, take some umbrage with this: comics is the umbrella term to define the format, while graphic novel includes the term "novel," which is a word used to describe fiction. Yes, lots of people call all comics graphic novels and that's fine, though technically, it's incorrect. I prefer YA comics as a more enveloping term. All of the books selected here are here because their narrative AND illustrative elements make them must-reads. While the descriptions of the books might not all touch on art, they would not be included if the art were not essential.
Caveats out of the way, let's dive in. It's likely you have a favorite not here, and again, the beauty of this age of internet is you can accept that choices are made in order to develop a well-rounded, if abridged, list and you can choose to add to the conversation on your own platform. The more the merrier, right?
---
Want even more YA comics? If you're itching to dive deeper into queer YA comics especially, we've got you covered. You'll only see a few of the queer titles above represented there, so you'll get to expand your horizons even more.