Horror
Reading Pathways: Grady Hendrix
This content contains affiliate links. When you buy through these links, we may earn an affiliate commission.
We horror fans are so lucky to be alive at a time where authors like Grady Hendrix exist. Ask anyone who knows anything about horror, and they'll tell you Grady Hendrix is the unparalleled master of the horror comedy genre. A Grady Hendrix novel will scare the hell out of you with chilling tension and horrifying imagery. It will also make you laugh out loud. But beyond that, what makes Grady Hendrix's novels memorable is the care he puts into his characters and their relationships. This is the true heart of a Grady Hendrix novel. And yeah, I've cried reading his books on more than one occasion.
Grady Hendrix is an expert storyteller. Along with writing multiple novels, Hendrix has written nonfiction books, short stories, screenplays, and he even co-wrote a cookbook. Just like his readers, Hendrix is a huge fan of horror, and he's done his research. Just check out his Great Stephen King Reread over at Tor.com, or take a listen to his Super Scary Haunted Homeschool podcast, which just relaunched this year. This guy knows his stuff and he keeps busy, in other words.
Usually, Grady Hendrix fans can expect a new book from the author every year. So when his new book How to Sell A Haunted House got pushed back a year, readers were hungry for their next Grady Hendrix fix. Luckily, How to Sell A Haunted House finally came out earlier this year, and it was definitely worth the wait. But before you dive into Hendrix's latest novel, make sure you've checked out these must-read books to get a feel for his style.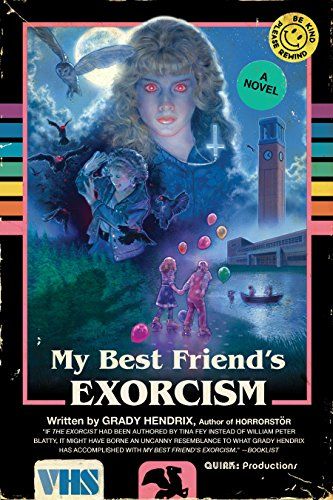 I may be biased because My Best Friend's Exorcism was the first Grady Hendrix novel I ever read. But I do think this is the one to start with, and I still think of it as his best. This novel includes all the things Grady Hendrix does best: scares, laughs, and so much heart. This is a story about best friends, after all.
Set in 1988, My Best Friend's Exorcism tells the story of Abby and Gretchen, two high school girls who have been best friends since a roller skating birthday party in the 4th grade. After a wild night of drugs and skinny-dipping goes horribly wrong, Abby notices Gretchen is acting strange. Abby knows her best friend and knows her moody and sometimes downright evil behavior is not normal. But when no one else believes her, she'll have to take matters into her own hands. Friendship is a powerful thing, but is Abby and Gretchen's friendship strong enough to fight a demon?
Once you've read Grady Hendrix's best novel, you should read his most underrated novel. We Sold Our Souls is such a great book. I especially love the way Hendrix writes about music and life in a heavy metal band. This book also gives me serious Jennifer's Body vibes (which is 100% a compliment). And yet you don't hear people talk about this one as much. It deserves a lot more attention.
In the 1990s, Kris Pulaski was the lead guitarist of heavy metal band Dürt Würk and on her way to rock stardom. But then lead singer Terry Hunt ditched the band and started a solo career, leaving his bandmates to fall into obscurity. Now instead of sold-out crowds and touring vans, Kris works as a night manager of a Best Western and generally just hates her life. Kris thinks things couldn't possibly get worse, but after a shocking act of violence turns her life upside down, she begins to suspect Terry has done the unthinkable: he's sold his bandmate's souls to the devil in exchange for his own success.
Next up, you've got to pick up Horrorstör. Of all of Grady Hendrix's novels, Horrorstör is the clear winner when it comes to the book's design and style. But this book isn't all style over substance. Yeah, this book will look kinda cute on your coffee table, but it's also a really creepy horror story.
Think haunted IKEA store, but for copyright reasons or whatever, let's call this place Orsk instead of IKEA. Something unsettling is happening at the Orsk store in Cleveland, Ohio. Employees come into work only to find broken furniture, and the security cameras reveal nothing. Looking to figure out what's really happening at the store, three employees are tasked with staying the night to investigate. None of the employees really knows what to expect, but the mysteries they uncover will terrify them and change their lives forever (if they survive the night).
---
Grady Hendrix's more recent novels — The Southern Book Club's Guide to Slaying Vampires, Final Girl Support Group, and How to Sell A Haunted House — should absolutely be on your TBR list as well. But if you haven't checked out the three Grady Hendrix novels above, make sure you give them a read!
Looking for more reading pathways for horror authors? Make sure you check out our reading pathways for Stephen Graham Jones. Or try these Shirley Jackson books and short stories. Or how about Edgar Allen Poe? You can find all of our previous reading pathways for authors we love here.