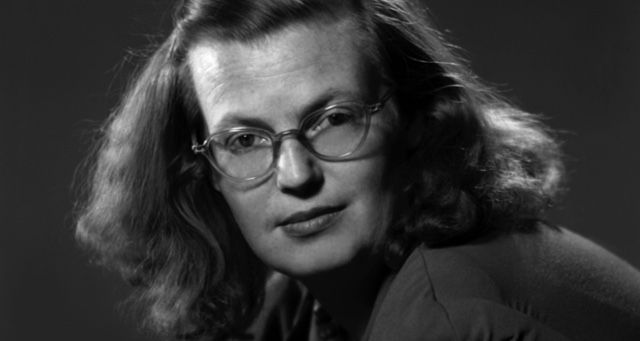 This content contains affiliate links. When you buy through these links, we may earn an affiliate commission.
For years best known as the author of the creepy (and often assigned in high school and/or college English classes) short story "The Lottery," Shirley Jackson and her many other works have been gaining recognition and popularity in recent years. If you're wondering where to start with Shirley Jackson books and short stories, look no further!
Who Was Shirley Jackson?
Born December 14, 1916, in Burlingame, California, Shirley Jackson was one of the great American novelists of the 20th century. Her family moved to Rochester, New York, in the early 1930s. After finishing high school and completing a year at the University of Rochester, she transferred to Syracuse University, where she met her husband, the literary critic Stanley Hyman. After a few years in New York, they moved to Vermont, where they lived (except for a brief move to Connecticut) for the rest of their lives.
She died of heart failure on August 8, 1965, at age 48, in her home in North Bennington, Vermont, and was survived by her husband and their four children. Her archives are maintained by the Library of Congress, and two of her children, Laurence Jackson Hyman and Sarah Hyman DeWitt, have continued to posthumously publish stories they have found in those archives.
In her lifetime, Shirley Jackson published six novels, two memoirs, a nonfiction book for young people, a children's play, a picture book, and a collection of short stories, in addition to many individual stories in various magazines. She was working on a seventh novel at the time of her death, and it was published posthumously, incomplete, with more stories. Additional collections have been published since.
Her work has been adapted into stage plays, graphic novels, movies, television, and more. Although several of her works have gone out of print over the years, nearly her entire oeuvre is currently available thanks to the resurgence in interest in her genius.
Further Reading And Shirley Jackson Biographies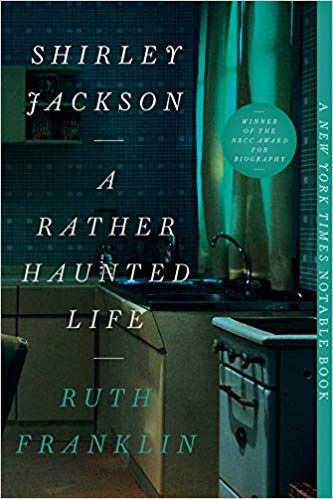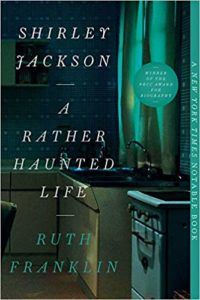 Shirley Jackson: A Rather Haunted Life by Ruth Franklin
This biography is comprehensive and detailed, and feels like a conversation with Ruth Franklin, perhaps over a glass of bourbon and a pack of Pall Malls (Shirley's preferred drink and cigarette brand). I cannot recommend it highly enough.
(Please note that I do not recommend reading her earlier biography by Judith Oppenheimer, as it is my opinion that one should not write a biography of someone they clearly dislike.)
Although Ruth Franklin's TinyLetter is no longer strictly about Shirley Jackson, as it was leading up to the release of A Rather Haunted Life, you can catch up on the archives at the link above. This is a wonderful and electrifying place to start: the letters in the barn.
I briefly discussed Shirley and Stanley's marriage (among others) in The Lives of Literary Wives.
It was announced on August 30 that a book of Shirley's letters is forthcoming from Random House.
Where to Begin with Shirley Jackson Books
This is largely a matter of taste, and I won't pretend that I think you should do anything other than read every word she ever wrote. However, I can suggest a sort of reading order.
This novella packs a punch into a slim 214 pages (in my paperback copy). It showcases Ms. Jackson's stunning ability to craft a perfect sentence, and then do it again, and again, and again, and keep doing it until the end of the book.
Merricat Blackwood has lived in near-total isolation with her sister Constance and their ailing uncle Julian since the rest of their family died. One day their cousin Charles shows up, looking for the family fortune he is certain the sisters are hiding.
I also saw the film adaptation of We Have Always Lived in the Castle (and I loved it). If you're in the U.S., you can catch it on Netflix.
(Note: whatever you do, and no matter how tempted you may be, do not read the stage adaptation by Hugh Wheeler, in which the character of Jonas the cat is reimagined as "a colored boy of nine years." Because it was the 1960s, the cast list notes that a white boy may be cast instead. Barf.)
There isn't a more classic Shirley Jackson book than The Haunting of Hill House, nor is there a more classic horror novel than The Haunting of Hill House. There isn't a book that has ever scared me as much as The Haunting of Hill House.
Psychiatrist and occult scholar Dr. Montague invites people who have experienced psychic phenomena to stay in a house that is believed to be haunted and either disprove or (hopefully) prove the rumors. Eleanor, Theo, Luke (the heir to Hill House), and Dr. Montague meet at Hill House. Things happen. Eleanor is not okay. Can a house be evil?
A Viewing Guide to Adaptations of The Haunting of Hill House
The Haunting, d. Robert Wise, 1963—This movie is spectacular and a must-watch. It is a good adaptation of the source material, while limited by various factors. In my opinion, the final lines improve on the book.
The Haunting, d. Jan de Bont, 1999—No, nope, pass, do not bother unless you want to get sauced and have a laugh. (And even then, probably don't. I warned you.)
The Haunting of Hill House, Netflix, 2018—this series is loosely based on the setting of the book and borrows character names but invents a wholly new plot. While I have no use for it, it has been wildly successful and many people love it. Rioter Alex Luppens-Dale wrote about the references to the novel in the series.
Further Reading
Random House copy chief Benjamin Dreyer, author of Dreyer's English, wrote a brilliant examination of the opening paragraph of The Haunting of Hill House: Shirley Jackson's Sublime First Paragraph in 'Hill House,' Annotated (note: some links are broken as the original site is no longer extant).
If You Want Something Different…
Did you know Shirley also wrote wholesome, lighthearted, comedic family stories? OH YES SHE DID. These stories, primarily about her children and household, paid the bills. Originally published individually in women's magazines, the stories were collected and woven together into the loose, largely fictionalized memoirs Life Among the Savages and Raising Demons. These books are warm, funny, and magical. They describe a life that is both hectic and #goals. They are also responsible for my absolute conviction that I wanted four children (I have two and am very done).
Emma Nichols also gives the rundown on these books in Shirley Jackson and the Mundane Horrors of Motherhood.
Where to Start with Shirley Jackson Books of Short Stories
Shirley Jackson wrote thousands of short stories, most of which are collected in half a dozen volumes. I will give a short rundown below, but first I will say this: if you buy only one collection of Shirley Jackson short stories, buy Dark Tales. This is an odd thing for me to say, as it is the only collection of her stories that I do not own, but the only reason I don't own it is I have all of the stories in other collections. This is truly a best of, and an excellent starting place.
But Annika! you cry. Dark Tales does not include "The Lottery," Shirley's most famous story! Yeah, I know. ¯\_(ツ)_/¯
If you read the stories in Dark Tales and love them, which you will, I would advise moving on to The Lottery and Other Stories, the only collection published during Shirley's lifetime. While I believe her abilities grew tremendously from this book, as showcased in Dark Tales, this is a wonderful collection.
Note: It is also worth picking up the graphic novel adaptation of the story The Lottery as it is illustrated by Shirley's grandson, Miles Hyman, and shows an interesting alternate way to tell the story.
From there, you may want to pick up what I consider the best collection of Shirley Jackson short stories, Just An Ordinary Day. The first of two collections put together by Laurence and Sarah from Shirley's Library of Congress archives, this 1996 collection covers both published and unpublished stories, and includes more than one version of at least one story. It is my personal favorite.
Lastly, you must pick up Let Me Tell You, the stunning volume released in 2015 to commemorate the 50th anniversary of her death. Lawrence and Sarah went back to the archives, diving into several previously unmined boxes of papers and selecting previously unseen stories. (A confession: I have not read every story in this collection yet, because I am afraid it will be the very last one. I never dreamed there would be another after Just An Ordinary Day, and I don't want there to never be another Shirley Jackson story to read.)
Take A Deeper Dive into Lesser-Known Shirley Jackson Books
For one day only (JK, the internet is forever), I am bringing back Buy, Borrow, Bypass to give you the rundown on the lesser-known Shirley Jackson books, including novels and works for children! You should, of course, feel free to ignore my designations and collect her complete works.
This is for completionists only. It is a mess of a little novel, though it certainly shows the skill Shirley would develop in just a few short years. In 1948, though, her short stories were where it was at.
This one is weird and disturbing and worth a trip to the library. Content warning for an implied sexual assault. (It is very vaguely implied, and has been the subject of much discussion and debate for the last 70 years.)
Commonly found in the posthumous bind-up The Magic of Shirley Jackson (with Life Among the Savages, Raising Demons, and 11 of her most popular short stories), this was Shirley's attempt to write about the psychological diagnosis then known as multiple personality disorder. If you've read Sybil or seen The Three Faces of Eve, this one may be worth a read for comparison. It was adapted as Lizzie in 1957; Shirley did not like the adaptation, which is not currently available in any form that I can find.
This is her nonfiction middle grade book about a topic she held dear. It is a fun curiosity only if you can overlook the overt colonialist, racist approach to the settlement of Massachusetts.
A family waits for the end of the world. That's a terribly simplistic summary of this novel, but any attempt at improving it might take a dozen paragraphs.
The Bad Children (1958)—I don't know!
Shirley wrote this play for her children. Copies go for a tremendous amount of money, when you can find one at all. I don't have a copy to consult.
Do you want a picture book written by Shirley Jackson? Of course you do.
This is the unfinished novel Shirley was working on when she died, and it's amazing. Be prepared to be extremely upset that it is not finished! Read it anyway!
Bonus! Shirley Jackson Book Reviews
Time compiled some of the original reviews of Shirley Jackson's books in 2016. They included only her novels, which unfortunately meant omitting The Lottery, Life Among the Savages, and Raising Demons.
The Shirley Jackson Award
In 2007, with the permission of her estate, The Shirley Jackson Award was established. Each year, at ReaderCon, awards are given for best novel, novella, novelette, short story, collection, and anthology.
Previous winners include Victor LaValle, Cristina Rivera Garza, Emma Cline, and Dominik Parisien and Navah Wolfe.
Miscellaneous Shirley Jackson
Shirley Jackson wrote several essays and speeches on writing. They are scattered throughout her other collections, and you can read 46 Insightful Shirley Jackson Quotes on Writing right here on Book Riot.
If you enjoyed the annotation of the opening paragraph of The Haunting of Hill House, perhaps you'd enjoy all of her opening paragraphs: The Magic of Shirley Jackson's Opening Paragraphs.
Want Shirley Jackson Swag? How about some Shirley Jackson T-shirts?
Still need more? Check out our Shirley Jackson archives.