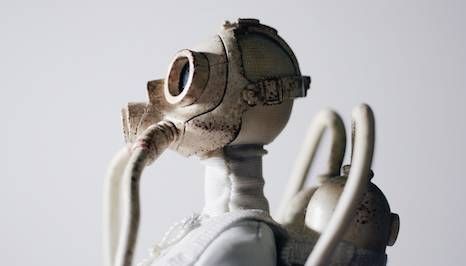 This content contains affiliate links. When you buy through these links, we may earn an affiliate commission.
Let's cut to the chase: Who are the best science fiction authors?
There are as many answers to this question as there are science fiction readers, and this list does not make any claims of being complete. The authors included here have been selected based on the following criteria:
They are primarily known as authors of science fiction. Science fiction here means fiction where science and technology in one way or another play a crucial role in the development of the plot.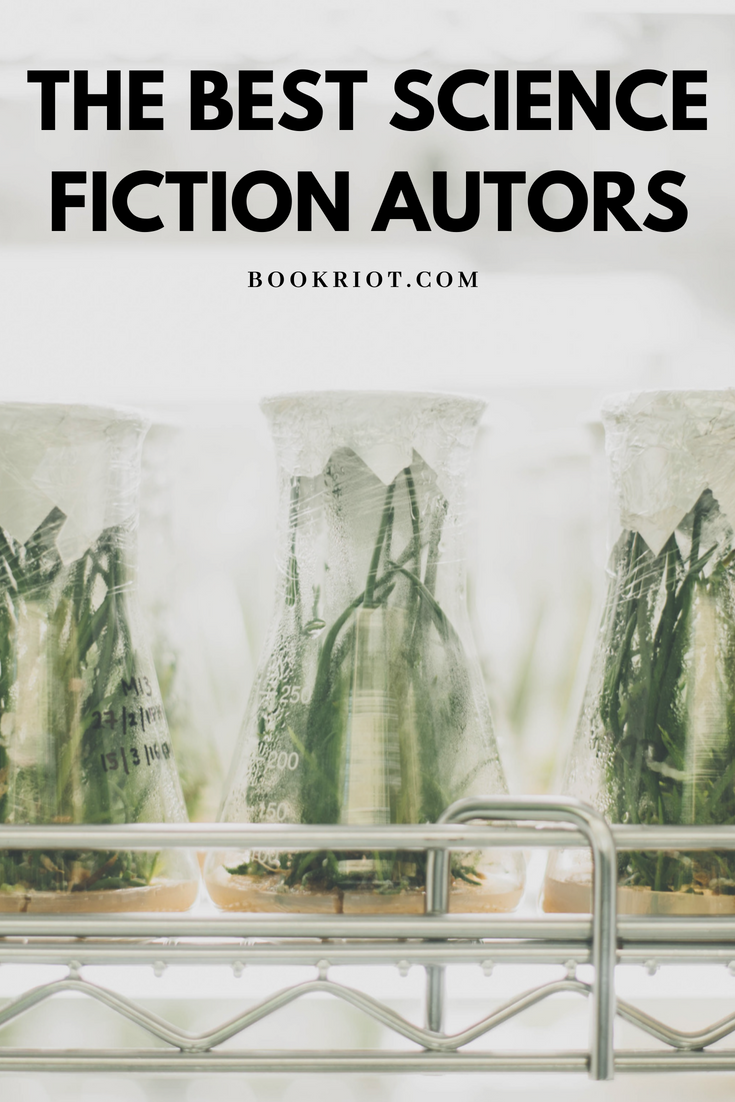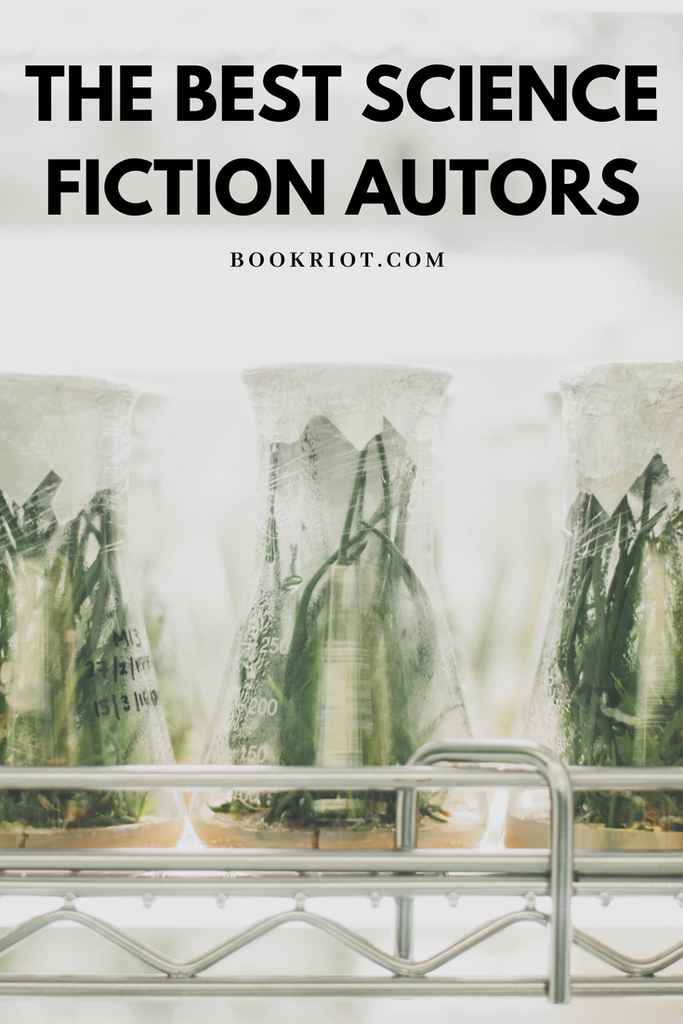 They have published more than one science fiction title, in other words; their contribution to the field of science fiction goes beyond the odd title written within a greater body of work otherwise dedicated to other genres, including fantasy.
They have all left an indelible mark on science fiction in that their books have changed the direction of the genre.
Through their science fiction novels, these authors have changed how we view the universe and our place in it.
These authors are, or have been, active within the past 150 years. It can be argued that science fiction goes as far back as the seventeenth century with Johannes Kepler's story Somnium (1634) and the collected body of work of Margaret Cavendish (1623–1673). Here, focus lies on science fiction based on modern science and technology, which began to take shape during the second half of the nineteenth century.
Also, these are some of the best science fiction authors to address the question of what it means to be human, and they use science and technology to search for the answer to this question. (Those of you who have read Douglas Adams's The Hitchhiker's Guide to the Galaxy might argue here that the question has already been answered, but that is a different discussion.)
During his lifetime, Herbert George Wells (1866–1946), also known as H.G. Wells, was famous for his feminist novels, but today he is known as one of the most influential science fiction writers. H.G. Wells undoubtedly changed how we view the universe and our place in it. In The Time Machine, Wells tapped into the latest development in science where the fourth dimension had become a dimension of time rather than space, and consequently introduced one of the most enduring tropes of science fiction, time travel. In The War of the Worlds, Wells introduced yet another trope of science fiction, namely the alien invasion of Earth. Because of Well's significance to modern science fiction, the best book to recommend would be the collection Seven Novels. Complete and Unabridged, which contains seven of his most influential works.
What would science fiction be without Isaac Asimov (1920–1992)? Born in Russia, Asimov arrived in the United States with his parents at the age of three, escaping the pogroms that broke out in the wake of the collapse of the Russian Empire and which were part of the birth pangs of the Soviet Union. Even though Asimov was an outspoken atheist, his Jewish-Russian background came to define his work as a science fiction author, where I, Robot addresses the question of what it means to be human head on by formulating the Three Laws of Robotics; the inter-galactic book series Foundation reads like Leo Tolstoy's War and Peace but in space; and The Gods Themselves discusses gender and multiple universes in a way that echoes the ideas of Maimonides (1135–1204) in his seminal work on Judaic philosophy and theology, The Guide for the Perplexed.
Philip K. Dick
Philip K. Dick (1928–1982) was not only the master of mind-bending science fiction, he was also highly skilled in coming up with attention-grabbing titles for his work. Do Androids Dream of Electric Sheep (adapted for film as Bladerunner), We Can Remember It for You Wholesale (perhaps better known by its movie title, Total Recall), A Scanner Darkly, and Flow My Tears, The Policeman Said are only a few examples. Philip K. Dick's work is an excellent example of the various ways that technology can be used—and abused—by society and by governments in deciding who—or what—is a human being. Even though Philip K. Dick passed away more than thirty-five years ago, his science fiction might be among those we need to address the issues of the time we live in.
Octavia Butler (1947–2006) is the undisputed First Lady of Science Fiction. The first science fiction writer to receive a MacArthur Fellowship, Butler places persons of color and women at the forefront in a way that was unprecedented in science fiction up until that point in time. Asking the question of what it means to be human, Butler searches for the answer in stories that explore the intermingling of species, be they genetically modified vampires as in Fledgling, or the children of human beings and aliens as in Lilith's Brood. She also predicts our future in the dystopian novel Parable of the Sower, which takes place in 2025. Today, only seven years away from the time of the novel, Butler's prediction seems like a future that could very well come true.
In his authorship, Neal Stephenson (1959–) has taken the tropes of science fiction and myth and run them through a blender. He serves them to us as his own flavorful smoothie that can be referred to as The Neal Stephenson Experience. This experience is one of book titles that are near impossible to pronounce; repeated crossings of the Pacific Ocean; and a roller coaster ride of storytelling. Stephenson's books look at what is humanity through the lens of virtual reality, be it in an actual computerized environment, such as in Snow Crash, The Diamond Age, and REAMDE, or in a physical, cloistered world on a second Earth far out in space, as in Anathem, or on space stations after Earth has been destroyed, as in Seveneves. In The Baroque Cycle, Stephenson branches out and takes on the Scientific Revolution of the seventeenth century, putting his spin on a major step in the development of human knowledge. Stephenson's novels have had such impact on how we view the world that he has become a member of think tanks that try to predict the future, and science buildings are named after characters in his books.
Nnedi Okorafor (1974–) bends our imaginations in the here and now by blending African and North American fiction and legends and shooting them into space. One of the most prominent authors of Afrofuturism, Okorafor's novella trilogy Binti (Binti, Binti: Home, and Binti: The Night Masquerade) looks at the issue of being human from the perspective of a young African woman who travels into deep space. Okorafor's novel Lagoon is about an alien space invasion in Lagos, Nigeria, that confronts the question of what constitutes as human behavior in a novel that forces the reader to ask more questions rather than providing the answers.
The trilogy Imperial Radch (Ancillary Justice, Ancillary Sword, Ancillary Mercy) by Ann Leckie (1966–) represents a watershed moment in recent science fiction, especially when addressing the issue of what it means to be human, but also the role that technology and science play in this. The main character of the trilogy is what remains of an AI after the ship it controlled was destroyed. The AI inhabits a dead body, keeping it upright and mobile by activating and taking over its consciousness. The Imperial Radch trilogy investigates the issue of being human down to its smallest part—consciousness.
With a clear view of the present-day global political situation, Malka Older (1977–) dissects what is at stake if we let search engines controlled by corporations dictate the agenda. Older's trilogy The Centenal Cycle (Infomocracy, Null States, and State Tectonics) examines the future towards which we seem to be heading where human beings have relinquished control of the world to big data and algorithms.
Who do you think are the best science fiction authors?
Links to other posts about science fiction authors on Book Riot:
8 Great Reads to Get into Afrofuturism.
Women Who Imagined the Future. Science Fiction Anthologies by Women.
100 Must-Read Young Adult Science Fiction Books.
Read Harder: A Sci-Fi Novel with a Female Protagonist by a Female Author.