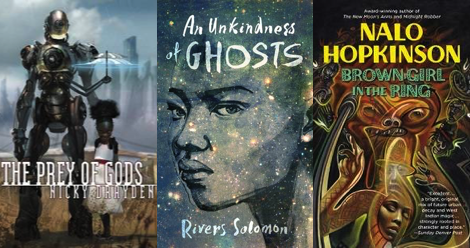 This content contains affiliate links. When you buy through these links, we may earn an affiliate commission.
This list of fantastic Afrofuturism books to introduce you to the genre is sponsored by Trazer: Kids of Stolen Tomorrow by Joseph O. Adegboyega-Edun.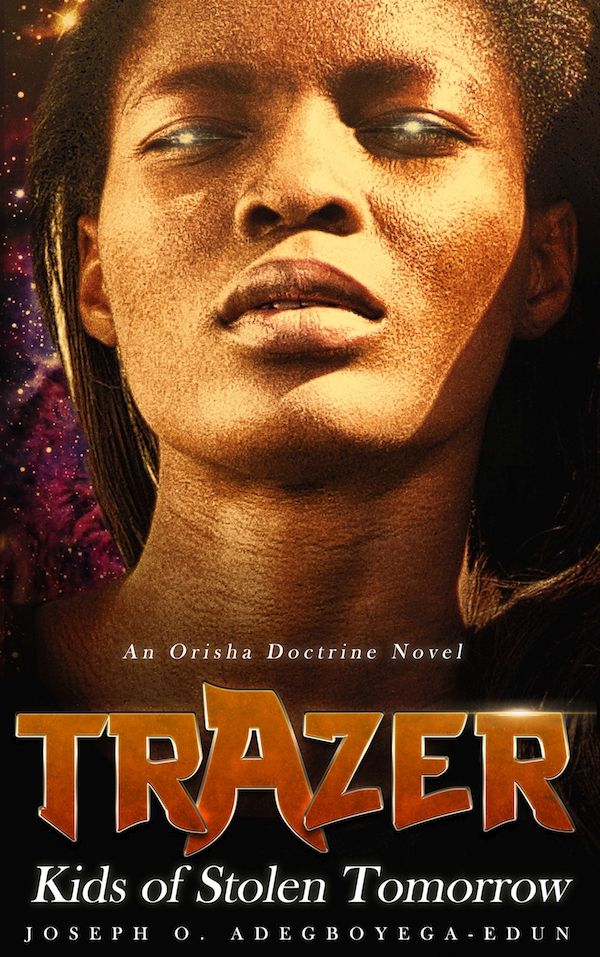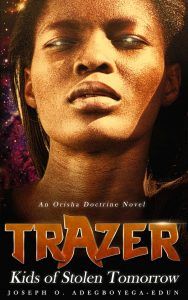 It's the year 93 O.O., and Dara Adeleye lives in a world shaped by the Miracle of Elegua, an intervention by the Yoruba gods in the fate of an Earth on the brink of collapse decades before she was born. A gifted student and artist with a bright future from a tough neighborhood, her path is derailed when she runs into trazer Kris Arvelo—a mysteriously powered graffiti writer who may hold clues to Dara's true destiny.
---
With the well-deserved success of Black Panther in the box office and the amazing black voices being published in sci-fi/fantasy, Afrofuturism is getting renewed attention in the book world. I've seen it come up in Get Booked questions, in emails to the SFF Yeah! podcast, and in reader requests in comments and forums. You can fall down a really amazing rabbit hole if you start Googling (I speak from experience on that) but if you don't have time for that at the moment, here's a quick primer and some reading suggestions from my favorites.
There are many definitions of Afrofuturism; the one I gravitate towards refers to media that explores futures for black individuals and the black community. This is where it intersects with science fiction and fantasy—writers and artists often use technology and the fantastical as elements in these explorations. And, because black bodies are politicized, it's an inherently political, transformative, and revolutionary art form to imagine black people in the future. In this meditation on Afrofuturism, author Tochi Onyebuchi notes that it can look into the past as well, but for the purposes of this post, I wanted to look at some of my favorite science fiction works that explore black lives in both near and far possible futures.
My Soul to Keep by Tananarive Due (African Immortals #1)
Trigger warnings: lynching, sexual assault, harm to children.
Jessica is a reporter, as well as a wife and a mother; her husband David happens to be a millennia-old immortal. Not that she'd know! They met when she was in college and he was just her Spanish professor. She knows that he's a devoted husband and father; almost too devoted, always wanting more of her time. She thinks her biggest problem is balancing her work ambitions with the demands of family life; little does she know…A series of murders surrounding Jessica attract the attention of other immortals, and she starts to learn the truth about her marriage. David, in the meantime, has to decide what he can and can't tell her—and what he's going to do next. And as the series goes on, it explores both the futures of Jessica and David and of humanity.
My Soul to Keep plays with the philosophical questions surrounding immortality: how you reconcile it with religion, what family and love mean when you live forever. Due also examines what it looks like to be a black man who cannot die, who lives through slavery, through the rise and fall of empires. To all this she adds a hefty dose of action and gore. This book is a page-turner and I can't wait to get my hands on the next in the series (although you could read it as a stand-alone).
After the Flare by Deji Bryce Olukotun (Nigerians in Space #2)
Friends, you should probably read Nigerians in Space first. In fact I am almost positive that you should do that, even though I did not. But I am here to tell you that if, like me, your library is taking forever to get a copy of the first book for unknowable reasons but After the Flare is easily available to you, you can safely dive right in.
A huge solar flare has hit the Earth and wiped out technology in most of Europe, North America, and Asia—and there's an astronaut stranded on the international space station. The newly formed Nigerian Space Program is determined to get her back, and Kwesi Brackett, former NASA employee, is lucky enough to find himself a head engineer in the program. But between political shenanigans and resource issues, he's struggling to to make his deadlines. Then some workers discover an ancient artifact on site, triggering a chain of supernatural occurrences. On top of it all, Boko Haram is on its way to take over the program's perceived riches.
Olukotun is exploring so many things in this novel—colorism, the space race, the vagaries of love, the fall of current First World powers, religion and politics, and of course the supernatural occurrences mentioned (but no spoilers here). The ending of this book has me craving another installment; I sincerely hope there is more coming, and in the meantime I impatiently await my hold on Nigerians in Space.
Set in a near-future South Africa, life is generally pretty good—which is a huge problem for a demigoddess who feeds on fear. But then a new illegal drug on the market, advances in genetic engineering, and the burgeoning sentience of a household robot introduce just enough entropy into the system to give her a chance to change things up—and humanity is not going to love these changes. Which is the point, as far as she's concerned…
Drayden blends mythology with mitochondrial DNA, explores the intersections of faith and artificial intelligence, and packs enough action into this novel to rival a Marvel movie. Her characters (of which there are several, voicing alternating chapters) are flawed and all too human, and just as in real life that is both their strength and weakness. I alternately wanted to shake them and cheer them on, which is of course the best possible combination. Drayden also manages to balance child and teen narrators with adult narrators without ever losing the flow or the pacing of the novel, which is a rare feat indeed.
Brown Girl in the Ring follows the exploits of a family of women struggling on many levels, set in a near-future Toronto in which the city has been abandoned by the wealthy and privileged for the suburbs. Ti-Jeanne has left her addict boyfriend Tony, given birth to her first child, and is torn between the love she still feels for Tony and the need to make a life that's as safe as possible for her son. Her grandmother, Mami Gros-Jeanne, is trying to get Ti-Jeanne to be her apprentice and learn the medicine and magical lore that is her birthright, with little success. The aforementioned Tony thinks that if he does one last job for the local crime boss Rudy, he can buy his way out into a better life and take Ti-Jeanne with him. And Rudy—well, Rudy wants power and control, forever, and doesn't care what he has to do to get it. And then the gods get involved.
Blending very real politics and drama with Afro-Caribbean mythology, Hopkinson tells a story that's dark and violent, but ultimately hopeful. It's also a whopper of a page-turner; I picked it up on a whim and then could not put it down. Hopkinson is a force in Afrofuturism—all of her books are amazing—and if you're looking for an entry point, this is a great place to start. Bonus: a film inspired by the book debuted recently!
Elysium by Jennifer Marie Brissett
With its experimental structure, this is a novel that rewards readers who go along for the journey. It jumps characters and time frames, and puts its protagonists through life after life, apocalypse after apocalypse. Through this repetition, we start to see the world of Elysium take shape, and the struggles of humanity to survive and protect their loved ones at any cost. I'm being a bit cagey here because, to me, part of the book's genius is that you don't know immediately what is going on with the plot, and I would hate to spoil that experience for you.
Brissett's genius is in pulling off the complex structure and by investing us wholly in the characters. We see them in different forms, different genders, different emotional configurations, but their personalities shine through in each chapter and keep us rooting for them, and desperate to know what happens next. It's also a book I wanted to start over again as soon as I finished it, which is a rare book indeed. Elysium is a truly monumental novel, especially when one considers that it's a debut. Give it your time and attention, and you will not be sorry.
Trigger warnings: physical and sexual violence.
In this debut, Solomon takes the classic "generation ship" trope in a new direction, and does it with skill and verve. Aster, the primary narrator, is a self-taught healer onboard the enormous spaceship Matilda, which has been traveling in search of a new home planet for many generations. Instead of creating a new society and culture, humanity has fallen back on its worst history. The upper decks are landscaped, lush, beautiful, and populated entirely by white people, while the lower decks are populated by the darker-skinned inhabitants of the ship: enslaved, rationed, and patrolled and abused by armed guards. Ruthless violence keeps them working for the upper-deckers, and a religious dictatorship enforces class and race order across levels. Aster, a lower-decker, doesn't have any plans to be a revolutionary. But when her friend Giselle points out a coded message in Aster's dead mother's diaries, everything begins to shift.
Aster is a neurodiverse character, who sees clearly enough the world around her but can't always communicate like she wants or like others want her too. The web of relationships, fraught and tender, that Solomon has built around her are beautifully rendered and layered. The world-building is detailed, thoroughly envisioned, and all too familiar. An Unkindness of Ghosts is the debut of a powerful new voice in science fiction, and a must-read for fans of Ursula Le Guin, N.K. Jemisin, Octavia Butler, and Margaret Atwood.
Lilith's Brood (The Xenogenesis Trilogy) by Octavia Butler
Trigger warnings: sexual assault, harm to children.
First published in 1987, the Xenogenesis books asks us to consider if humanity is worth saving, and on what terms. In Dawn, we meet Lilith Ayepo. She, along with a few other remnants of humanity, was saved from the total nuclear destruction of Earth by aliens called the Oankali. Centuries later, the Oankali have made the Earth habitable again and they begin waking up the humans—but in the time since the humans were salvaged, the aliens have also edited their DNA. Humans can no longer reproduce without the involvement of the Oankali, who survive and evolve by trading genetic material with the other species they encounter as they explore the universe. Lilith's choice is simple, but not easy: help the aliens wake up the rest of the humans and acclimate them to their new reality, or resist the Oankali and be put back in stasis. Her choice and the consequences make up the next two books, Adulthood Rites and Imago.
The nuances of consent and compulsion are recurring themes for Butler (Fledgling is also a deep—and deeply disturbing—look at these concepts). And as I tore through this series, I found myself marveling at the complicated portrait she paints. She never shies away from presenting humanity at its worst, and she searches for the best while she does it.
In this possible future, humans can be born with mental powers—and some are stronger than others. Rafi has exceptional powers, ones that could potentially be used to control and abuse others. He knows exactly how dangerous this is, since his father did just that. Now he's in training at an academy where they've effectively muzzled his powers, both so that he can learn to control them and to prevent him from doing the same. Rafi struggles to come to terms with his own potential and how others treat him, while all he wants is to be a normal teenager and to play his favorite sport, Wallrunning. When he gets a chance to run away from the Lyceum and go to the planet Punartam, where more people are like him, he takes it—only to find himself enmeshed in a very different kind of game, one that could change the fates of multiple worlds.
Lord has built a fascinating and complex society, where the trappings are new but the problems themselves are age-old. How do we move forward from childhood trauma? How do we separate ourselves from others' expectations? Lord also has the ability to imagine many different kinds of worlds—her fantasy novel Redemption in Indigo, for example, is a retelling of a Senegalese folk tale, told in a beautifully playful style that's light-years away from the crisp, precise prose of The Galaxy Game. No matter what she's doing, she does it with an eye for detail and wonderfully realized characters.
These is just the tip of the iceberg for Atrofurism books; we haven't even talked about Samuel Delaney, Nnedi Okorafor, or Ishmael Reed, for starters. Another great starting point is the NOMMO Awards, from the African Speculative Fiction Society—you can see the 2018 nominees here. Share your favorites in the comments, please and thank you!
Suggested accompanying playlist: Janelle Monae, obviously.
Also In This Story Stream