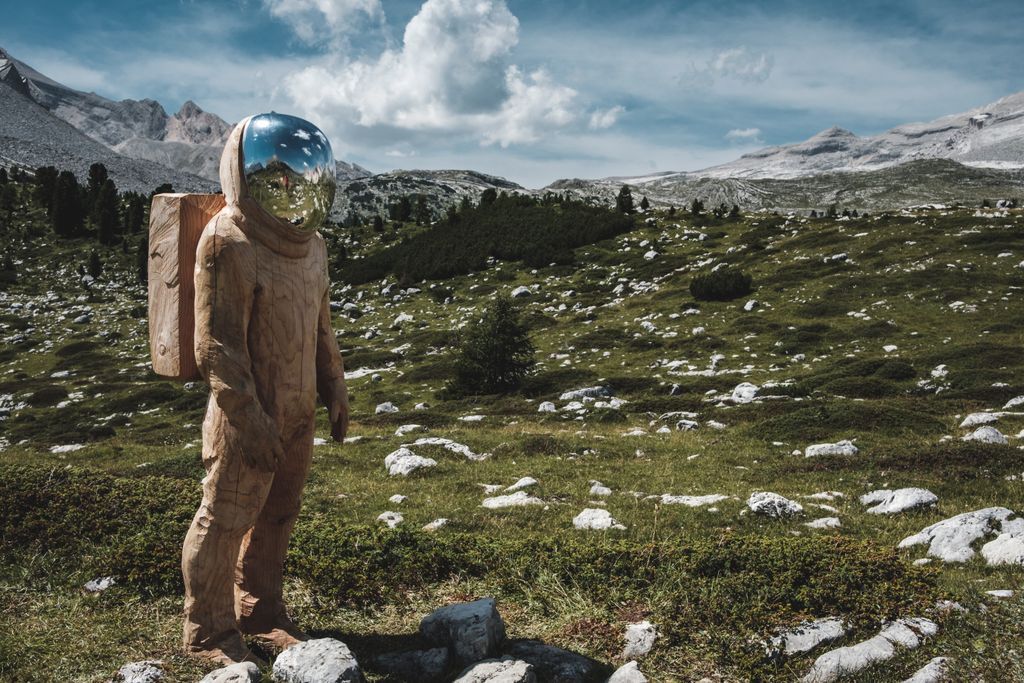 Newsletter 1
100 Must-Read Young Adult Science Fiction Books
This content contains affiliate links. When you buy through these links, we may earn an affiliate commission.
Science Fiction books are what initially ignited a great love of reading for me. And Young Adult books reignited that love. So the intersection of the two, for me, is golden. For this list of Young Adult Science Fiction books, I chose to include dystopians with science-fiction-based worlds, as well as books that include both science-fiction and fantasy elements.
All YA sci-fi books descriptions in quotes are from Goodreads, unless indicated otherwise.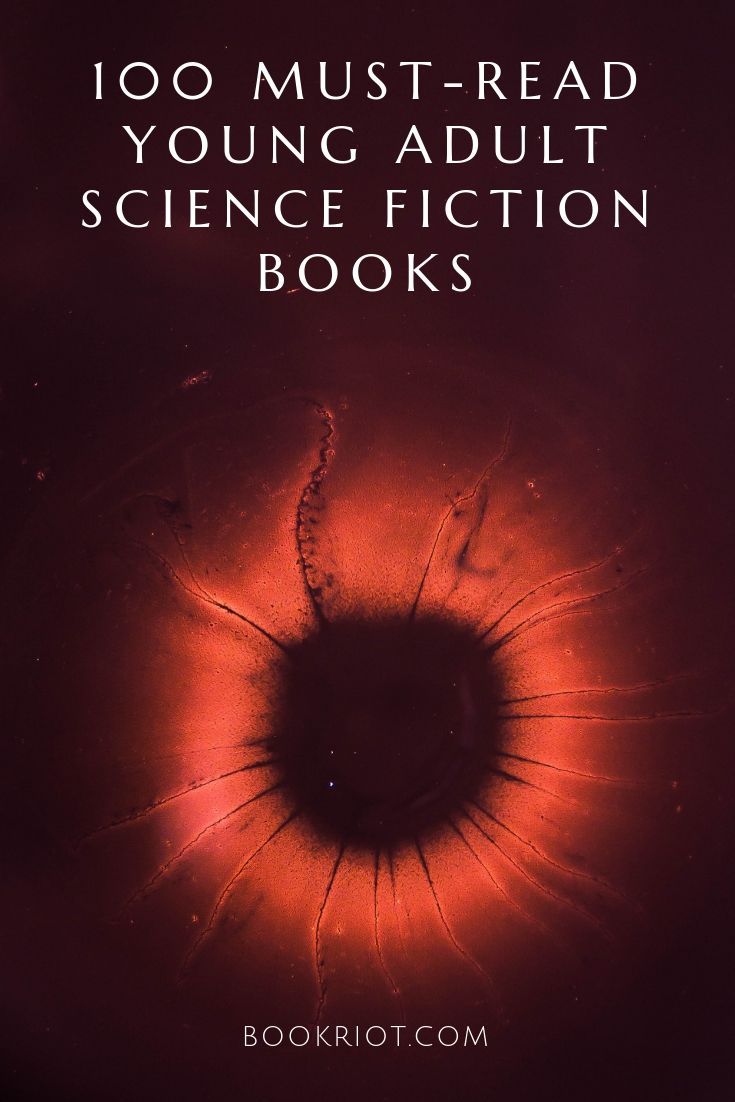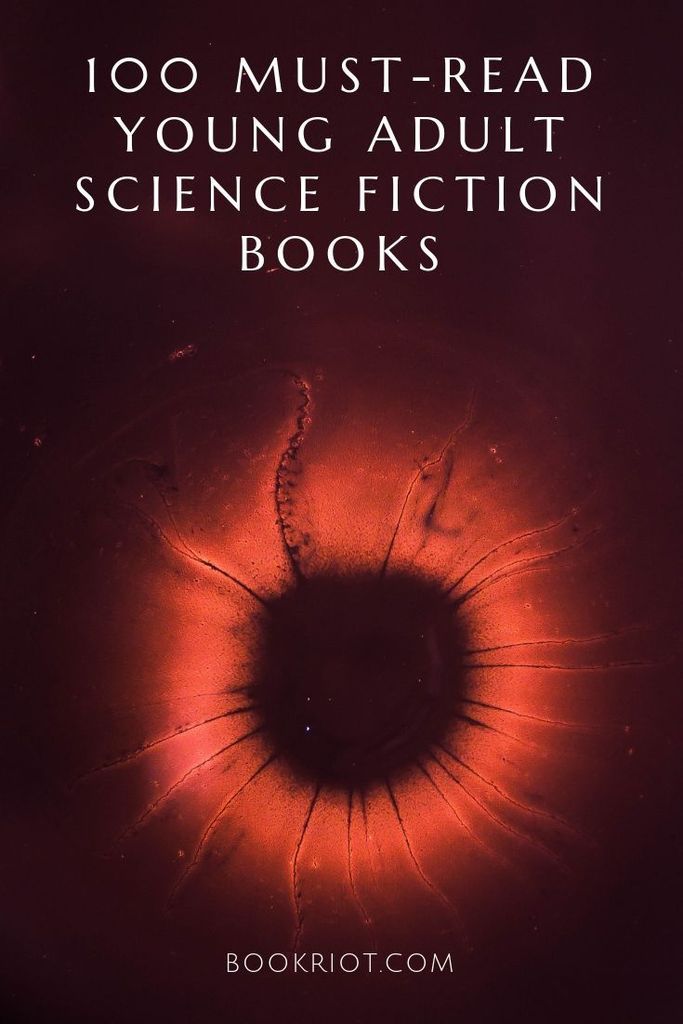 The best young adult science fiction books
"Octavia has always dreamed of becoming a whitecoat, one of the prestigious N'Terra scientists who study the natural wonders of Faloiv. When the once-secretive labs are suddenly opened to students, she leaps at the chance to see what happens behind their closed doors. However, she quickly discovers that all is not what it seems."
"Awarded a place at the most exclusive school in the universe, Aerin begins to have hope that her horrible past is all behind her now, but when she meets Dane, and ends up getting in trouble due to his actions, a powerful bond forms between the two that could greatly impact both their futures."
"Across North America, flocks of birds hurl themselves into airplanes, causing at least a dozen to crash. Thousands of people die. Fearing terrorism, the United States government grounds all flights, and millions of travelers are stranded. Among them are Reese and her debate team partner and longtime crush David."
Avalon by Mindee Arnett
Jeth and his crew make a living stealing devices that allow people to travel faster than the speed of light. He's managed to stay under the radar until he comes into possession of information both the government and crime bosses are willing to kill for.
"Alien queen Kora has a problem as vast as the endless crimson deserts. She's the first female ruler of her territory in generations, but her people are rioting and call for her violent younger twin brother to take the throne."
Binti by Nnedi Okorafor
Binti "is the first of the Himba people ever to be offered a place at Oomza University, the finest institution of higher learning in the galaxy. But to accept the offer will mean giving up her place in her family to travel between the stars among strangers who do not share her ways or respect her customs."
Bumped by Megan McCafferty
"A virus has swept the world, making everyone over the age of eighteen infertile. Teenagers are now the most prized members of society, and would-be parents desperately bid for 'conception contracts' with the prettiest, healthiest, and smartest girls—cash, college tuition, and liposuction in exchange for a baby."
Burn Out by Kristi Helvig
"One of the last survivors in Earth's final years, Tora yearns to escape the wasteland her planet has become after the sun turns 'red giant,' but discovers her fellow survivors are even deadlier than the hostile environment."
Coda by Emma Trevayne
"By encoding music with addictive and mind-altering elements, the Corp holds control over all citizens, particularly conduits like Anthem, whose life energy feeds the main power in the Grid. Revolution all but sings in the air, and Anthem cannot help but answer the call with the chords of choice and free will."
Control by Lydia Kang
"Using broken-down technology, her new friends' peculiar gifts, and her own grit, Zel must find a way to get her sister back from the kidnappers who think a powerful secret is encoded in Dyl's DNA. Set in 2150, this is about the human genetic 'mistakes' that society wants to forget."
"Seventeen-year-old Cassandra Gupta's entire life has been leading up to this—the opportunity to travel to space. But to secure a spot on this classified mission, she must first compete against the best and brightest people on the planet."
"Noemi and Abel are enemies in an interstellar war, forced by chance to work together as they embark on a daring journey through the stars."
In Beatrice's dystopian Chicago world, society is divided into five factions, each dedicated to a particular virtue. At sixteen, she leaves her family to join Dauntless, the brave, and becomes Tris. But Tris has a secret that might destroy her world.
Dogsbody by Diana Wynne Jones
"The Dog Star, Sirius, is tried for murder by his heavenly peers and found guilty. His sentence: to be reborn on Earth as a dog until such time as he carries out the seemingly impossible mission imposed on him."
"Phaet Theta has lived her whole life in a colony on the Moon. When her mother is arrested, the only way to save her younger siblings from the degrading Shelter is by enlisting in the Militia, the faceless army that polices the Lunar bases and protects them from attacks by desperate Earth dwellers."
"A computer-hacking teen. The girl who wants to save him. And a rogue mirror reflection that might be the death of them both."
"To Zoheret and her shipmates, Ship has been mother, father, and loving teacher, preparing them for their biggest challenge: to survive on their own, on an uninhabited planet, without Ship's protection. Can Zoheret and her companions overcome the biggest obstacle to the survival of the human race—themselves?"
"The only surviving heir to an ancient Kalusian dynasty, Rhee has spent her life training to destroy the people who killed her family. Now, on the eve of her coronation, the time has finally come for Rhee to claim her throne—and her revenge."
"A sharp-edged semi-futuristic riff about a rebellious teenager's last week at an industrial orphanage. "
"Ephraim discovers a strange coin that makes his wishes come true each time he flips it. Before long, he's wished his alcoholic mother into a model parent, and the girl he's liked since second grade suddenly notices him. But Ephraim soon realizes that the coin comes with consequences."
Feed by M.T. Anderson
"Identity crises, consumerism, and star-crossed teenage love in a futuristic society where people connect to the Internet via feeds implanted in their brains…a smart, savage satire that has captivated readers with its view of an imagined future that veers unnervingly close to the here and now."
"Cloud Atlas meets Orphan Black in this epic dimension-bending trilogy by New York Times bestselling author Claudia Gray about a girl who must chase her father's killer through multiple dimensions."
"Elena Martinez has street smarts, the ability for perfect recall, and a deadline: if she doesn't find a job before she turns eighteen, she'll be homeless. But then she gets an unexpected offer from Aether Corporation… Elena is being sent on a secret mission to bring back data from the future."
"The Game: Get ready for Zero Hour as 200 geniuses from around the world go head to head in a competition hand-devised by India's youngest CEO and visionary. The Stakes: Are higher than you can imagine. Like life and death. Welcome to the revolution. And get ready to run."
"Seventeen-year-old Serendipity 'Pity' Jones inherited two things from her mother: a pair of six shooters and perfect aim. She's been offered a life of fame and fortune in Cessation, a glittering city where lawlessness is a way of life. But the price she pays for her freedom may be too great…"
Matt is confined on a cottage on the estate of a 146-year-old drug lord, El Patron. He learns that he is a clone of El Patron and is being raised to provide spare body parts.
Hungry by H.A. Swain
"In the future, food is no longer necessary—until Thalia begins to feel something unfamiliar and uncomfortable. She's hungry."
Illuminae by Amie Kaufman and Jay Kristoff
"The year is 2575, and two rival megacorporations are at war over a planet that's little more than an ice-covered speck at the edge of the universe. With enemy fire raining down on them, Kady and Ezra—who are barely even talking to each other—are forced to fight their way onto one of the evacuating fleet."
Illusive by Emily Lloyd-Jones
"Seventeen-year-old Ciere Giba has the handy ability to change her appearance at will… After crossing a gang of mobsters, Ciere must team up with a group of fellow superpowered criminals on a job that most would have considered impossible: a hunt for the formula that gave them their abilities."
"Incarceron—a futuristic prison, sealed from view, where the descendants of the original prisoners live in a dark world torn by rivalry and savagery. It is a terrifying mix of high technology—a living building which pervades the novel as an ever-watchful, ever-vengeful character, and a typical medieval torture chamber—chains, great halls, dungeons. "
"The son of a time-traveling Recorder from 2354 AD and a gladiator living in Rome in 95 AD, Far's birth defies the laws of nature…During a heist on the sinking Titanic, Far meets a mysterious girl who always seems to be one step ahead of him."
"In a fragmented future United States ruled by the lavish gentry, seventeen-year-old Madeline must marry, like a good Landry woman, and run the family estate…But soon, rumors of war and rebellion start to spread, and Madeline finds herself at the center of it all."
"Born into an elite family in one of the Republic's wealthiest districts, fifteen-year-old June is a prodigy being groomed for success in the Republic's highest military circles. Born into the slums, fifteen-year-old Day is the country's most wanted criminal."
A novel about sixteen-year-old Princess Leia, as she starts to discover the truth about the Empire, her parents, and the Rebellion.
"Abandoned as a baby wrapped in a T-shirt with an image of a lizard on the front, Kivali found a home with nonconformist artist Sheila. Is it true what Sheila says, that Kivali was left by a mysterious race of saurians and that she'll one day save the world?"
"Bird's chance meeting with a government agent at a party leads to her waking up in hospital eight days later with no memory of what happened. Outside the hospital, Washington D.C. has been quarantined because of a global flu pandemic, and the agent is certain Bird knows something about the virus." (Google Books)
Matched by Ally Condie
"In the Society, officials decide. Who you love. Where you work. When you die."
"Six unforgettable kids—with no families, no homes—are running for their lives. Max Ride and her best friends have the ability to fly. And that's just the beginning of their amazing powers."
Minders by Michele Jaffe
"If the boy you love commits a crime, would you turn him in? What if the crime is murder? What if you saw it happen from inside his mind?"
"A message from an alternate Earth, light years away, is intercepted by NASA. This means that on another planet, there is another version of Tara, a Tara who could be living better, burning brighter, because of tiny differences in her choices."
"Part Eternal Sunshine of the Spotless Mind, part Aristotle and Dante Discover the Secrets of the Universe, Adam Silvera's extraordinary debut confronts race, class, and sexuality during one charged near-future summer in the Bronx."
"Despite her heroic lineage, Jess is resigned to a life without superpowers and is merely looking to beef-up her college applications when she stumbles upon the perfect (paid!) internship—only it turns out to be for the town's most heinous supervillain."
Nyxia by Scott Reintgen
"Emmett Atwater isn't just leaving Detroit; he's leaving Earth. Why the Babel Corporation recruited him is a mystery, but the number of zeroes on their contract has him boarding their lightship and hoping to return to Earth with enough money to take care of his family. Forever."
"Denise—sixteen, guarded, and autistic—tries to hold her family together in the aftermath of a devastating comet impact." (author's website)
Orleans by Sherri L. Smith
"After a string of devastating hurricanes and a severe outbreak of Delta Fever, the Gulf Coast has been quarantined. Years later, residents of the Outer States are under the assumption that life in the Delta is all but extinct…but in reality, a new primitive society has been born."
"As [16-year-old Kira] tries desperately to save what is left of her race, she discovers that that the survival of both humans and Partials rests in her attempts to answer questions about the war's origin that she never knew to ask."
Proxy by Alex London
Syd is wealthy Knox's Proxy, taking all of his punishments. "When Knox and Syd realize that the only way to beat the system is to save each other, they flee."
"When mysterious stranger Raven sends Zen and his new friend Nova on a mission to infiltrate the Emperor's train, he jumps at the chance to traverse the Great Network, to cross the galaxy in a heartbeat, to meet interesting people—and to steal their stuff. But the Great Network is a dangerous place, and Zen has no idea where his journey will take him."
The origin story of Jyn Erso from Rogue One: A Star Wars Story. Also featuring Saw Gerrera.
"When Jaewon is recruited into the most lucrative weapons development division in Neo Seoul, the mission becomes more complicated when he meets Tera, a test subject in the government's supersoldier project. Tera was trained for one purpose: to pilot one of the lethal God Machines, massive robots for a never-ending war."
"Since the age of three, sixteen-year-old Evelyn Winters has been trained to be Daughter of the People in the underwater utopia known as Elysium. But when Gavin Hunter, a Surface Dweller, accidentally stumbles into their secluded little world, she's forced to come to a startling realization: everything she knows is a lie."
"Yesterday, Drea Smith couldn't do anything spectacular. But today, she suddenly has more answers than Google, can speak and understand numerous languages, and she can fight. Like a boss."
Salvage by Alexandra Duncan
"Ava, a teenage girl living aboard the male-dominated, conservative deep space merchant ship Parastrata, faces betrayal, banishment, and death. Taking her fate into her own hands, she flees to the Gyre, a floating continent of garbage and scrap in the Pacific Ocean."
Scythe by Neal Shusterman
"A world with no hunger, no disease, no war, no misery. Humanity has conquered all those things, and has even conquered death. Now scythes are the only ones who can end life. Citra and Rowan are chosen to apprentice to a scythe—a role that neither wants."
"In her classic Patternist series, multiple Hugo and Nebula award winner Octavia E. Butler established themes of identity and transformation that echo throughout her distinguished career. Now collected for the first time in one volume, these four novels take readers on a wondrous odyssey from a mythic, primordial past to a fantastic far future."
Shadow Run by AdriAnne Strickland and Michael Miller
Nev is a prince in hiding on a ship captained by Quole, the youngest-ever person to command her own ship. Nev believes Qole is the key to changing their entire civilization, but a rival royal family is also after her abilities.
"I have a curse. I have a gift. I am a monster. I'm more than human. My touch is lethal. My touch is power. I am their weapon. I will fight back."
"Nailer scavenges for copper wiring just to make quota—and hopefully live to see another day. But when he discovers an exquisite clipper ship beached during a recent hurricane, Nailer faces the most important decision of his life: Strip the ship for all it's worth or rescue its lone survivor, a beautiful and wealthy girl who could lead him to a better life…"
"A penniless girl and a wealthy boy, enemies, are stuck together on an outer-space journey." (Kirkus)
"When she inadvertently witnesses the captain's guard murdering an innocent man, Terra is suddenly thrust into the dark world beneath her ship's idyllic surface."
Tabula Rasa by Kristen Lippert-Martin
"Sarah is undergoing a cutting-edge procedure that will render her a blank slate. Her troubled past is being removed memory by memory. But when her final surgery is interrupted and a team of elite soldiers invades the isolated hospital under the cover of a blizzard, their mission is clear: wipe Sarah out of existence."
The 100 by Kass Morgan
"Ever since a devastating nuclear war, humanity has lived on spaceships far above Earth's radioactive surface. Now, one hundred juvenile delinquents—considered expendable by society—are being sent on a dangerous mission: to recolonize the planet."
"After the 1st wave, only darkness remains. After the 2nd, only the lucky escape. And after the 3rd, only the unlucky survive. After the 4th wave, only one rule applies: trust no one. Now, it's the dawn of the 5th wave, and on a lonely stretch of highway, Cassie runs from Them."
"Cassandra Leung has been a Reckoner trainer-in-training ever since she could walk, raising the genetically-engineered beasts to defend ships as they cross the pirate-infested NeoPacific." Then pirate queen Santa Elena kidnaps Cass and orders her to train a Reckoner pup who will fight for the pirates.
"Who is Jenna Fox? Seventeen-year-old Jenna has been told that is her name. She has just awoken from a coma, they tell her, and she is still recovering from a terrible accident in which she was involved a year ago. But what happened before that?"
"Lucian "Lucky" Spark has run out of luck; he's been selected as a candidate for the Recruitment, a series of brutal tests designed to be a fast track to military leadership for a few of the most promising individuals of society." (Kirkus)
"In 2013, sixteen-year-old Alora is having blackouts. Each time she wakes up in a different place with no idea how she got there. The one thing she is certain of? Someone is following her. In 2146, seventeen-year-old Bridger is one of a small number of people born with the ability to travel to the past."
Menolly's father "betrayed her ambition to be a Harper [and] thwarted her love of music. Menolly had no choice but to run away. She came upon a group of fire lizards, wild relatives of the fire-breathing dragons. Her music swirled about them; she taught nine to sing, suddenly Menolly was no longer alone."
Katniss volunteers to take her younger sister's place in the annual Hunger Games, an annual televised event that forces one teen boy and one teen girl from each of the twelve districts to fight to the death.
"While Leilani and her father are on a visit to Oahu, a global disaster strikes. Technology and power fail, Hawaii is cut off from the world, and the islands revert to traditional ways of survival. As Lei and her dad embark on a nightmarish journey across islands to reach home and family, she learns that her epilepsy and her deep connection to Hawaii could be keys to ending the crisis before it becomes worse than anyone can imagine."
"Nixy Bauer is a self-made Leveller. Her job? Dragging kids out of virtual reality and back to their parents in the real world. It's normally easy cash, but Nixy's latest mission is fraught with real danger, intrigue, and romance."
"Romy Silvers is the only surviving crew-member of a spaceship traveling to a new planet, on a mission to establish a second home for humanity amongst the stars. Alone in space, she is the loneliest girl in the universe until she hears about a new ship which has launched from Earth—with a single passenger on board. A boy called J."
"Eva's life is not her own. She is a creation, an abomination—an echo. Made by the Weavers as a copy of someone else, she is expected to replace a girl named Amarra, her 'other,' when she dies in a car crash.
Futuristic retellings of classic fairytales featuring cyborgs, genetically engineered wolf-men, lost princesses, spaceships, and so much more.
"In Sloane's world, true feelings are forbidden, teen suicide is an epidemic, and the only solution is The Program."
The Rain by Virginia Bergin
"Ruby is alone. Anyone who's been touched by rain or washed their hands with tap water is dead. The only drinkable water is quickly running out. Ruby's only chance for survival is a treacherous hike across the country to find her father—if he's even still alive."
"Greta is a duchess and crown princess—and a hostage to peace. Greta will be free if she can survive until her eighteenth birthday. Until then she lives in the Precepture school with the daughters and sons of the world's leaders. Like them, she is taught to obey the machines that control their lives. Like them, she is prepared to die with dignity, if she must. But everything changes when a new hostage arrives."
"For sixteen-year-old Jane, life is a mystery she despairs of ever mastering. She and her friends are the idle, pampered children of the privileged class, living in luxury on an Earth remade by natural disaster. Until Jane's life is changed forever by a chance encounter with a robot minstrel with auburn hair and silver skin, whose songs ignite in her a desperate and inexplicable passion."
"The lush city of Palmares Tres shimmers with tech and tradition, with screaming gossip casters and practiced politicians. In the midst of this vibrant metropolis, June Costa creates art that's sure to make her legendary. But her dreams of fame become something more when she meets Enki, the bold new Summer King."
"One thousand years after a cataclysmic event leaves humanity on the brink of extinction, the survivors take refuge in continuums designed to sustain the human race until repopulation of Earth becomes possible."
Amid breathtaking advancement and high-tech luxury, five teenagers struggle to find their place at the top of the world. But when you're this high up, there's nowhere to go but down…
"Seventeen-year-old Amy joins her parents as frozen cargo aboard the vast spaceship Godspeed and expects to awaken on a new planet, three hundred years in the future. Never could she have known that her frozen slumber would come to an end fifty years too soon and that she would be thrust into the brave new world of a spaceship that lives by its own rules."
"Luxury spaceliner Icarus suddenly plummets from hyperspace into the nearest planet. Lilac LaRoux and Tarver Merendsen survive—alone. Lilac is the daughter of the richest man in the universe. Tarver comes from nothing, a cynical war hero. Both journey across the eerie deserted terrain for help. Everything changes when they uncover the truth."
"Cat's father is Dr. Lachlan Agatta, a legendary geneticist who may be the last hope for defeating a plague that has brought humanity to the brink of extinction. When a Cartaxus soldier, Cole, arrives with news that her father has been killed… [and] before Lachlan died, he managed to create a vaccine, and Cole needs Cat's help to release it and save the human race."
"When Kate Pierce-Keller's grandmother gives her a strange blue medallion and speaks of time travel, sixteen-year-old Kate assumes the old woman is delusional. But it all becomes horrifyingly real when a murder in the past destroys the foundation of Kate's present-day life. Suddenly, that medallion is the only thing protecting Kate from blinking out of existence."
Truancy by Isamu Fukui
"Someone close to Tack gets killed in the crossfire between the Educators and the Truants, and Tack swears vengeance. To achieve his purpose, he abandons his old life and joins the Truancy. There, he confronts Zyid, an enigmatic leader with his own plans for Tack. But Tack soon finds himself torn between his desire for vengeance and his growing sympathy for the Truants."
Uglies by Scott Westerfeld
"In just a few weeks Tally will have the operation that will turn her from a repellent ugly into a stunning pretty. And as a pretty, she'll be catapulted into a high-tech paradise where her only job is to have fun. But Tally's new friend Shay isn't sure she wants to become a pretty. When Shay runs away, Tally learns about a whole new side of the pretty world—and it isn't very pretty."
"Sixteen-year-old Alison has been sectioned in a mental institute for teens, having murdered the most perfect and popular girl at school. But the case is a mystery: no body has been found, and Alison's condition is proving difficult to diagnose. Alison herself can't explain what happened: one minute she was fighting with Tori—the next she disintegrated. Into nothing."
"Aria has lived her whole life in the protected dome of Reverie. When her mother goes missing, Aria knows her chances of surviving in the outer wasteland long enough to find her are slim. Then Aria meets an outsider named Perry. He's searching for someone too. He's also wild—a savage—but might be her best hope at staying alive."
Unearthed by Amie Kaufman and Meagan Spooner
"When Earth intercepts a message from a long-extinct alien race, it seems like the solution the planet has been waiting for. The Undying's advanced technology has the potential to undo environmental damage and turn lives around…But the more they learn about the Undying, the more their presence in the temple seems to be part of a grand design that could spell the end of the human race…"
Unwind by Neal Shusterman
"Between the ages of thirteen and eighteen parents can have their child 'unwound,' whereby all of the child's organs are transplanted into different donors. Connor is too difficult for his parents to control. Risa, a ward of the state, is not enough to be kept alive. And Lev is a tithe, a child conceived and raised to be unwound. Together, they may have a chance to escape and to survive."
Want by Cindy Pon
"Jason Zhou survives in a divided society where the elite use their wealth to buy longer lives. Frustrated by his city's corruption and still grieving the loss of his mother, who died as a result of it, Zhou is determined to change things, no matter the cost."
Warcross's creator asks Emika Chen to go undercover at the game's tournament to investigate a security problem. "But soon her investigation uncovers a sinister plot, with major consequences for the entire Warcross empire."
We Are the Ants by Shaun David Hutchinson
"Henry Denton has spent years being periodically abducted by aliens. Then the aliens give him an ultimatum: The world will end in 144 days, and all Henry has to do to stop it is push a big red button. Only he isn't sure he wants to."
"Eva and Addie started out the same way as everyone else—two souls woven together in one body, taking turns controlling their movements as they learned how to walk, how to sing, how to dance. But as they grew, so did the worried whispers. Why aren't they settling? Why isn't one of them fading?"
"Sixteen-year-old Tegan is just like every other girl living in 2027—she's happiest when playing the guitar, she's falling in love for the first time, and she's joining her friends to protest the wrongs of the world. But on what should have been the best day of Tegan's life, she dies—and wakes up a hundred years later, locked in a government facility with no idea what happened."
"In the near future, scientists create what may be a new form of life: an artificial human named Charlotte. All goes well until Charlotte escapes, transfers her consciousness to the Internet, and begins terrorizing the American public."
WWW: Wake by Robert J. Sawyer
"Caitlin Decter is young, pretty, feisty, a genius at math, and blind. When she receives an implant to restore her sight, instead of seeing reality she perceives the landscape of the World Wide Web-where she makes contact with a mysterious consciousness existing only in cyberspace."
"When Carr [world-champion hopeful in the weightless combat sport of zerboxing] discovers a far-reaching criminal scheme, he becomes the keeper of a devastating secret. Not only will his choices place everything he cares about in jeopardy, but they may also spill the violence from the sports arena into the solar system."
Zodiac by Romina Russell
16-year-old Rhoma Grace unexpectedly becomes House Cancer's new leader. She discovers a pattern in the stars and suspects the exiled 13th Guardian of Zodiac legend has returned to get revenge.
---
With the wealth of fantastic young adult science fiction books the past couple of years, this is obviously not a complete list. Is your favorite YA sci-fi included here or do you have another recommendation to add to the pile?