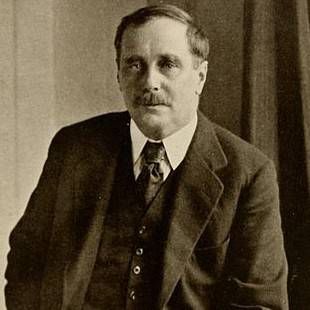 This content contains affiliate links. When you buy through these links, we may earn an affiliate commission.
Author H.G. Wells (1866–1946) has left an indelible mark on popular culture through science fiction novels such as The Time Machine and The War of the Worlds. But a novel that was especially notorious during his lifetime had nothing to do with the future or with space. Instead, Wells caused a scandal with his feminist coming-of-age novel Ann Veronica.
Wells's fiction debut was The Time Machine, published in 1895. Other works of science fiction followed, such as The Island of Doctor Moreau (1896), The Invisible Man (1897), and The War of the Worlds (1898). Gradually, Wells abandoned science fiction and instead began writing novels with female protagonists, set among the British lower middle class. Here, Wells brought his political views regarding women's suffrage, economic independence, and rights to education to the forefront. During the first two decades of the twentieth century, Wells wrote six novels of this kind, the most famous being Ann Veronica, published in 1909.
Ann Veronica is a coming-of-age story about Ann Veronica Stanley, a twenty-two year old woman who wishes to pursue a Bachelor of Science degree in biology and choose her own friends. Because of this, she clashes with her father and leaves home. Determined to make it on her own, Ann Veronica encounters the obstacles that faced women who wished to pursue an independent life during the early twentieth century, e.g. difficulties finding lodging for a single woman and paying tuition fees without an independent income. After serving a prison sentence for participating in a suffragette demonstration, Ann Veronica reconciles with her father and resumes her biology studies. At the biology laboratory, Ann Veronica falls in love with lab assistant Capes. Capes is already married, but is separated from his wife. In spite of his marriage, Ann Veronica declares she wants to spend her life with Capes and the two run away to Switzerland together. The novel ends four years later when Ann Veronica and Capes are married and expecting their first child.
Ann Veronica as the female protagonist is an expression of the New Woman, a feminist ideal that emerged in late nineteenth-century Great Britain and which exerted great influence on the women's movement around the turn of the twentieth century. A New Woman was educated and had a career. She exercised control over her own personal, social, and economic life, pushing the limits set by male society. Other New Woman literary heroines are Isabel Archer in Henry James's The Portrait of a Lady (1881) and Mina Harker in Bram Stoker's Dracula (1897).
Wells's feminist novels were immensely popular and he developed into a highly influential literary figure. Wells's popularity and influence is perhaps best illustrated by the epilogue to George Bernard Shaw's Pygmalion (1913), where Clara Eynsford-Hill, Eliza Doolittle's sister-in-law, experiences an awakening after reading novels by H.G. Wells. Shaw doesn't mention which of Wells's novels Clara reads, but judging from her ensuing social and economic independence, it is obvious that he's referring to Wells's feminist novels. Shaw's omission of the novels' titles indicates that they were well known to Pygmalion's contemporary audience.
In many ways, Ann Veronica is a modern novel. Ann Veronica Stanley is intelligent, eloquent, well educated, and she has agency. She pursues a higher education in biology and graduates with a Bachelor of Science degree. She decides with whom and on what conditions she enters into marriage.
At the same time, Ann Veronica is a novel of its time. Although Wells believed in women's independence, the moral of Ann Veronica is that a woman's role in society was within marriage where she takes second place to her husband. The novel demonstrates this by letting Capes take over as the main character once he and Ann Veronica decide to live together as lovers. Ann Veronica gives up her quest for independence as if it never existed.
So, how should we view Ann Veronica as a feminist novel in 2015?
I believe that Ann Veronica should be considered as a step in the long and arduous struggle for women's rights that brought us to where we are today. As problematic as the novel might seem to a reader in the Western world of the twenty-first century, Ann Veronica made a statement at the time of its publication in favor of women's independence by breaking several social taboos of its day. Based on that merit, I believe it is a novel that should be recognized as part of the history of feminist fiction.
I also believe that the authorship of H.G. Wells should be viewed in its entirety, not recognizing him only as a science fiction pioneer, but also as an important writer during the early days of the women's movement.
____________________
Get a box of YA books and bookish goodies in the mail every quarter with our new YA Quarterly Box! Sign up here.