This content contains affiliate links. When you buy through these links, we may earn an affiliate commission.
This list of audiobook reading resolutions is sponsored by Penguin Random House Audio.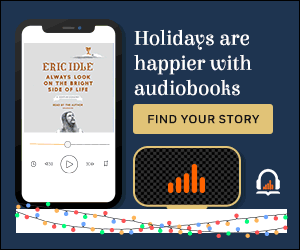 HOLIDAYS ARE HAPPIER WITH AUDIOBOOKS. Make your holiday travels, errands, cooking sessions, and all the rest more enjoyable by listening to an audiobook. From bestsellers, to thrillers, to self-care, you can find the perfect listen for any moment. Give yourself the gift of audio this holiday season.
---
2019 is right around the corner, and with that knowledge breathing down our necks, people are getting their resolutions in order. This being Book Riot, I will leave aside non-bookish goals – you know, like cooking more often, working out, and learning to garden – and will focus on reading resolutions instead. Or, more specifically, on audiobook-related resolutions.
I will incorporate audiobooks into my daily routine. When I first started listening to audiobooks, it was because I thought I could use them as a way to make chores less boring and, well, chore-like by catching up on my TBR pile in the meantime. It turns out, however, that I can't do dishes and listen to a novel at the same time (because the water drowns out the sound), I don't like being distracted while I take a walk (because mass murderers could conceivably be nearby), and so on. So my audiobook listening just…fell to the wayside for a few months. There are, however, ways to pay attention to audiobooks while I clean my apartment and head to and from work.
I will listen to more plays and dramatized novels. Listen, do you know the quality of dramatized performances nowadays? Othello features Chiwetel Ejiofor, Ewan McGregor, and Kelly Reilly. The Tempest is narrated, among others, by Sir Ian McKellen. A dramatized rendition of Northern Abbey includes stars like Dame Emma Thompson, Douglas Booth, and Lily Cole. Suffice to say it is the next best thing to watching them in the theatre.
I will take advantage of audiobooks to improve my pronunciation. English isn't my first language, and I don't have a chance to practice speaking it on a regular basis, so my pronunciation has become less sure than it used to be. Hopefully listening to audiobooks will help me focus on those blasted syllables I keep having trouble with. Narrators like Bahni Turpi, with her perfect pronunciation, will lead by example.
I will listen to renditions of books featuring names and places I don't know. Somewhat related to the previous item, audiobooks are useful when I don't understand the pronunciation of some names. For instance, I own I Am Malala both in paperback and audiobook: that way, when I run into words in Malala Yousafzai's mother Pashto, I can switch formats and make sure I'm not mentally butchering the language.
Do you listen to audiobooks? Do you have any resolutions for the New Ear Year?