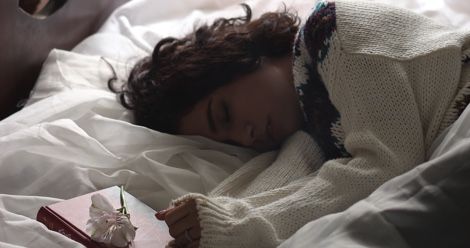 This content contains affiliate links. When you buy through these links, we may earn an affiliate commission.
This list of audiobooks to fall asleep to is sponsored by Penguin Random House Audio.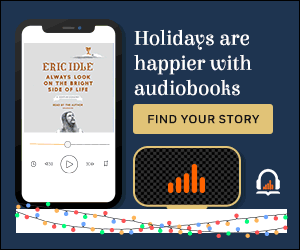 HOLIDAYS ARE HAPPIER WITH AUDIOBOOKS. Make your holiday travels, errands, cooking sessions, and all the rest more enjoyable by listening to an audiobook. From bestsellers, to thrillers, to self-care, you can find the perfect listen for any moment. Give yourself the gift of audio this holiday season.
---
I don't know how I ever got to sleep before audiobooks. I did, clearly, or I'd be dead, but audiobooks are now a permanent fixture in my sleep routine—an enviable eight plus hours of peaceful reverie almost every night. How's that for sleep goals?!
For me, an audiobook just takes the edge off when I'm trying to fall asleep. I'm a light sleeper and when I'm listening to an audiobook I'm less likely to be startled awake by a car alarm or door slam than if I was falling asleep in relative silence. And I'm not thinking about my day or my to-do list because I'm listening to the book. I'm probably not absorbed in it, but that's perfect. I don't want to stay up reading! The audiobook smooths out all of the edges that, for me, come with falling asleep, the distractions and anxieties, and nudges me gently off to sleep.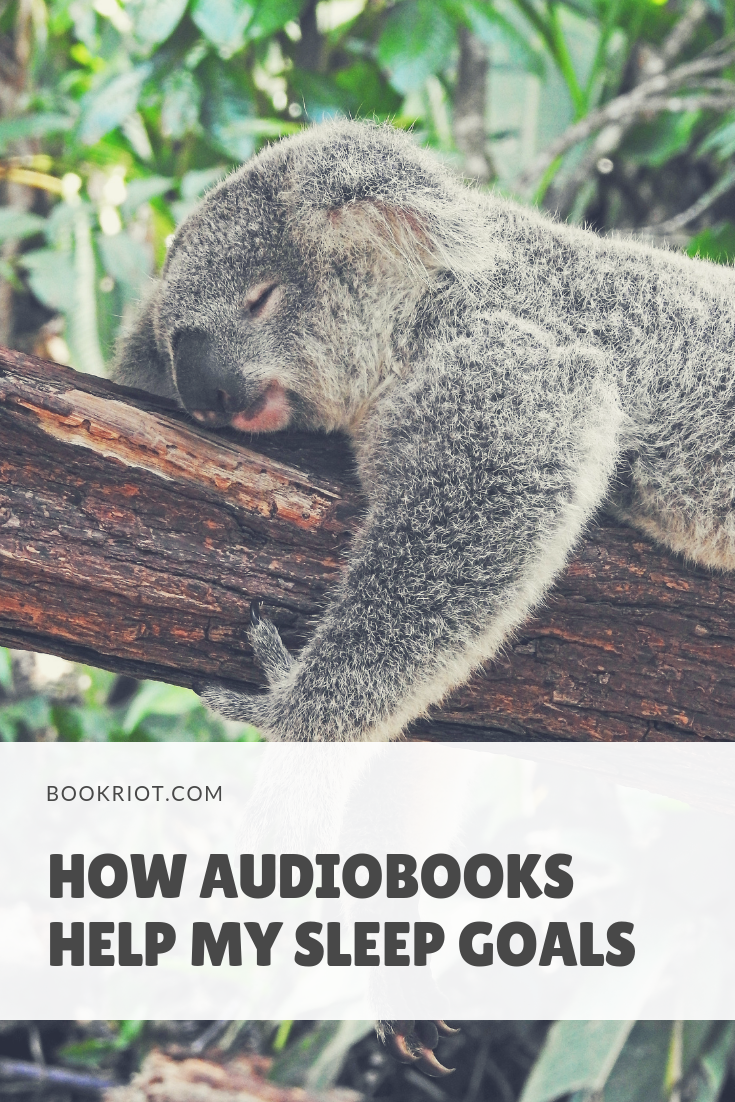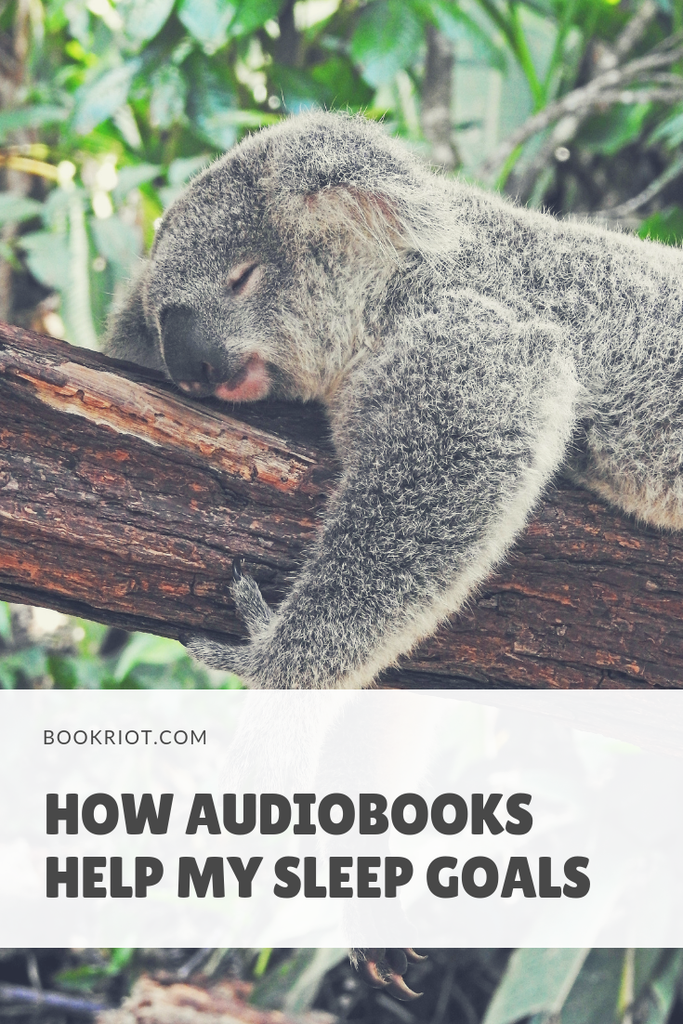 I've selected some of my favorite audiobooks to fall asleep to and collected some great resources from other Book Riot contributors to help you incorporate audiobooks into your nightly routine too! I'll also add that all of these books are amazing and should be read in the light of day too. Do you have a favorite audiobook to fall asleep to? Let me know in the comments below!
H is for Hawk
by Helen Macdonald, Narrated by the Author
My hands-down favorite audiobook to fall asleep to is H is for Hawk by Helen Macdonald. It is a raw, haunting, and masterful book in its own right but it's an even better audiobook. In the wake of her father's death, Helen Macdonald adopts and raises a goshawk, detailing her battles with the feral creature that is her grief. Macdonald also weaves in the story of the life of T.H. White, the author of The Once and Future King, into her own narrative. White also wrote The Goshawk, a book that profoundly affected Macdonald and she discusses it extensively. In the book, White details his own training of a goshawk. Macdonald's reading of H is for Hawk is affecting and beautiful—I can't recommend it enough.
The Peregrine
by J.A. Baker, Narrated by Dugald Bruce-Lockhart
If you like H is for Hawk and want more nature writing to fall asleep to, my next suggestion is The Peregrine by J. A. Baker. In The Peregrine, Baker follows the daily comings and goings of a pair of peregrine falcons. He documents what he sees of their activities "with an extraordinary fusion of precision and poetry." It is a classic in the nature writing genre and the voice of the narrator Dugald Bruce-Lockhart is reminiscent to me of David Attenborough. And with the subject matter, it's very easy to dip in and out of and not feel like you need to listen for plot, just some gorgeous descriptions of falcons and the English fens.
The Travelling Cat Chronicles by Hiro Arikawa, Translated by Philip Gabriel and Narrated by George Blagden
An international bestseller, The Travelling Cat Chronicles is a sweet and poignant story of Nana the cat, his owner Satoru, and their journey around Japan. It's a charming story (I'll admit to crying at the end) and I'd recommend it for comfort reading. George Blagden, the narrator, has a lovely, clear voice and he captures the tone of the book well. After reading it the first time straight through—you'll want to know how the adventure ends—tuning in to sections of this journey, like Nana the cat seeing the ocean for the first time or teaching a kitten to hunt, will be perfect to fall asleep to.
Wade in the Water by Tracy K. Smith, Narrated by the Author
Poet laureate Tracy K. Smith is a national treasure and although I've always loved her poetry, I had never thought to listen to her collections on audio. She has a great voice, emotive and resonant, and it's a joy to listen to her read. But her poems are not to be slept through and so, in this instance, I'm recommending that you listen to a poem or two as part of a nightly routine. I think about them deeply, even sometimes playing them a couple times, and I've found that it has helped me focus, center, and get up the next day with those reflections in mind.
The Court Dancer by Kyung-Sook Shin, Translated by Anton Hur and Narrated by Rosa Escoda
Written by Man Asian Literary prize winner Kyung-Sook Shin and translated by Anton Hur, The Court Dancer is a historical novel set during the dramatic final years of the Korean Empire, the Joseon Dynasty. Based on a true story, The Court Dancer follows the tale of Yi Jin, an orphan who is adopted by the royal court and becomes a beloved dancer. When a French diplomat visits he is mesmerized by the Korean Empire but more specifically with Yi Jin. The writing is beautifully lyrical and narrator Rosa Escoda's voice captures this and is richly expressive.
Looking for even more? Contributor Danika Ellis collected some of the great standbys in her post 13 Soothing Audiobooks to Fall Asleep To, including the Harry Potter books (whether you prefer Jim Dale or Stephen Fry) and many others. For a twist on an audiobook of a classic to fall asleep to, I'd recommend Longbourn by Jo Baker and narrated by Emma Fielding. And contributor Laura Marie has collected 6 of the Best Bookish Sleep Habits "to make your dreams as sweet and book-filled as possible."