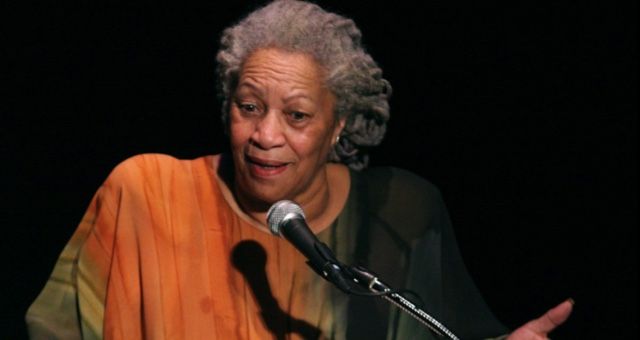 News
Book Twitter Remembers Toni Morrison
This content contains affiliate links. When you buy through these links, we may earn an affiliate commission.
Writers and readers around the world mourned the loss of prolific author Toni Morrison last Tuesday. Morrison was the first (and remains the only) African American to win a Nobel Prize in Literature. Her works made a massive impact on the world of literature, including award-winning novels like Beloved, The Bluest Eye, and Song of Solomon.
With Morrison's influence on the literary world in mind, writers and book lovers took to Twitter to talk about the lasting legacy of her work. Here is a round-up of Book Twitter's tributes to Toni Morrison.
President Barack Obama, author and notorious book lover, recognized Morrison as a national treasure.
Toni Morrison was a national treasure, as good a storyteller, as captivating, in person as she was on the page. Her writing was a beautiful, meaningful challenge to our conscience and our moral imagination. What a gift to breathe the same air as her, if only for a while. pic.twitter.com/JG7Jgu4p9t

— Barack Obama (@BarackObama) August 6, 2019
Bad Feminist author Roxane Gay recognized Morrison's elegant storytelling.
RIP Toni Morrison. This is a devastating loss to the world of words, to our understanding of power and it's reach, to the cultivation of empathy, to rich, nuanced, elegant storytelling. Her work was a gift to every one who had the pleasure of reading her.

— roxane gay (@rgay) August 6, 2019
Poet and nonfiction writer Kevin Young, author of Bunk, stopped by an impromptu tribute to Morrison.
In honor of Nobel laureate #ToniMorrison, flowers flank the Morrison "Bench by the Side of the Road" dedicated to the @SchomburgCenter in 2016. Morrison has a long connection to SC going back decades. Come by & sit a spell in our lovely courtyard. pic.twitter.com/AKojBrocKX

— Kevin Young (@Deardarkness) August 6, 2019
Nicole Dennis-Benn, author of Patsy, visited another bench dedicated to Morrison at Howard University.
I happened to be on @HowardU campus when I heard of Toni Morrison's passing. Yesterday, I stood by this bench dedicated to her, delighted to be somewhat in her presence. I'll trust whatever it was that drew me here. I'll also trust that she left, knowing she had made her mark. pic.twitter.com/6bFht4rasx

— Nicole Dennis-Benn (@ndennis_benn) August 6, 2019
Iconic romance author Beverly Jenkins reflected on what Toni Morrison meant to her.
It's impossible to convey what Toni Morrison meant to me as a Black woman writer. She told her stories in a way that was unashamedly Black. She raised us. Schooled us. Showed us how to Be. With her passing I lost a part of my heart today. #mourningToni

— Beverly Jenkins (@authorMsBev) August 6, 2019
Actress and author Whoopi Goldberg recognized Morrison as "power at its best".
Toni Morrison passed today and there are no words for a brilliant wordsmith, a woman whose roots in our world took, allowed countless millions to a tour worlds unknown. She was power at its best.. a great great woman. She was one for the ages…condolences to her family
R.I.P.

— Whoopi Goldberg (@WhoopiGoldberg) August 6, 2019
Journalist Dani Kwateng-Clark noted how Morrison's work impacted today's writers.
When we talk about:

1. Taking up space
2. Writing with intention
3. Telling our own stories
4. Having a POV
5. And not creating simply to be palatable for white consumption

That's the table Toni Morrison —who was talking about all of this 30, 40 years ago— was setting for us. pic.twitter.com/0ZErDNEEpV

— Dani Kwateng-Clark (@danikwateng) August 6, 2019
Michael W. Twitty, author of The Cooking Gene, reflected on one of her greatest accomplishments.
#ToniMorrison won the Nobel Prize
A Black American woman
She won the Pulitzer
But her greatest accomplishment was her telling white critics, especially men, that she wasn't writing for them, to them , and that there was "no little white man," on her shoulder editing her life.

— Michael W. Twitty (@KosherSoul) August 6, 2019
And Hanif Abdurraqib, author of They Can't Kill Us Until They Kill Us, shared what he learned from Morrison.
Toni Morrison taught me that writing about my people was a task that demanded a vast imagination. Vast enough to match the many selves of the many people I love. What a mighty life.

— Hanif Abdurraqib (@NifMuhammad) August 6, 2019
National Book Award winning author Ibram X. Kendi said that all writers are indebted to Morrison.
She wasn't just the queen of American letters. She wrote America's letters. And whether we realize it or not, all Americans and all writers are indebted to Toni Morrison. Sleep well. We are eternally grateful for you. We are eternally grateful for America's letters. pic.twitter.com/rAf4c1JCEe

— Ibram X. Kendi (@DrIbram) August 6, 2019
Some found solace in Toni Morrison's own words:
"we die. that may be the meaning of life. but we do language. that may be the measure of our lives." — toni morrison 💐 pic.twitter.com/0mDaTwCjls

— akwaeke emezi (@azemezi) August 6, 2019
"If there's a book that you want to read, but it hasn't been written yet, then you must write it." ― Toni Morrison

— Carmen Maria Machado (@carmenmmachado) August 6, 2019
"In times of dread, artists must never remain silent. This is precisely the time when artists go to work. There is no time for despair, no place for self-pity, no need for silence, no room for fear. We speak, we write, we do language. That's how civilizations heal" Toni Morrison. pic.twitter.com/3U3u3HeyTZ

— COMMON (@common) August 6, 2019
This is my favorite quote from Ms Toni Morrison, a call to action from decades ago that crystallizes so much of what the work is today. pic.twitter.com/lnV69Vbj7U

— Daniel José Older (@djolder) August 6, 2019
Others found inspiration in Morrison's journey:
Love for Toni Morrison has made online uplifting for once. To add -this incredible woman who has had such phenomenal impact published her first book at 39, her first 'breakthrough' at 46. So take her advice, write whatever it is u want to read, whatever ur age ❤️ #RIPToniMorrison

— Sabrina Mahfouz (@SabrinaMahfouz) August 7, 2019
Toni Morrison got her first New York publishing job at 36, published her first book at 39. She was a single working mom who woke up every morning at 4am to write. She wrote all those breathtaking books on stolen time, at the pace her life dictated.

— rachel syme (@rachsyme) August 6, 2019
Jose Antonio Vargas, author of Dear America, imagined a better place for Morrison.
Woke up this morning wondering just how joyous their reunion is.

Imagine: Toni Morrison, James Baldwin and Maya Angelou, all up in heaven.

Heavenly.

— Jose Antonio Vargas (@joseiswriting) August 7, 2019
And Celeste Ng, author of Little Fires Everywhere, used her grief as inspiration.
Life is short (rest in peace, Toni Morrison) and the world is terrible, but all I can offer is what I have: my words. Off to the writing desk. 💔

— Celeste Ng (@pronounced_ing) August 6, 2019
Learn more about Toni Morrison's work and legacy:
Where to Begin with Toni Morrison Books
18 Toni Morrison Quotes on Love, Race, and Literature