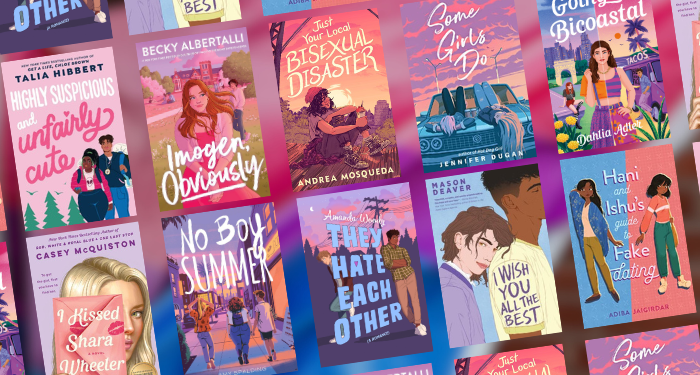 LGBTQ
Fall In Love With These 14 Swoony Bisexual YA Romcoms
This content contains affiliate links. When you buy through these links, we may earn an affiliate commission.
One of the things I love most about bisexual romance books is the diversity of relationships they can represent: M/F romances, F/F romances, M/M romances, nonbinary romances, even polyamorous romances — all of these can fall under the umbrella of bi+ romance. That's something you don't get to see every day in the romance world. Bisexual romance books give authors — and readers — so much possibility. It's almost like a choose your own adventure in romance book form. That can also admittedly make it hard to determine from the cover, the blurb, or even the outset whether a book is a bisexual romance book at all, though. And for readers craving bi representation, that is a problem.
But that's where lists like this one come in to save the day. Between my own reading and a bit of internet sleuthing, I've determined that these 14 queer books feature one — or even two — bisexual characters that fall in love. It might not be all the bisexual YA romcoms you could ever ask for, but it's certainly a good place to start! And they feature some tropes you will love to boot, from fake dating to friends-to-enemies-to-lovers. Bisexual YA romcoms really can do it all!
---