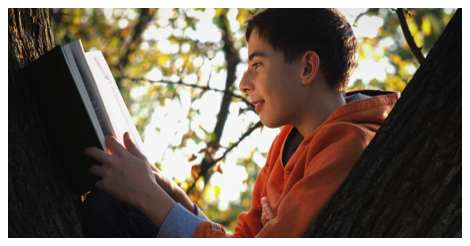 LGBTQ
13 YA Books with Bisexual Boys
This content contains affiliate links. When you buy through these links, we may earn an affiliate commission.
Today is The Human Rights Campaign's National Coming Out Day, and to celebrate we are spending the day featuring LGBTQ+ voices. Enjoy all the posts here!
Bisexual books can be hard to find, as I pointed out in my recent 100 Must-Read Bisexual Books. But novels with male bisexual characters are especially scarce, meaning YA books with bisexual boys as characters are even more scarce. But you're in luck: these 13 YA novels all have bisexual boy main characters!
Monty is supposed to be an 18th century gentleman, but so far his family has not tamed him of his rougeish passions: gambling, drinking, and bisexuality. But now that he's gotten to the age where he's supposed to settle down and be a Lord, he's got one last hurrah with his BFF (and crush) Percy as they go on a Grand Tour of Europe. At first the trip is the adventure full of vice and pleasure Monty is expecting; but one bad decision sends them on a cross-continent manhunt that makes Monty rethink everything in his life.
You probably noticed that I'm specifically listing volume 2, and that's because the bisexual boy character doesn't show up in this superhero comic series until volume 2 (although volume 1 does have gay and lesbian characters and you should read it so you're up to speed on where the second volume starts). Alternative Culture begins when the avengers have been chased away from Earth by Mother and are in hot pursuit of their kidnapped friend across the multi verse. One of the two newly introduced characters is David, aka Prodigy, a mutant who can collect skills and abilities from people. In addition to that superpower, he's also bisexual.
When Tanner Scott's family moved from California to Utah three years ago, it forced the bi teen sort of back in the closet, even though his family is supportive. He can't wait to graduate in a semester and get the hell out of Utah. When he takes an intensive writing seminar on a dare in his last semester, the last thing he was expecting was to fall in love with Sebastian Brother, a Mormon writing prodigy who sold the novel he wrote in the seminar last year and now mentors the class. Ultimately a story about two boys falling in love, Autoboyography is also a nuanced look at the intersection of religion and sexuality.
Grasshopper Jungle is probably the weirdest book on this list, in the best way. It stars 16-year-old bisexual teen Austin Szerba, a pretty average guy with a Polish background, a girlfriend, and a whole lot of teenage sex hormones, including lustful feelings for his best friend Robby. But on top of that regular adolescence stuff, the human race may be ending and an army of unstoppable, six-foot tall praying mantises may be taking over the small Iowa town where Austin lives. It's up to Austin to save the world as well as manage his "maximum horniness."
This classic queer coming of age story has a lot of heart. Justin is a senior in high school who has anxiety. So far he's managed to coast by, but the prospect of graduating school and figuring out what he wants to do with the rest of his life scares the hell out of him. But one uncharacteristic social interaction, initiated by Justin, bring two guys—a new friend, Travis, and Justin's crush, Evan—onto center stage in his life. Travis and Evan force Justin out of his complacency: he begins to finally investigate his bisexuality as well as stop ignoring life's problems and complications. It turns out great things happen when you go outside your comfort zone.
This novel centers around a group of teens all exploring their sexual identities. Sergio is bi, but up until this point has only dated a girl. His first boyfriend is Lance, who's gay and never been in a relationship before. He's also feeling insecure about Sergio's identity. Allie has always thought she was straight—she's had a boyfriend for two years—but when she meets lesbian Kimiko, she starts to question her identity. Kimiko can't help falling for Allie, and so is willing to stick around to see what conclusion Allie comes to about her sexuality. Boyfriends with Girlfriends is especially great at how it deals with the biphobic complications bisexuals can face in mixed orientation relationships.
Brett Miller is a football jock who has it all: a hot girlfriend he loves, a big group of friends, popularity. He's the kind of guy who bullies the kids at school who aren't cool. But then he meets Zach, a cute artsy boy that Brett is stunned to discover he is developing a crush on. Brett is completely thrown: not only has he been taught that being gay is a sin, he's been taught the only options for sexual orientation are gay and straight. Higgins does a great job painting the anguish, confusion, and alienation Brett feels. Bonus points for the older bisexual man who ends up mentoring Brett!
In this fantasy novel it's not the kid you expect who falls from the normal world into a magical land called the Borderlands. In In Other Lands, it's Elliot: a 13-year-old bisexual, grumpy, nerdy teen who is appalled by both the dearth of technology and the levels of fitness involved in swinging swords around. Okay, okay, so he's a little enchanted by the elves and mermaids. Despite his aversion to war, work, and most people (human or otherwise) he finds that two unlikely ideas, friendship and world peace, may actually be possible. New friends include Serene-Heart-in-the-Chaos-of-Battle, a beautiful elvish warrior, and her blond human friend Luke, who is just as cheery as his sun-streaked hair implies.
Fifteen-year-old Hazard James is having a hard time fitting in in more ways than one: he's a bisexual guy in a world where no one believes bi guys even exist, and he's stuck between two social groups at school. He's recently fallen in with a guy named Jesse and his friends, who are "bad kids" who drink and party lots. His old friends don't get it, but Hazard is mesmerized by how much attention he's getting in this new group; he's been so used to feeling invisible. His new group also includes a friends with benefits situation with Jesse that could become more. Lenk's real strength in the book is depicting all of Hazard's relationships in their authentic, dysfunctional glory.
In the midst of the lush city in futuristic Brazil called Palmeres Tres, shimmering with tech and tradition, June Costa creates art. But her dreams of fame become something more when she meets Enki, the new summer King, with whom the whole city falls in love. June and Enki make art and rebel…and June falls in love with him. But there's no way this will turn out well because like all Summer Kings before him, Enki is destined to die. The novel has an all-POC cast and multiple bisexual characters of many genders, including Enki.
This dark science fiction YA speaks directly to gay conversion camps, imagining a possible, and horrible, future incarnation. The main character is 16-year-old Aaron Soto, who lives in the Bronx and is recovering from his father's suicide with the help of his overworked mom and a girlfriend he loves. But it's not as much support as he needs. When he makes a new friend, Thomas, it's a lifeline. But when Aaron starts to have romantic feelings for Thomas, he considers having a procedure to get rid of the desire. The Leteo Institute's revolutionary memory-relief procedure, to be exact. But how can Aaron excise his feelings for Thomas without forgetting who he is? And why should he have to forget about Thomas and just be straight?
Hold by Rachel Davidson Leigh
Luke Aday and his family knew that his sister was going to die, but that didn't make her death any easier. When he returns to school, he is a different person, despite his friends' futile attempts to make him feel better. A charismatic new bisexual student, Eddie Sankawulo, however, has a different effect, albeit indirectly. In a moment of frustration with Eddie, Luke chucks his backpack at the wall and it never hits the floor. Luke has just discovered that he can stop time. This novel gets bonus points for actually using the word bisexual on the page! (Also, there's an asexual character!)
Coda by Emma Trevayne
Coda is a fast-paced science fiction dystopia about an 18-year-old bisexual guy named Anthem. In the world Anthem lives in, music flows through the veins of conduit citizens like Anthem. The Corp uses the energy produced to control people with the encoded music's addictive and mind-altering components. Anthem finds solace in his twin siblings and his underground rock band, but the suspicious death of a band member prompts Anthem to revolt. Will the new girl he loves help or hinder him? It's delightful to read a book where the fact that Anthem recently got out of a relationship with a guy and is now interested in a girl is a complete non-issue.