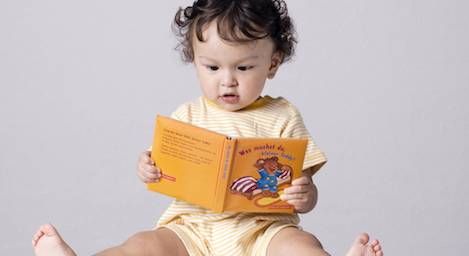 Children's
7 Spanish-English Board Books Your Toddler Will Love
It's no easy task to raise a child who speaks more than one language. My son has both Cuban and Mexican heritage, so it's really important to me that he grows up speaking Spanish as well as English. We know that reading to kids is important. So it follows that if you're trying to raise a bilingual toddler like I am, you want Spanish-English board books and picture books to read out loud to them.
Sadly, while there's a growing selection of Spanish-English picture books by #ownvoices authors, the board book options remain slim. And if your toddler is anything like mine, board books are a must because they can't be ripped apart in the one second you turn your back on your toddler holding a library book. (If you can't tell, this has happened to me more than once. My deepest apologies to the poor books!)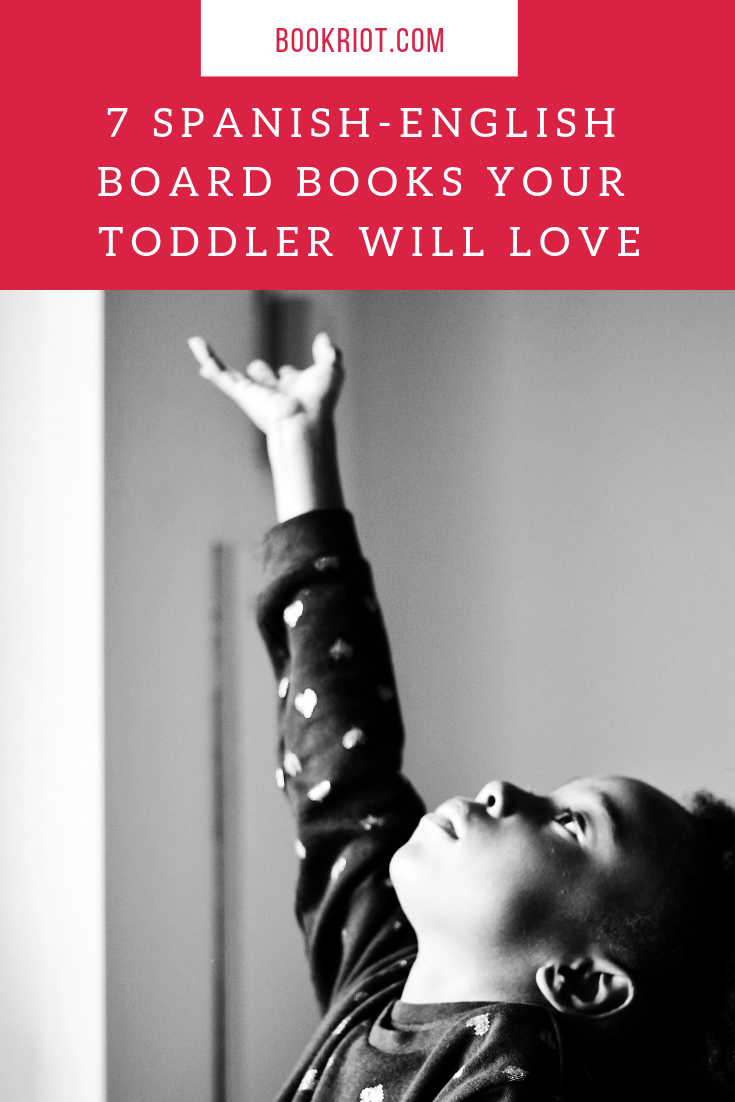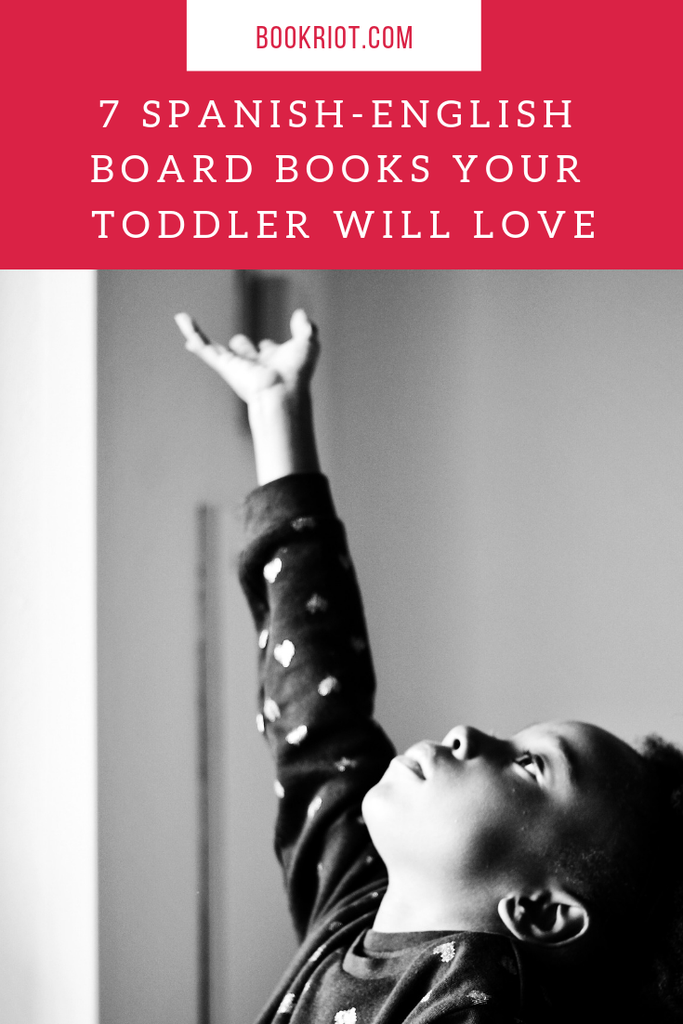 Here in Alaska, my two local libraries have a combined total of six board books in Spanish and/or Spanish and English. Six!! And that's just Spanish. What about all the other languages people might want to raise their children to speak?
There's lots of work to do to boost the amount of dual-language board books in the world, so for now I'll be grateful for the six books my libraries do carry. My toddler and I have read and loved each one, over and over and over. So without further ado, here they are (plus one from our home collection):
Bilingual
While not an #ownvoices board book, this is a sweet story of a mother helping her son work through that oh-so-common childhood emotion: jealousy. In addition, the book is positively reviewed by A Broken Flute: The Native Experience in Books for Children and appears on a 2006 American Indians in Children's Literature books-recommended-for-children list.
Bilingual
My son and I adore this book. Somehow I missed, or forgot, that animal sounds are different in Spanish (and, I'm sure, in many other languages.) Roosters don't say cock-a-doodle-doo in Spanish; they say "¡Ki-kiri-ki!" And nothing's better than hearing your kid crow "Ki-ki-ki, ki-ki-ki!" when they see the gorgeously sculpted, vibrant rooster on the first page of this board book. My son's favorite sound to make is the frog's: "¡Cruá, cruá!" he says every time he sees a frog in this or any other book. Weill's series also includes a counting board book, a colors board book, an alphabet board book, and an opposites board book—all featuring Mexican artists.
Mix
This isn't a strictly bilingual book, in that there isn't text in English and then the same text in Spanish on the opposite page. Instead, it's English with a Spanish refrain: "Baby wants kisses. One, two, three! Besos, bebé, besos." The "besos" part continues with Mami, Papi, Gato, Perro, Sol, and so on, introducing Spanish words tucked into a Spanish phrase. All those words are translated at the end.
Bilingual
Venezuelan American mother-of-two Susie Jaramillo is filling the bilingual board book need with her Cantícos series—which, in addition to putting out a line of bilingual board books, is also a kids' bilingual nursery rhyme show on Nick Jr. Los Pollitos is a favorite in our house, but be careful: it's a board book with flaps. Some kids (ahem, mine) tend to somehow peel flaps right off board books with their ever-so-dainty yet incredibly strong fingers.
(Again, my deepest regrets to the library copy of Los Pollitos that suffered the strength of my toddler's chubby digits.)
5. In Autumn / En Otoño by Susana Madinabeitia Manso, illustrated by Emily Hanako Momohara
Bilingual
This board book features a smiling girl doing various fall activities—in Spanish and in English. And I actually learned a Spanish word from it, thanks to a page on climbing like a squirrel: "En otoño…las ardillas trepan. ¡Puedo trepar como uno ardilla! ¿Puedes trepar como una ardilla?" Somehow I escaped childhood not knowing that "trepar" means "to climb." And my, is it ever a word I use a lot with my toddler, who probably loves to climb more than squirrels do! Also out is the author-illustrator duo's board book on spring, which I'm excited to check out from the interlibrary loan system as soon as the weather warms up.
Bilingual
This has been a favorite board book in my house ever since my baby became a toddler and started having Strong Feelings about everything. "Algunas veces estoy triste," I'll read, pretend-sniffling as my toddler watches intently. Then I get to raise my voice all angry-like and go "¡Algunas veces estoy enojada!" He loves it. I love it. Once, on a particularly traumatizing plane ride when he was still a lap child, it was the only book that he would look at. Like its title, it actually helped him calm down to read it. It can help parents calm down, too: At the end of the book, there is a bilingual list of actions for parents to follow during a toddler meltdown. It's an excellent list, including things like staying nearby, showing empathy, and helping solve the problem.
7. Te Quiero Más by Laura Duksta, illustrated by Karen Keesler
Spanish
The Spanish-language version of I Love You More, this board book's lyrical language always catches my toddler's attention. And it's fun for me to read aloud, too: It rhymes in Spanish like it does in its English version, making me feel like I'm reading him a poem. And I picked up, in context, several previously-unknown-to-me words and phrases in Spanish from this one: mecer (to swing), más allá de (beyond), and demora (delay). There are also bilingual and Spanish-language-only board book versions of many additional popular classics, such as The Very Hungry Caterpillar / La oruga muy hambrienta, Goodnight Moon / Buenas noches, Luna, and Where Is Baby's Belly Button / Dónde está el ombliguito? Of course, the best Spanish-language board books will come from native or heritage Spanish-speakers, but until all those board books fill the shelves, this mixed list will do nicely.
For more board book and Spanish-language children's books, look here:
Where You Can Find Bilingual and Spanish Children's Books
Lil' Libros: Great Bilingual Board Books for Children