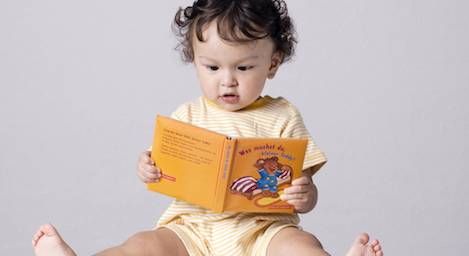 Children's
4 Great Bilingual English Spanish Books for Toddlers
This content contains affiliate links. When you buy through these links, we may earn an affiliate commission.
As a public librarian and also the partner of a Spanish-speaking person, sometimes I do things for "fun" like research bilingual English-Spanish books for toddlers in my library. I know, my idea of fun may not be your idea of fun. But I figured, hey, instead of keeping these bilingual books for toddlers all to myself, why don't I share them? These should be great for bilingual families and for librarians serving communities where English and Spanish are spoken. I've tried to apply things that I learned in an early literacy class at library school and further learning while working in the kid's section at a public library—things about language acquisition mostly, but also general kid's brain development, which is a super fascinating topic! Also: although these are bilingual English-Spanish books for toddlers, as a beginner Spanish speaker I also learned a thing or two, so there's maybe something in here for grown-ups as well!
Although this is technically a book, it's really the well-known song in book form, complete with the sheet music printed on the back cover of the book. The structure of the book—repeating the title phrase before each page that displays a short sentence like "Clap your hands / Aplaude" and "Hide away / Escondete"—makes for plenty of repetition (eight times): almost the 12 times that researchers suggest children need to hear a word before they learn it.
This song obviously also encourages movement, enforcing the meaning of each phrase like "Kick your legs / Alza los piernas" by having accompanying illustrations of racially diverse toddlers doing that action. The book really encourages the child and reader to do the actions along with the book, keeping the toddler's interest and engaging them with their whole body. This is a great bilingual example of the songs published as picture books that have lots of potential for action and singing. As far as the bilingual aspect goes, I like how the English and Spanish are differentiated by color but are given equal font sizes, although it'd be nice if English wasn't always on top and first on every page.
This book is part of a series called "Small Talk Books," which feature adults and young children having conversations about the everyday kind of activities they go through together. An introductory page intended for parents and caregivers actually introduces some concepts that are familiar to children's librarians: the importance of talking to your child even if they're not talking yet, and how this talk can be about everyday mundane things that you're doing. The introduction also suggests naming clothes, colors, and body parts with the child; this is the categorization instinct and ability that researchers like Betty Bardige and Maryann Wolf talk about. In fact, Betty Bardige wrote the introduction!
This book, as the title implies, is about getting dressed and all the steps leading up to it, before ending as the child is playing outside at the end. It feels like a tool that could help parents go through what can be a frustrating or lengthy routine every day. The mother talks to the child about what she is doing: "The clothes are all washed and dried. Now let's get you dressed" and "Here is your blue shirt, with the goldfish on it." The bright, eye-catching illustrations reinforce what is happening, and a fun touch is that a puppy is in every scene, doing something mischievous like pulling laundry out of the basket as the mom and child are getting dressed. It would be fun to point out what the dog is doing to the toddler! This book presents the English and Spanish text both in black, with the Spanish in larger, bolder font at the top; I appreciate how English isn't privileged as it was in all of the other books I encountered.
I Like It When…Me Gusta Cuando… by Mary Murphy, Translated by F. Isabel Campoy and Alma Flor Ada
This bilingual version of the original English text from 1997 is part of Harcourt's Libros Viajeros series of Spanish-English bilingual books. The fantastic very bright illustrations of the penguin parent and child are deceptively simple but convey a lot of emotion and love. Each page's background is a solid, bright color (green, red, or blue), so the book could also be used to introduce colors. In fact, the repetition of background colors could be used as a learning tool; the reappearance of the same colors would allow asking the toddler what color it is after they have learned that from previous pages. The language is similarly repetitive: each page begins with "I like it when / Me gusta cuando" and the phrases that finish the sentences are often either movements or opportunities for touching (for example: "you tickle me" and "you dance with me").
This book would work well for a bedtime book, as it ends with the baby penguin going to bed: the last "I like it when" is "we kiss good night" and then the final pages have typical goodnight dialogue: "Sleep tight / Que duermas bien," "I love you / Te quiero," and "I love you too / Yo tambien te quiero." The background color on the last two pages is also the more soothing color of blue. Although English is featured at the top of each page, English and Spanish are the same font size.
Labelling this book bilingual compared to the other books on this list feels a bit like a misnomer, since in reality it's really a text in English with a smattering of Spanish words every other sentence. However, its use of Spanish is quite interesting in that it does mirror how some code-switching families might use language, and that the text does not usually provide a translation of the Spanish words or an explanation in the narrative. In that way, the book does assume some knowledge of both Spanish and English and/or it assumes the reader or child can infer from the context what the word means and will learn it.
This book is about kids older than toddlers, so it would be "reading up" for them. All the kids in the book are of color—a Latino boy and his neighbour, a Black girl, are featured—so this would be great representation for those kids. The narrative follows Hugo as he goes from his house to the neighborhood store to buy soap/jabon. He slips and falls in a mud puddle half-way there, which causes him to forget what he was supposed to buy. His neighbor and friend Jellybean Jones helps him out. The scene and vocabulary of slipping in the mud puddle—English and Spanish words—are repeated as it happens to both children, thereby enabling language acquisition. Other characters help (or hinder) Hugo on his way to the store, causing him both to forget and then remember what he needs to buy at the store.
Vocabulary is again repeated as Hugo goes back home from the store, passing all the people and places he passed on the way there. The words from the title—again in both languages—are constantly repeated; if a toddler learned one (or two) new words from this book, it would be jabon/soap. There is a glossary of the Spanish words used in the back of the book, a nice tool in case the exact meaning isn't clear when they are used in the narrative. Overall, though, it feels like this "bilingual" book is more a tool to introduce Spanish to English speakers and not for kids who are growing up learning both languages.
The illustrations are bright, colorful, and embody the humor of the text as Hugo stumbles all over on his quest to get soap/jabon. There are plenty of fun details to watch for as Hugo goes through his adventures.
Want more? Check out where you can find more bilingual English-Spanish kid's books. Now your turn: what bilingual English-Spanish books for toddlers and older kids would you recommend?