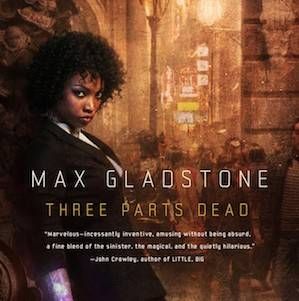 Fiction
The Most Popular Books of the Month: May 2014
This content contains affiliate links. When you buy through these links, we may earn an affiliate commission.
We love to geek out with stats, and what could be better than using them to see which books Book Riot readers were most interested in? Below are the five most-purchased titles from the previous month.
There are more than soldiers, queens and peasants, more than Eurocentric and Judeo-Christian myths to draw on. Gladstone happily employs everyone in his stories, and I hope other authors continue this trend.
But more important, Gladstone has shown a wide range of diversity in his work, taking every opportunity to reflect our world for what it is: a place inspired by countless cultures, identities, and norms. The standard of a cisgender, cissexual white male point of view is not the norm in his work; his characters span a wide spectrum of identities and cultures.
-Martin Cahill, Fantastic Future: Max Gladstone
2. Carmilla by Joseph Sheridan Le Fanu
We're all familiar with Dracula, the vampire novel that launched a thousand careers, but most people don't know Bram Stoker's predecessor, J. Sheridan Le Fanu (that is, in fact, his real name). The mega-bestselling Stephenie Meyer of the mid-nineteenth century, he's since fallen into obscurity, but his creepy novellaCarmilla has lost none of its sinister gothiness. The brief story of a young houseguest who is definitely not what she seems—and her incredible emotional power over the daughter of the household—Carmilla is one of the cornerstones of the genre and a wickedly delicious read.
-Sarah McCarry, Tilda Swinton, Vampire Reader: Tasty Treats for Literary Goths
I am a huge fan of the literary mind-fuck. If anything even remotely approximates M Night Shayamalan's drawing board, I am one thousand percent all in. I've read enough GASP she's dead GASP they're time travelers GASP he's mentally ill GASP she was the murderer all along books that, statistically, you'd think I would either be sick of them, or able to pick them out before the book's reveal- wrong on both counts. I love the whole lot, and these two are my favorites. I live in fear of accidentally ruining these plots for customers while I'm handselling ("It's so great! And it turns out her father was trapped inside the cuckoo clock THE ENTIRE TIME! Oops.")- it's become an instinct I have to actively suppress while at the bookstore, like forcing myself to pronounce both syllables in "Horror" when people ask for that section so they're not confused by my New Jersey accent.
-Cristin Stickles, There's a Kids Book for That!
There are a handful of books that say exactly what you were thinking (even if you didn't know you were thinking it) at a time in your life when you are looking for a change. This was one. The author, Donald Miller, was approached to turn his memoir into a movie. While meeting with the producers, he realized his current life could never be made into an actual movie. There were no iconic scenes, challenges to overcome, or growth. He writes how we all create stories about our lives through the way we live. Sometimes we are living in the wrong story and once we start casting ourselves as a different character, our lives can become more compelling. In essence, I shouldn't wait for life to hand me an adventure – I should become an adventurous character and the adventures would follow.
-Natalie Meyer, The Book That Changed My Life Story
Its hard to believe that Gay's novel, An Untamed State, is her debut, because her writing seems to be everywhere. She's been published in Virginia Quarterly Review, The New York Times Book Review, The Los Angeles Times, The Rumpus, Salon, and so many more. But An Untamed State – a story about a woman who is kidnapped in Haiti and held for ransom – showcases her startling narrative talent and marks her as one to watch.
-Rachel Manwill, 10 Rad Female Authors to Read