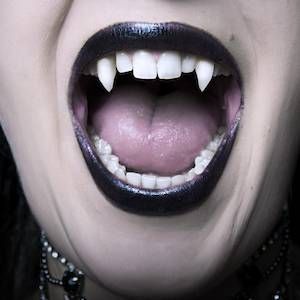 Fiction
Tilda Swinton, Vampire Reader: Tasty Treats for Literary Goths
This content contains affiliate links. When you buy through these links, we may earn an affiliate commission.
This is a guest post by Sarah McCarry. Sarah McCarry (www.therejectionist.com) is the author of the novels All Our Pretty Songs and Dirty Wings (July 2014) and the editor and publisher of Guillotine, a chapbook series dedicated to revolutionary nonfiction. Follow her on Twitter @therejectionist.
Jim Jarmusch's newest film, Only Lovers Left Alive, is the story of depressed vampire musician Adam (Tom Hiddleston) who's reunited with his vampire lover Eve (Tilda Swinton)—in short, lifestyle porn for goths. For those of us who never quite recovered from reading Interview with the Vampire at a too-tender age, it's pure crack. And Eve is my kind of vampire: for her travels, she packs two suitcases full of nothing but books. (I loved the movie so much I will forgive her Infinite Jest.) If, like me, you're reluctant to return to the world of the mundane after an excursion into the gothic, here's a handful of literary vampire reads that are, as Eve says, the really good stuff.
J. Sheridan Le Fanu, Carmilla: We're all familiar with Dracula, the vampire novel that launched a thousand careers, but most people don't know Bram Stoker's predecessor, J. Sheridan Le Fanu (that is, in fact, his real name). The mega-bestselling Stephenie Meyer of the mid-nineteenth century, he's since fallen into obscurity, but his creepy novella Carmilla has lost none of its sinister gothiness. The brief story of a young houseguest who is definitely not what she seems—and her incredible emotional power over the daughter of the household—Carmilla is one of the cornerstones of the genre and a wickedly delicious read. (Bonus: it's free.)
Dodie Bellamy, The Letters of Mina Harker: Magnificently inventive and gorgeously weird, Dodie Bellamy's "sequel" to Dracula, The Letters of Mina Harker, revamps (SORRY) Mina Harker as an independent vampire in 1980s San Francisco. Harker's letters spin out the intimate details of her romantic affairs, resulting in a dazzling examination of love, sex, and desire, with lines brilliant enough to eat—"the point," Mina writes, "is to look, not in horror not in pity or even in compassion, but to look as precisely as possible at the ever-wavering presence right in front of one—this is the closest beings as imperfect as we can come to love."
Octavia Butler, Fledgling: Hands down one of the most important SFF writers of the last fifty years, Butler consistently pushed the boundaries of the genre, and her foray into the world of vampires is no exception. Butler's vampires are the Ina, a nocturnal and long-lived race of beings that live off the blood of human symbionts, who—in theory, at least—consent to the relationship. A young Ina girl awakens badly injured in the wilderness with no memory of who or what she is, and must find her way to the truth. Complex and original, Fledgling is a rich meditation on love, family, and what it means to be human.
Rachel Klein, The Moth Diaries: I'm a total sucker (SORRY) for boarding-school narratives, and Rachel Klein's haunting cult classic The Moth Diaries takes the genre and blows it straight out of the water. Narrated through the diary entries of one student at an all-girl boarding school who begins to suspect that the new girl is, in fact, very very old, it's wholly terrifying—but it's also one of the most intense and brilliant portrayals of the claustrophobia and intensity of female adolescent friendship I've ever read.