Humor
The Pizza Hut "Book It!" Reading Program: Grown-Up Edition
This content contains affiliate links. When you buy through these links, we may earn an affiliate commission.
Chances are, if you were a bookish kid in the U.S. within the last 30 years, the "Book It!" reading program through Pizza Hut was the best thing ever. According to Pizza Hut, 1 in 5 Americans have been participants at some point during the last three decades, and for those who already enjoyed reading, it was amazing. I mean, you got PIZZA as a reward for READING. Could there be anything better?!?
The "Read It" program is still going strong, inspiring school kids to read with the promise of hot cheesy personal-sized pizzas, but what about the grown-ups? Bookish adults still read for the love of reading, but wouldn't it be great to get a little something as a reward now and again?
So, if Pizza Hut ever wants to expand their program to include adult folks, here are a couple suggestions for possible rewards:
A Personal-Sized Pizza Hut Pizza
Why mess with a classic? It's pizza! It's free! Add on top of that, the swell of pride of knowing that you earned FREE PIZZA just by doing the thing you love anyway? Delicious.
The Original "Book It" Pin That We Received in the 1980s/1990s and Threw Away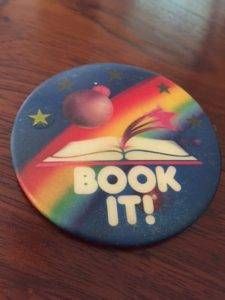 I think everyone when they get to be in their teens have one of those "it is now time to put away childish things" moments. All these toys and remnants of your past hanging around now are cramping your new nearly-adult sophisticate style.
Oh you stupid, stupid child.
Who could have known how powerful nostalgia is once you really hit adulthood? How you would crave the memories those objects possess? That someday people would be able to buy literally anything from their home and would pay GOOD MONEY for those things? That those little things would actually be kinda cool again? At one point during my adolescence, I did a purge of all the little knick-knacks that were taking up space in my desk drawers, and I know that pin was in there. (Also, RIP my Lisa Frank stickers I BARELY KNEW THEE.) That pin is long gone and I'm never going to find it again (unlike some lucky, lucky folks) and now, I'm contemplating buying faux-vintage t-shirt with the original "Book It!" logo to try and recapture some of that glory. But it's just not the same.
You're not a kid anymore. You are a grown-ass man/woman/nonbinary adult, which means you get to enjoy some of the finer things in life. And I ask you, what is more satisfying than reaching your reading goal and then rewarding yourself with a nice glass of Woodford Reserve? Not much, my friends. Not much.
I mean, duh.
Someone To Make That One Phone Call You've Been Putting Off
You know the one. Whether it's returning the phone call of an unpleasant client, making a doctor's appointment, or some other tedious adulting task, we all have that one call that we've been avoiding. And sure, it will probably only take a few minutes but MY GOD, MUST I? So just imagine how awesome it would be if, as a reward for meeting a major reading goal, someone would make the call for you. Like, "Congratulations on finishing Roberto Bolaño's "2666"! Let me call the dentist and schedule your next cleaning." Pure bliss!
The Ability to Read a Favorite Book for the First Time Again
Reading a book is much like falling in love: it's never quite as pure and intense as it is the first time. While there are many readers who enjoy re-reading their favorites, you can never quite recapture that original experience. Whether it's the happy ending that makes your heart swell, the author's phrasing that stops you in your tracks and brings tears to your eyes, or the twist that melts your brain, once you know that it is coming it loses a bit of its power. The ultimate book reading challenge prize would be the ability to approach a book fresh, unspoiled, and experience it anew.
Of course, outside of using that mind-erasing thingie from "Men in Black", this is pretty much impossible. But you can experience those feelings again with a new book! If you're not sure which one to try, Book Riot has you covered with all the quizzes:
QUIZ: FIND YOUR PERFECT JUNE MYSTERY/THRILLER READ!
QUIZ: WHAT COMIC BOOK SHOULD I READ?
QUIZ: WHICH BOOK SHOULD YOU READ FOR PRIDE?
What would be your dream "Book It!" reward? Let us know in the comments!