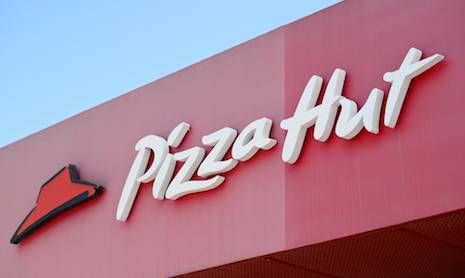 Newsletter 1
My Precioussssss: I Found My Actual Pizza Hut Book It Button And I Am Whole Again At Last
This content contains affiliate links. When you buy through these links, we may earn an affiliate commission.
Like many kids—and unlike you, probably, since you are reading articles on a website dedicated singularly to celebrating how books are the bee's knees—I didn't like reading. The contest for my endless but discretionary supply of childhood hours was won consistently by the likes of Super Mario Bros. 3, episodes of Saved By The Bell, and huge swaths of time digging through my tub of Legos looking for a piece I doubt I ever found. The '90s were a land of opportunity in terms of fun and distracting ways to pass our idle hours, and my neglected bookshelf must have felt every one of those hours pass by with excruciating tedium and lonesomeness. But then an unlikely hero appeared from the least likely of places that changed everything. Pizza Hut Book It program, I am looking at you.
If you're not familiar, let me set up its simple premise for you: kids read books to earn star stickers to cover a groovy hologram button, and once their button had a certain number of stars, said kid could redeem for themselves a tasty Personal Pan Pizza all for themselves at their local Pizza Hut. There had never been nor will there ever be a more perfect system, and it seemed to be designed just for little old me who lived for pizza but would rather suffer paper cuts between my toes than read for more than ten minutes at a time. Some genius in the Pizza Hut Research and Development laboratory must have accidentally spilled some chemical on a pile of ideas, and out of the unforeseen reaction Pizza Hut Book It was born.
Okay, that's not quite how it happened. In truth, it was the joint efforts of the leaders of the 1980s Free World—Arthur Gunther and Ronald Reagan, the Presidents of Pizza Hut and The United States of America, respectively. Ronnie Reagan had put out a call for his beloved corporate America to somehow encourage kids to hit the books. Gunther, thinking of his own kid, connected the dots of classically conditioned behavior and reward, and the Pizza Hut Book It system was born.
Not everyone was pleased. Shouldn't the motivation to read be intrinsic? Shouldn't the reward be the pleasure itself of absorbing words and worlds and adventure and knowledge? Shouldn't we be trying to not feed the growing childhood trend toward childhood obesity? The critics said their piece, and their points were valid. But it was hard to hear their reasons over the sound of chewing your free pizza.
Thanks to the Pizza Hut Book It program, I recall turning the pages of Johnny Tremain , Dear Mr. Henshaw, and some book about a kid who befriends some ne'er do well space alien at school. I forget its title but I remember the alien loved to put excessive amounts of crushed pepper flakes on—you guessed it—pizza. I did my time and dutifully collected my star stickers. It was my first lesson in economics. Books out/pizza in. My demand was high.
This weekend, while cleaning out a neglected corner of my basement, I found a box with relics of my youth. It contained a minuscule Troll doll with a naked butt and shock of purple hair, and other odds and ends, including MY LEGIT PIZZA HUT BOOK IT BUTTON.
I'm not an archaeologist, so I haven't deduced what year it's from based on the hologram book that opens when you turn it. But I am a nostalgist through and through. Also, a Pavlovian craving for pepperoni overcame me. I am what I am.
My own reading history is flawed and hiccupy, which is perhaps the best way to describe me after enjoying the fruits of my labors. The great Pizza Hut Book It experiment was also perhaps flawed. Yet I cannot help but see its merits, and I can't possibly believe that a sizable handful of children didn't learn to love reading because of it.
"Sizable" is not a comment on childhood obesity, I promise.
But I have my Pizza Hut Book It button, and the heart of this former literary Grinch grew three sizes. As you can see from the picture, I only have to read four more books and travel back in time 24 years and I can claim my pizza. I'm working on it.