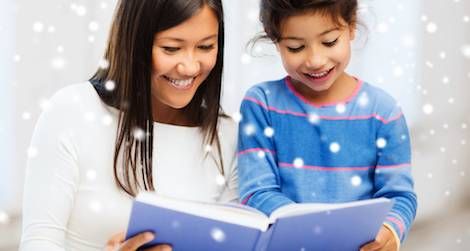 This content contains affiliate links. When you buy through these links, we may earn an affiliate commission.
When I think of my mother, she is always surrounded by books. Dusty stacks of gorgeous coffee table books on art and needlework. A well-loved mystery facedown on her chest while she naps. Teetering piles of audiobook boxes on the passenger seat in her 19-year-old Lexus. A devotional book for her Bible study exploding with colorful post-it notes. A tote of library returns sitting by the front door, ready to be swapped out on the next visit.
My earliest book memory is my Mom reading these Dandelion Library classics to us when we were little. We had Babar and His Children, The Tale of Benjamin Bunny, and my very favorite, Flip by Wesley Dennis about a colt that dreamed he grew wings and could fly. It was that book that propelled me into a multi-year horse phase that led to Golden Prize, Misty of Chincoteague, and any other pony book I could get my hands on. Those cherished titles are still on my bookshelf, and my own kids loved them too.
When I was growing up, there was always one book on the coffee table and one by the bedside, ready to be picked up again when Mom settled in for a few minutes. Waiting in the pick up line, sitting at a doctor's appointment, or taking a trip out of town, there was always a paperback in the car or tucked in her purse. When we took my little sister to see the movie The Brave Little Toaster, Mom actually sat in the back reading with a flashlight. Even when I took her to the hospital for surgery and she was going to be unconscious or drugged the whole time, she insisted on packing a book. "You never know," she said.
Way before it was hip to subscribe to Audible, my mother was checking out books on cassette from the library. The boxes were clumsy contraptions that never closed well, and the tapes would sometimes break mid-book if they had not been treated well by the previous patron. But she hung in there and was rewarded when CDs came along. She would cart a boom box around the house, listening while she sewed in the back room or while she made soup in the kitchen.
Mom still has her boom box and is thoroughly devoted to her trusty CDs. Whenever I go to see her, I am accustomed to hearing strange voices as I walk in her home. Since she is a huge mystery buff, it is not uncommon to be greeted by a murder, assault, or altercation of some sort. I sometimes wonder what the people in the neighboring apartment think she's up to. She has favorite authors she's been following for years—J.A. Jance, Louise Penny, Jonathan and Faye Kellerman—and she is always finding new writers to love.
Although our tastes are very different, Mom has introduced me to some of my favorite books. She found Sue Grafton first and urged me to read A is for Alibi many years ago. We both loved the whole series and were so sad when Grafton died, knowing there will never be a Z. When I needed a book recommended by a family member for a reading challenge, she assigned me Black and Blue by Anna Quindlen, another favorite author we share. We both enjoyed Will Schwalbe's The End of Your Life Book Club recently and talked about it several times. I think we felt a kinship to Will and his mother's bookish bond.
My Mom and I are both opinionated women with strong emotions, and like any mother and daughter, we've had our ups and downs over the years. But even when we haven't seen eye to eye, our shared love of reading has been a touchstone in our relationship. When we feel angry, at a loss for words, or disconnected, one of us will say, "So what are you reading?" and we seem to find our way back together. Books have helped us through some hard times.
I recognize that so much of what I love was passed directly to me from my Mom. My affection for the written word, my fondness for libraries, my audiobook addiction, and my passion for book clubs are all treasured gifts from my mother. I watched her love these things, and I came to cherish them myself. And as I see one of my children listening to an audiobook while drawing, or another asking for a fiction recommendation over college break, I see that my mother's legacy of reading is making its way down to her grandchildren.
What a priceless gift. Thanks, Mom.