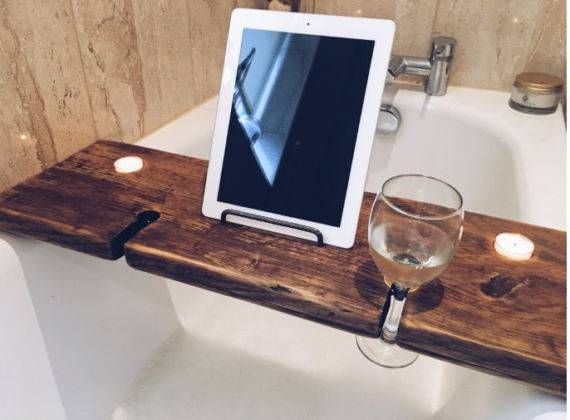 October 31st, after ten years of Kindles, the waterproof Kindle graced our shelves. We finally have permission to read in the bath, the shower, the sauna, the rain, or any other damp locale. But many of us have been reading in the bath for years before technology gave us permission to do so. So here's to the sensual joy of the bathtime readathon.
The first rule to any good reading time is relaxation. Comfy chairs, blankets, gentle lighting, tea and biscuits. Now, the bath is a traditional place of tranquillity as it is, but it always pays to make an effort. Nothing is too good for your reading time. Start off with making sure both the bathroom and the bath water are at a cosy temperature. Don't let chilling water force you to stop reading prematurely.
As you run the bath remember the bubble bath or bath bomb. For a truly immersive experience, find some that are themed to your book. The MacBath has some cute ones.
Whilst the bath runs, you have time to make yourself a nice cup of tea [or your hot beverage of choice]. Think relaxation, unless downing espresso in the bath is your cup of tea. Literary Teas is a good place to start for a bookish teatime.
Next, combine enough light for easy reading with some romantic candlelight. Spoiler alert: book themed candles are what we're going for here.
The final layer for the immersive book bath experience is music—if that's your reading style. Whatever gets you in the mood. If you've had enough of trying to theme everything around your book, Spotify is full of bathtime playlists.
Now that the bath is ready you need to get in with your book. Which is where it gets more tricky. That waterproof Kindle is, of course, an option if that's in your budget. But I'd still be careful not to drop it.
The number one rules here about what not to read. No library books. No books borrowed from anywhere else. No signed first editions. Being unable to stop imagining having *that* conversation with the librarian is not how I choose to relax.
These bath trays are an option. They're probably not that hard to make, either, if you've got those kind of skills. Then you can put your tea on the table, too. And a vase of flowers. I don't know. Whatever floats your book.
A non-waterproof ereader could be placed in a plastic bag. It'd still be best to avoid dropping it, but it should protect against splashes.
My preference is to read paper books in the bath and to be careful. Best idea is to have a towel within easy reach of the bath to dry your hands when they get wet.
But if all this makes you too anxious, there are other options. Playing an audiobook from the other side of the bathroom is nice. Lie in the bath & have someone read you stories from a drier corner.
Finally, those plastic books made for kids to read in the bath might work for you.
To further enhance the experience, read some books about water or mermaids.
And in your reading breaks whilst you soak, there are many literary pleasures to be had. Pretend to be one of those mermaids you were reading about. Or, for the more morbid among us, strew your bath with flowers and pretend to be Ophelia.
For other thoughts on keeping your books dry whilst you get wet, see here.