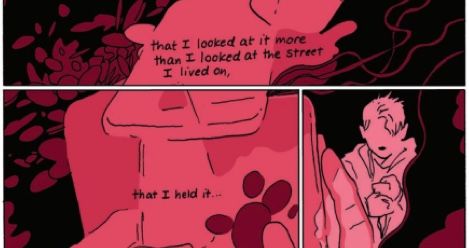 This content contains affiliate links. When you buy through these links, we may earn an affiliate commission.
I Feel Machine is a new compilation of graphic short stories, edited by Julian Hanshaw and Krent Able and published by indie comic publisher SelfMadeHero. Like Black Mirror, the TV anthology about technology dependence that you're contractually obligated to mention in any article like this, I Feel Machine is a mixed bag.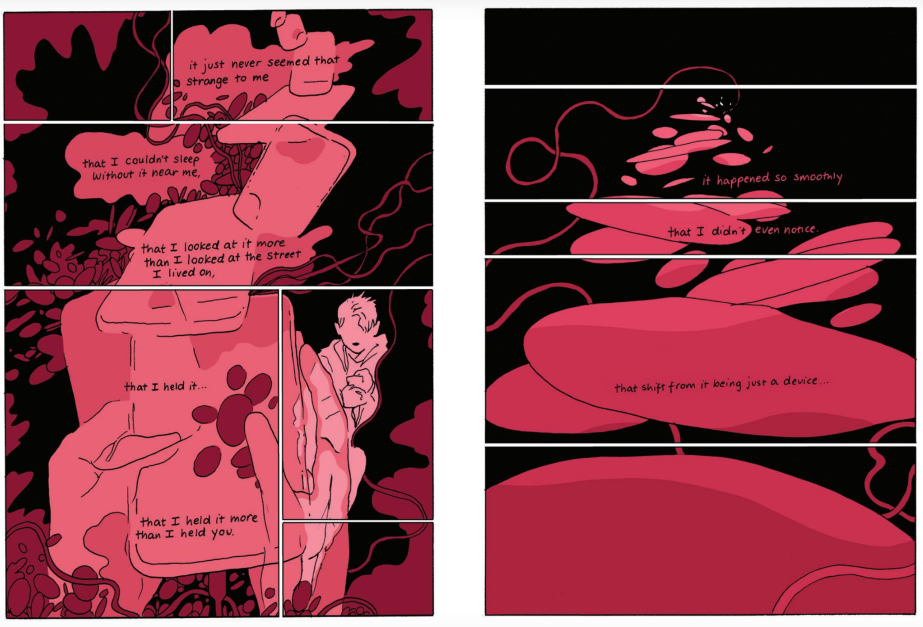 The stories
My favorite of the six stories is the one where the tech is the least relevant. "Here I Am," Shaun Tan's contribution, is an achingly beautiful story of belonging (and a kind of fable about immigration). The delicate pencilling and vivid colours create a mysterious yet recognizable world, which feels fully developed. Here, a little girl faces a difficult choice after an alien tells her she has a real home elsewhere.
"Uploading" by Box Brown imagines a world where people's minds can be uploaded to permanent servers while their bodies are extinguished. This kind of virtual immortality is supposed to avoid being "a suck on natural resources." But obviously different kinds of resources are needed to keep these souls immortal. As is Brown's style, the art is almost childlike, with bright colors and clean lines. The simplicity of the art mirrors the naïveté of the concept of immortality that this society has developed. This has people so nostalgic for death that they play games to simulate the experience.
"STHLMTRANSFER" by Erik Svetoft also envisions a society where people are reduced to transferrable files. This society is a deliberately garish, grotesque Stockholm ― one that wouldn't be out of place in a Terry Gilliam film. It's not entirely clear what's happening in this largely silent story, but the sinister mood is powerfully cinematic.
"Be Little with Me" by Julian Hanshaw is set in a future, partially ruined London. A mysterious resident of this city has not only a pet chicken, but a device that allows for glimpses of alternate realities. This is powerfully magnetic…and dangerous. Again, the plot veers toward inscrutable.
"Bloody Kids" by Krent Able is a horror story, right down to the cabin-in-the-woods setting. The gruesomeness is initiated by smartphone and social media culture. Yup, the satire is broad, but the images are memorable.
"Contours" by Tillie Walden is short and effective. It tells of a dystopia (or to some people, a utopia) where smartphones, computers, and TVs suddenly stop working. What happens to relationships when we can't mediate them through devices? In stark pink, blue, and black, this story presents one answer.
THE BOOK
An issue across several of these stories is one of form. It's tough to develop the world fully in just 20 pages or so, and there are moments that would benefit from the "show don't tell" adage of storytelling. But this is a common problem of sci-fi short fiction: world-building sometimes takes a long time.
It's surprising that there aren't more cartoonists tackling the human-machine interface, as it's clearly fertile territory for the graphic imagination. Now, where did I put my phone?