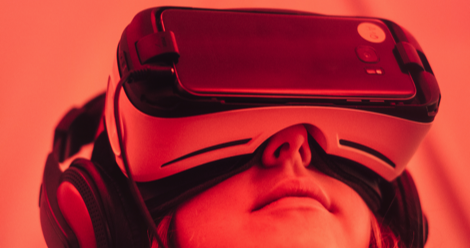 This content contains affiliate links. When you buy through these links, we may earn an affiliate commission.
Do you love prescient speculative fiction? Are you craving prescient dystopian tales about the future of our digital age and social media? Black Mirror recently teased its much awaited return (New Year's Day? Christmas Eve?) after rolling out creepy posters and trailers for multiple episodes of the upcoming season. While we wait to hear more about the hugely anticipated season 4, get your Black Mirror fix with these brilliantly imaginative and eerily plausible fiction.
This prophetic short story collection is about future technology and the pre-eminent utopian future. Set in a world straight out of Black Mirror, these stories are disturbing, ludicrous and darkly humorous. From a company that manufactures virtual memories to an adopted Chinese child whose robotic brother starts to malfunction, these stories are resonant and thought-provoking. Weinstein offers a thought-provoking take on a near-future about how advancement in technology will impact the way we live and connect as humans.
Early one Monday morning, journalist Alex Kubelick walks up to a total stranger and slaps him across the face. Hard. He thanks her. They've both just earned Emoticoins in a new, all-consuming game that trades real-life emotions for digital currency.
Set in a terrifyingly familiar world where commodification of emotions is prevalent and economy is manipulated by social media, Lucky Ghost is the second installment of cyberpunk series The Martingale Cycle. Action-packed and thought provoking, this is a highly entertaining read.
This book is not out until March but you might want to pre-order this because from what I've read, this is a banger. 17-year-old Laura Bow has invented a rudimentary artificial intelligence, and named it Organon. At first it's intended to be a sounding-board for her teenage frustrations, a surrogate best friend; but as she grows older, Organon grows with her. As the world becomes a very different place, technology changes the way we live, love and die; massive corporations develop rival intelligences to Laura's, ones without safety barriers or morals; and Laura is forced to decide whether to share her creation with the world. If it falls into the wrong hands, she knows, its power could be abused. But what if Organon is the only thing that can stop humanity from hurting itself irreparably?
I Still Dream is a powerful and cleverly written book about empathy, intelligence, and humanity.
H(A)PPY by Nicola Barker
This gloriously ingenious novel from one of the trailblazer of literary sci-fi is mind-bending and subverts all conventions of dystopian literature and typography. Described as "a post-post apocalyptic Alice in Wonderland," the story is set in a world without sickness, without death. A world without God. A world without fear. It's a world where constant surveillance in a regulated virtual reality is the norm and any Excess of Emotion by an individual is recorded and discouraged. Could people be happy there? This kaleidoscopic novel is a socio-political melodrama which fearlessly experiments with narrative, style and ideas. With this audacious masterpiece of dystopian science fiction, Barker joins the ranks of David Mitchell and Dave Eggers as masters of the genre.
An influential YouTube star, David Callow, is offered the opportunity to be the new face of a revolutionary technology MindCast that will stream his thoughts 24/7. Viewers can tune in any time to view and share his unedited life. However, David soon realizes that he is getting more than he bargained for when MindCast starts interrupting and manipulating his thoughts. The Truman Show meets The Circle in this claustrophobic story about corporate culture and social media.
The Dark Net is an anonymous and often criminal arena that exists in the secret far reaches of the Web. Some use it to manage Bitcoins, pirate movies and music, or traffic in drugs and stolen goods. And now an ancient darkness is gathering there as well. This force is threatening to spread virally into the real world unless it can be stopped by members of a ragtag crew. Set in present-day Portland, The Dark Net is a cracked-mirror version of the digital nightmare we already live in and the power of a united few to fight back. If you like Mr Robot, you'll love this spooky cautionary tale about technology, which is a cross between a techno thriller and supernatural horror.
The Feed by Nick Clark Windo
Out next year, this is another timely novel you need to pre-order if you are a fan of Station Eleven and Black Mirror. Set in a post-apocalyptic world, The Feed is accessible everywhere, by everyone, at any time. It instantaneously links us to all information and global events as they break. Every interaction, every emotion, every image can be shared through it; it is the essential tool everyone relies on to know and understand the thoughts and feelings of partners, parents, friends, children, colleagues, bosses—in fact, of anyone and everyone else in the world. This riveting high-concept thriller combines a plausible dystopian nightmare with a taut and suspenseful plot.
Rebecca Wright has triumphed over her grief and depression following a personal tragedy years ago and now works at a computer dating service. But she has a strange, persistent sense that everything around her is somewhat off-kilter: she constantly feels as if she has walked into a room and forgotten what she intended to do there; on TV, the President seems to be the wrong person in the wrong place; her dreams are full of disquiet. Meanwhile, her physicist husband is dangerously close to creating a time machine. The novel is set in a near-future of smart phones and self-driving cars which is dreamlike yet eerily similar. This is a mind-bending and fascinating masterpiece that intelligently dwells on contemporary issues like relationships, technology and race in the age of social media.
Otherworld by Jason Segel and Kirsten Miller
The first installment in a new YA trilogy about Virtual Reality, this book from actor Jason Segel and novelist Kirsten Miller is a gripping read. Simon and Kat are teen best friends who have grown apart; after an explosion leaves her in a comatose state, a famous tech company offers to plug Kat into their new, immersive virtual reality game called Otherworld. Simon, an awkward gamer, smuggles himself into this devious virtual world in an attempt to find Kat. This is an adventure-filled novel, perfect for fans of Ready Player One.
The first book in Campbell Award finalist Malka Older's groundbreaking cyberpunk political thriller series The Centenal Cycle was called "one of the greatest literary debuts in recent history" by The Huffington Post. It's set in a quasi-utopian future where Information, a powerful search engine monopoly, pioneered the switch from warring nation-states to global micro-democracy. The corporate coalition party Heritage has won the last two elections. With another election on the horizon, the Supermajority is in tight contention, and everything's on the line. With uncanny parallels to our real political world, this provocative political noir will be loved by both election nerds and sci-fi geeks.