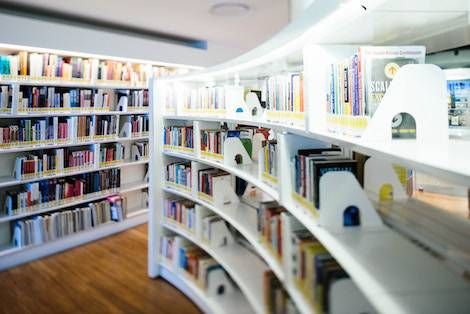 LGBTQ
Genderqueerness in the Library
"If you feel like your gender is like a dinosaur, you could make a dinosaur!" a volunteer was explaining to a small child. It was a Saturday morning in October 2017, and the craft tables that had been pushed side-by-side at the Brooklyn Public Library (BPL) overflowed with paper, stickers, and markers. Glittering banners hung from the ceiling, and a quiet corner had been set up where a few kids were deep in the independent reading zone.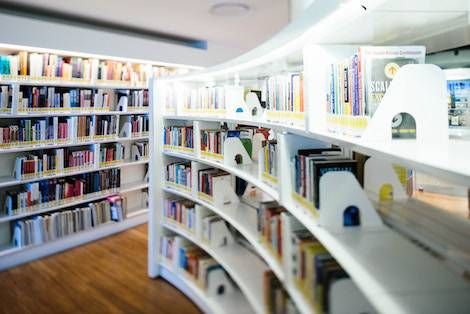 It was a harmonious commotion of color, laughter, and creative concentration that I remembered perfectly from my own childhood weekends at the library. What made this library family program different from the ones I recalled was that the craft area was dedicated to zine-making; the books in the reading corner addressed gender and sexuality in progressive ways; and the main event of the morning was a kid-friendly performance by transgender punk rock star Laura Jane Grace.
The program in question was "Genderful! Exploring Gender Through Art," and the BPL presented it in collaboration with the organization If You Want It, Ltd. Representatives from If You Want It were out in full force at Genderful!, selling tank tops that read "Gender is Over! If You Want It" and clustering eagerly around the space where Laura Jane Grace was to perform. "For kids, I feel like gender is a lot more fluid," Grace said in an interview about her performance at Genderful! "If you withdraw them from certain gender coding situations, kids are just kids." In a space as inclusive as Genderful!, I felt that the same could be said of the rainbow-haired twenty-somethings who were there to hear Grace perform: you might not have expected us to mingle well with the 6- to 12-year-old set, but that morning, it was as if we were just kids too.
My companion and I ventured towards the crowded zine-making station, but we were wary of taking seat space from the literal kids, so we wound up bouncing a balloon in a circle with some other Laura Jane Grace superfans while we waited for her to arrive. Most of our new friends spoke openly about being a part of our LGBTQA+ family, and we bonded over how important Grace's work was to us. Grace came out as trans in 2012, when she had already been fronting her band Against Me! for fifteen years. On their 2014 album Transgender Dysphoria Blues, Grace sings about the anguish of struggling to be "the woman that she wanted to be" with an enraged vulnerability that's equal parts scream of grief and call to action. We agreed that it was tough to imagine what a "kid-friendly" set from Grace might sound like.
Genderful! came to be in part because of the success of another genderqueer program libraries have taken part in across the country, Drag Queen Story Hour. This March, Drag Queen Story Hour made its way to my own home base of Newark, New Jersey, with the incandescent Harmonica Sunbeam playing hostess. At the Newark edition of Drag Queen Story Hour, I spoke with one of its organizers, who shared that although she had received some community pushback for holding the event, none of her weekend programs had ever inspired such a large turnout before.
I don't know what a typical turnout at one of BPL's weekend programs looks like, but judging by the number of children who converged at Grace's feet when she arrived at Genderful!, genderqueer representation was drawing a critical mass in Brooklyn, too. Not one of those kids seemed frightened of the tall, tattooed, gender non-conforming woman before them—no one had told them they should be.
That's the magic of genderqueerness in the library. Kids know you behave respectfully in the library; they trust the adults who tend to them there. If it's okay to have a gender different from the one assigned to you at birth in the library, it must just be okay. That's the message kids heard at Genderful! I heard it, too, and I wished I'd heard it when I was their age.
A kid-friendly set from Laura Jane Grace turned out to mostly mean that Grace played us the Mountain Goats songs she plays for her own daughter at bedtime. "This is a song John Darnielle wrote for his kids," she explained to her enchanted audience before launching into "Amy AKA Spent Gladiator 1." And the music was both a lullaby and a plea for kids of every age:
"Don't hurt anybody on your way up to the light
And stay alive
Just stay alive."