Lists
A Roundup of Fierce Fictional Librarians
This content contains affiliate links. When you buy through these links, we may earn an affiliate commission.
"You want weapons? We're in a library. Books are the best weapon in the world. This room's the greatest arsenal we could have. Arm yourself!" —Doctor Who, "Tooth and Claw," Season 2
We're celebrating libraries and their champion guardians this week. Therefore, I've rounded up some of the coolest librarians in fiction. They fight crime, they possess knowledge that ranges from useful to impressive, and they look good doing it. Did I include your favorite?
Everyone's favorite Watcher will always be my favorite fictional librarian. No only does Giles know everything about everything, he's also a skilled fighter who puts himself in harm's way to save the world more than once. If you like Giles, be sure to look out for the new Buffy Season 11 miniseries from Dark Horse Comics where Giles (who's been resurrected as a teenager) goes to high school to investigate the mysterious disappearances of local teachers.
Barbara Gordon, Batgirl
One of my favorite tropes is academic by day, crime fighter by night (Indiana Jones, anyone?). Barbara Gordon's role as a librarian has been celebrated almost as much as her vigilante alter-ego. In fact, DC Comics teams up with the American Library Association frequently to celebrate libraries, as seen in the promotional posters below: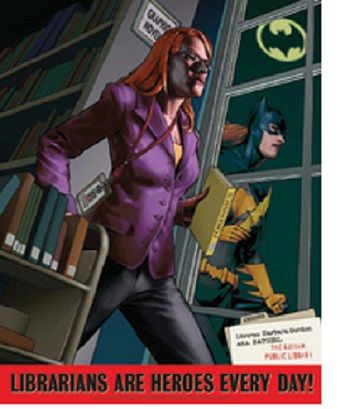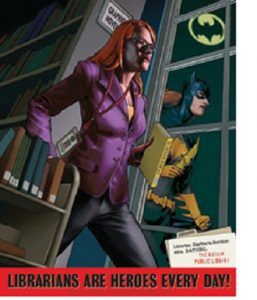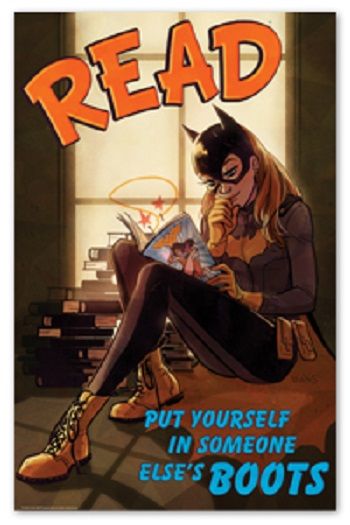 The Library Defense Force, Library Wars by Kiiro Yumi
Real-world librarians act as a defense against small-mindedness and are some of the most staunch activists we have. In Library Wars, the Library Defense Force takes this to an even more literal level. They serve as warriors against the Media Betterment Committee, a group whose primary function is censorship and going after organizations championing free speech.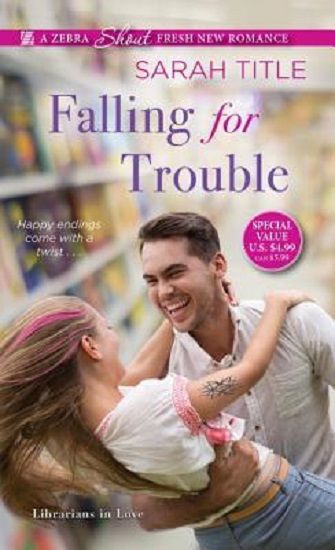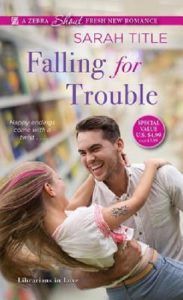 As a romance reader, I would be remiss if I didn't put one of my favorite romantic hero librarians on this list. (Did you know there are entire romantic series dedicated to librarians falling in love? Get to reading those, people!) Liam Bird is not only super sexy (even the older women in his town make unnecessary trips to their mailboxes to watch him run each day), he's also a great example of a real-world librarian. He cares for others, is an active member of the community, and fights yearly against budget cuts that threaten the library's programs and book funding. I really loved Sarah Title's Falling for Trouble, and can't wait to read the rest of her Librarians in Love series.
Issac is the curator of the Cemetery of Forgotten Books, a library of sorts, in Carlos Ruiz Zafón's novel. This space is set up like a labyrinth with tunnels and passageways. It's pretty close to where I want to spend the afterlife, and that's why I like Issac so much. He's living my dream. When Daniel (the main character of the novel) arrives there, Issac instructs him to take ownership of one of the out-of-print books, and he picks the titular book The Shadow of the Wind by Julián Carax. This sets him on a journey to discover the fictional author's other books. The Cemetery of Forgotten Books is so cool, and I love the idea of Issac, a lone figure, watching over it.
Tammy 2, Parks and Recreation
Ok, so this isn't technically a literary example, but I couldn't leave out Tammy, Pawnee's Deputy Director of Library Services! Although she is one of Leslie Knope's nemeses, I love her. She goes after what she wants, is a champion of the library, and really owns her sexuality. It always bothered me that the otherwise perfect Ms. Knope didn't like the library. I have to say that if I lived in Pawnee, I'd be BFF-ing with Tammy 2 and the other librarians pretty hard.
madam Irma Pince, The Harry Potter series
I struggled with whether or not to put Madam Pince on this list. On one hand, she is really territorial over the books. The best librarians I know want students/patrons to check books out, but Madam Pince's written warning is enough to stop even the most eager student from wanting to use the library: "If you rip, tear, shred, bend, fold, deface, disfigure, smear, smudge, throw, drop, or in any other manner damage, mistreat, or show lack of respect towards this book, the consequences will be as awful as it is within my power to make them," is one spell she uses to make sure patrons will be punished if they ruin inventory. On the other hand, there's a lot of evidence that she fights in The Battle of Hogwarts on the right side of things, so maybe she's not so bad after all. I'm sure some of my library friends wish every once in a while that they could protect the library with magic!
Honorable Mentions (a.k.a. Fictional Librarians I don't know enough about)
When I was surveying friends for this list, several of them mentioned The Librarian from Terry Pratchett's Discworld and Lucien from Neil Gaiman's The Sandman comics. I haven't read those, but from my friends' descriptions of these characters, I now want to!
How are you celebrating the librarians in your life this week? I recommend treats!
For more library content, click below:
Librarians Provide Tools for Readers to Rise Up