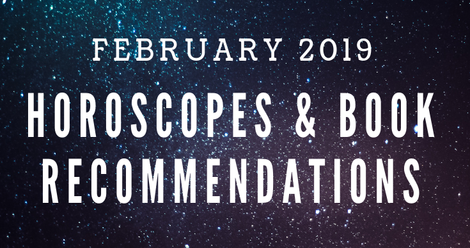 Lists
February 2019 Horoscopes and Book Recommendations
This content contains affiliate links. When you buy through these links, we may earn an affiliate commission.
Welcome to Book Riot's February 2019 Horoscopes and Book Recommendations! There are a ton of great new books coming out this month, so how do you choose which to read first? The answer is easy: Follow the stars! Find your astrological sign below for your February horoscope, perfectly paired with a newly released book.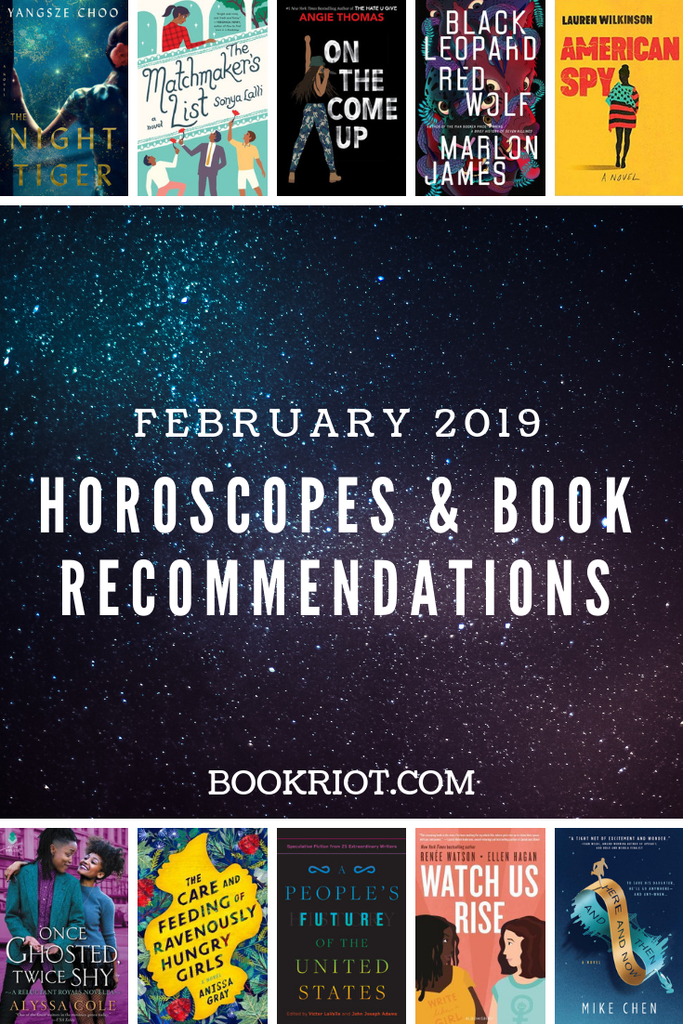 Aries (March 21–April 19)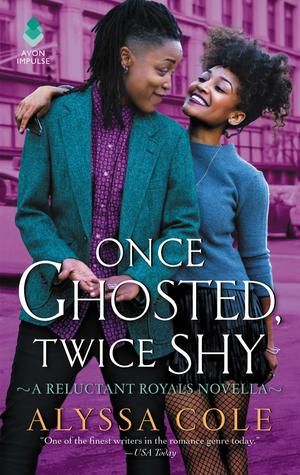 Family and home life will be harmonious for Aries in February. Time spent with loved ones, especially your elders, will be peaceful and memorable. Keep outside pressure at a minimum and focus on quality time with those who mean the most to you. Single Aries may find love through their social network this month. Check out Once Ghosted, Twice Shy (Feb. 19, Avon Impulse) by Alyssa Cole, part of the Reluctant Royals series that also makes a great standalone novella. Fabiola ghosted Likotsi after a great first date. When they run into each other again in a stalled subway train, Likotsi tries to find out where they went wrong. Is it too late for a happily ever after?
Taurus (April 20–May 20)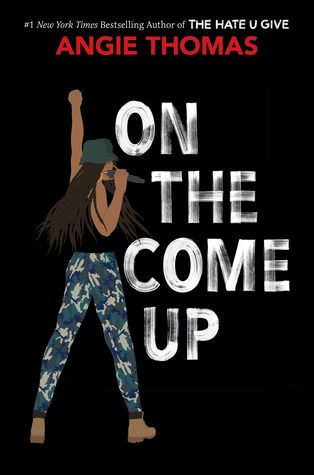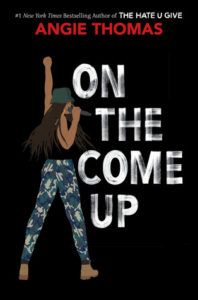 Bullheaded Tauruses can achieve anything they set their minds to this month. You're not afraid of hard work when it comes to getting what you want, and that will serve you well in February. Career and educational goals are within your grasp. Don't be afraid to utilize your personal connections to get things done. You might enjoy On the Come Up (Feb. 5, Balzer + Bray) by The Hate U Give author Angie Thomas. Bri is an aspiring rapper with big talent and a lot to say. But when faced with racism, police surveillance, gang violence, and poverty, can she make it big on her own terms?
Gemini (May 21–June 20)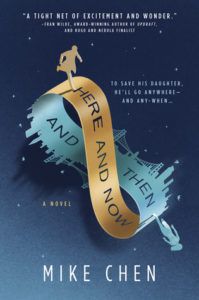 This is a year of self-exploration for Geminis, and February is the time for thinking about your professional goals. Have you been considering a big career change? Perhaps a new field altogether? This month will offer opportunities to explore and find your passion. Finances are strong, so feel free to indulge your adventurous nature. Read Here and Now and Then (Jan. 29, Mira Books) by Mike Chen, an interesting new take on time travel. Secret agent Kin is sent on a simple mission from 2142 to 1996, but when something goes wrong, he can't get back to his own time. Eighteen years later, a rescue crew finds him, but can he return to his past/future life?
Cancer (June 21–July 22)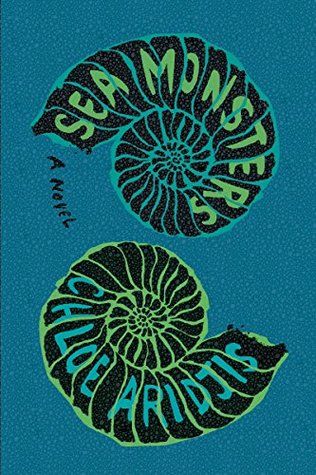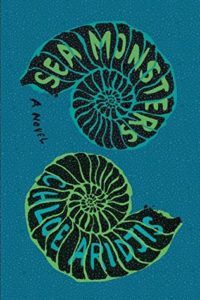 February is all about pleasure for Cancers. Seek things that bring you joy, especially old hobbies or passions that you've ignored lately. This year will bring tremendous growth for you, and returning to things that make you happy will play a big role in that growth. Following your passion may cause conflict with loved ones, but stay true to your joy. Try Sea Monsters (Feb. 5, Black Balloon Publishing) by Chloe Aridjis, a novel of 1980s Mexican goth subculture. Luisa is a romantic who is constantly disappointed in the people around her. One day after school, she disappears on a journey to the Pacific coast in search of enchantment.
Leo (July 23–August 22)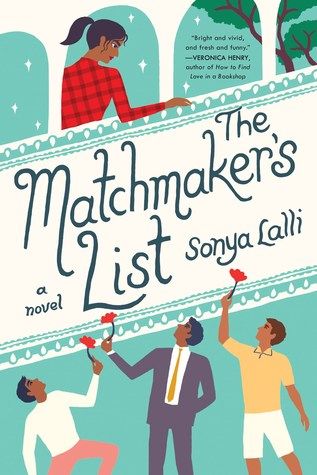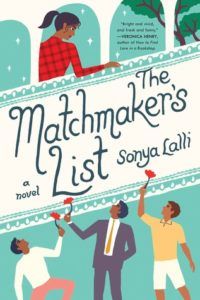 Wonderful opportunities will come your way this month, Leo. Keep your eyes open and don't let them pass you by. Connections made in February may help you reach your goals later in the year. If you are faced with obstacles, turn to your family for advice or assistance. It's also a great month for romance and new relationships. You might enjoy The Matchmaker's List (Feb. 5, Berkley) by Sonya Lalli. As Raina's 30th birthday approaches, her grandmother is pressuring her to find a husband. She agrees to meet with the bachelors her Nani suggests, but when she's still not over her ex, how can she know what she really wants?
Virgo (August 23–September 22)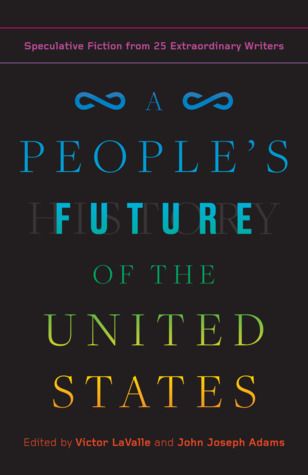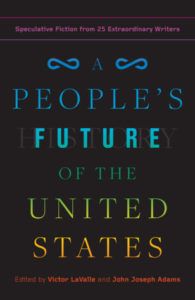 February is the perfect time for Virgos to make first steps toward lasting personal improvement. Whether you want better physical health, emotional wellness, or stronger relationships, the changes you make this month will have a big impact. Think about what areas of your life you want to advance and take action toward your goals. Read A People's Future of the United States: Speculative Fiction from 25 Extraordinary Writers (Feb. 5, One World) edited by Victor LaValle and John Joseph Adams. This short story collection from some of the most beloved voices in Science Fiction and Fantasy imagines a future for America shaped by justice, equity, and diversity.
Libra (September 23–October 22)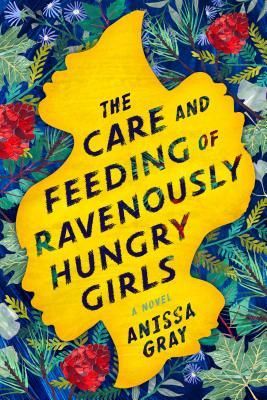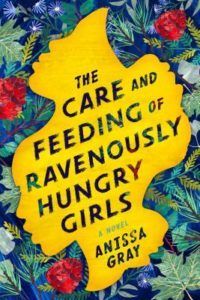 Family will come first for you this month, Libra. Troubles at home may take focus away from your work, but it's important to resolve issues with your loved ones. Romantic relationships are strong in February, so significant others may be able to provide support. Beware of financial troubles; unforeseen expenses may pile up this month. Check out The Care and Feeding of Ravenously Hungry Girls (Feb. 19, Berkley) by Anissa Gray. When two members of a respected family are sent to prison for mismanagement of the family business, the rest of the group must pull together to rebuild their lives.
Scorpio (October 23–November 21)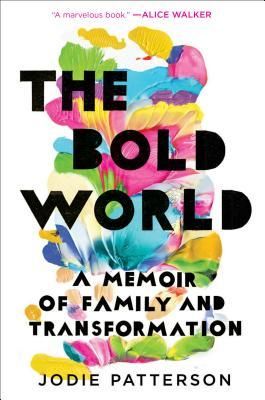 This year will present many forks in the road for Scorpios. In February, let your intuition guide your choices. You're an independent thinker with the follow-through to reach your goals, so listen to your gut. Elders and colleagues may question your judgement this month, but you won't regret sticking to the path you feel is best. I recommend The Bold World: A Memoir of Family and Transformation (Jan. 29, Ballantine Books) by Jodie Patterson. Inspired by her transgender child, Patterson explores gender, race, family, and creating a world more accepting of different identities.
Sagittarius (November 22–December 21)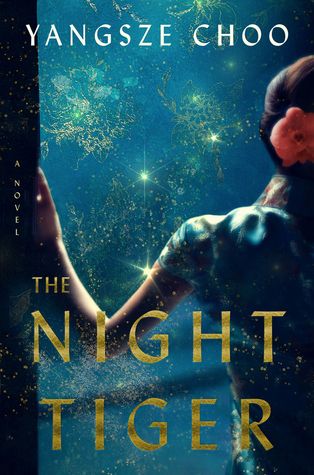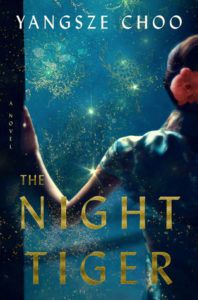 Honesty is the best policy for you this month, Sagittarius. You're aggressively working toward your goals for the year, but you can't control the people around you. If others get in the way of what you're trying to achieve, communicate clearly and honestly to resolve problems. Inspire others to join your team rather than pushing them away. Read The Night Tiger (Feb. 12, Flatiron Books) by Yangsze Choo. Set in 1930s Malaysia, it follows a houseboy and an apprentice dressmaker whose paths cross while investigating rumors of mysterious deaths and men turning into tigers.
Capricorn (December 22–January 19)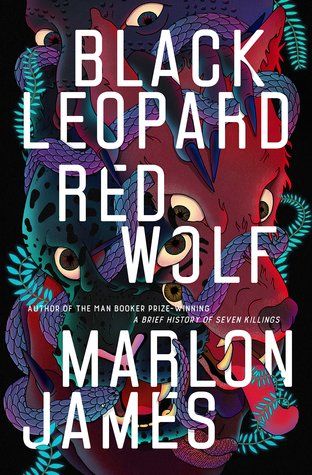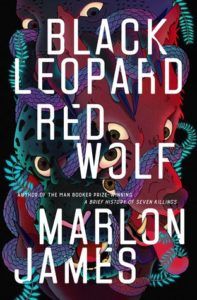 February provides little time for rest for Capricorns. Professional and social acquaintances know you as someone who will always get the job done, and many people are looking to you for help this month. This may be a detriment to reaching your personal goals, but help others where you can. It will pay off in the long run. You might enjoy fast-paced fantasy, like Black Leopard, Red Wolf (Feb. 5, Riverhead Books) by Marlon James. With incredible world building, fascinating characters, and dangerous adventures, this new series has been dubbed "the African Game of Thrones" by reviewers.
Aquarius (January 20–February 18)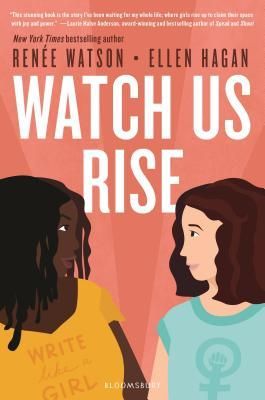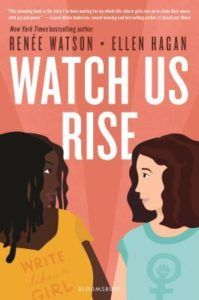 In order to improve your life in February, surround yourself with people who will lift you up. Aquariuses are fiercely independent, but building a strong network is crucial for reaching your goals. Look for the people around you who root for your success and strengthen those relationships. Your love life may take unexpected turns this month. Check out Watch Us Rise (Feb. 12, Bloomsbury YA) by Renee Watson and Ellen Hagan. Jasmine and Chelsea are two smart teens who want to change the way women are treated at their school. When the intersectional feminist club they form goes viral and they receive push back from the school, they refuse to let their voices be silenced.
Pisces (February 19–March 20)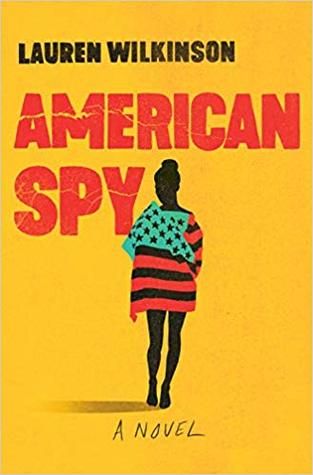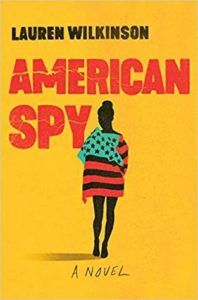 Careful planning can lead to big professional success this month, Pisces. You tend to focus on the needs of others, but now is the time to work toward your own goals. Your loved ones can provide great support in February while you direct more energy toward your career. It's also a great time for new educational pursuits. Read fiction with a little bit of everything, like thriller/romance/family drama American Spy (Feb. 12, Random House) by Lauren Wilkinson. FBI agent Marie is a young black woman fighting her way into an old boy's club. When she's tasked with infiltrating the inner circle of the revolutionary president of Burkina Faso, her life is turned upside down.
---
Looking for more? Check out your November, December, and January horoscopes and book recommendations!