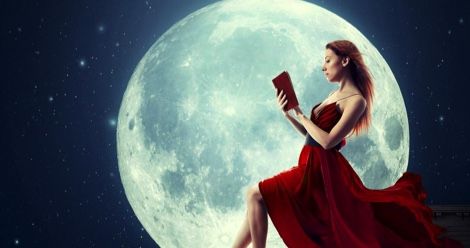 Lists
January 2019 Horoscopes and Book Recommendations
This content contains affiliate links. When you buy through these links, we may earn an affiliate commission.
Happy New Year, and welcome to Book Riot's January 2019 Horoscopes and Book Recommendations! Find your astrological sign below for your January horoscope, perfectly paired with a newly released book.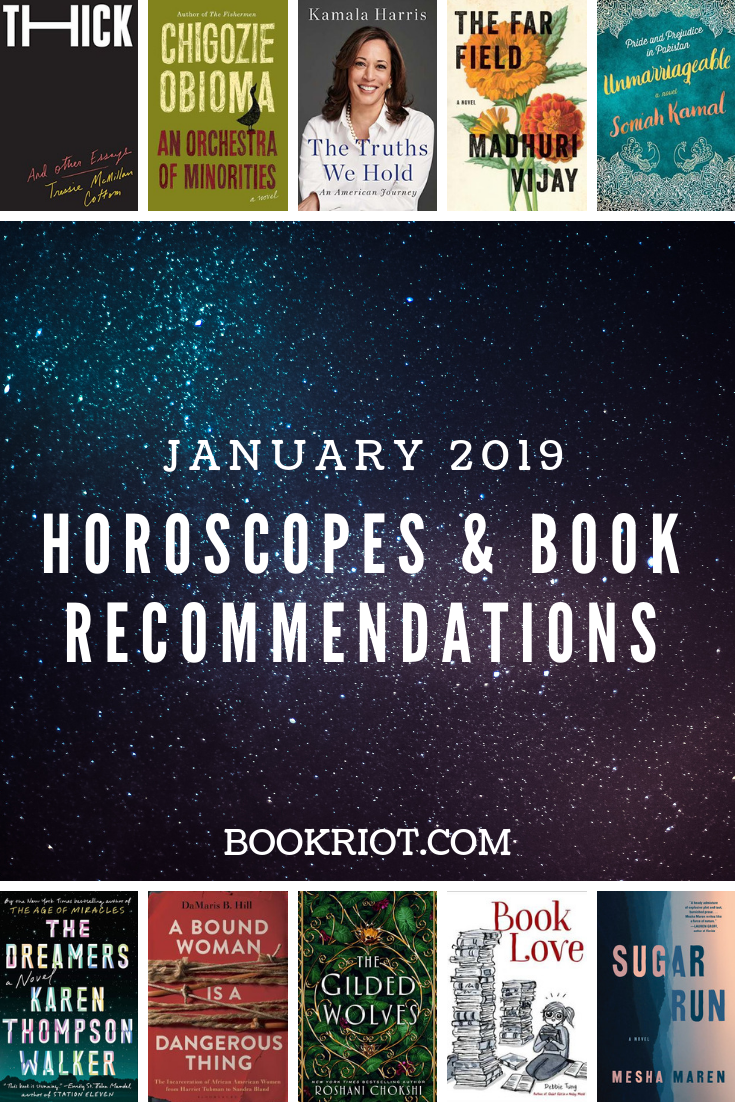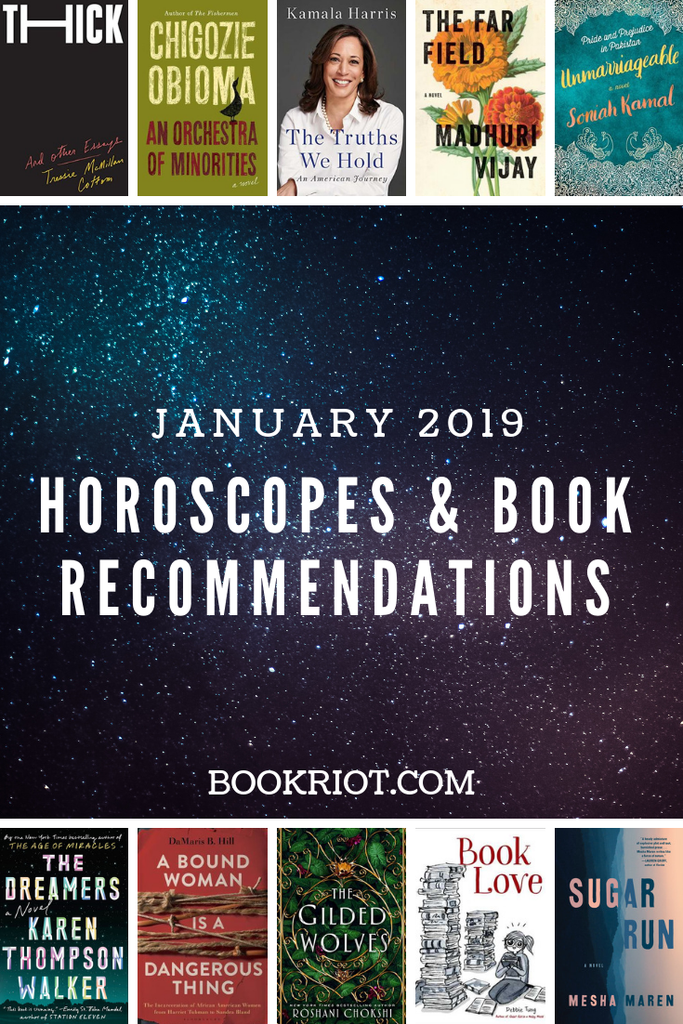 Aries (March 21–April 19)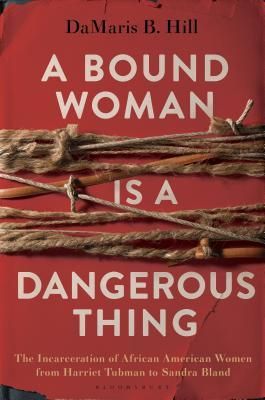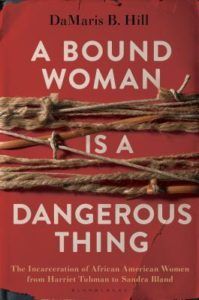 Your competitive spirit will help you start the new year with a bang, Aries. You're in good health and your energy is high, so January is a great time to try out a new sport or hobby that gives you an opportunity to excel. It's also a great month financially. Look to trusted advisors when it comes to money and your decisions may lead to prosperous outcomes. Your accomplishments this month will be rewarded. Read A Bound Woman Is a Dangerous Thing: The Incarceration of African American Women from Harriet Tubman to Sandra Bland (Jan. 15, Bloomsbury Publishing) by DaMaris B. Hill. This powerful poetry collection explores the stories and legacies of African American women who have shaped history.
Taurus (April 20–May 20)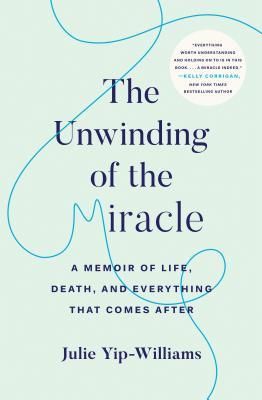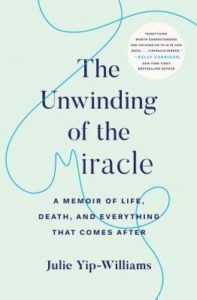 Patience and humility are the keys to Taurus's success this month. You will spend much of January laying careful groundwork for the rest of the year. This may feel tedious, but it will pay off in the long run. If you face problems this month, look to your elders for advice. They may offer a helpful and surprising perspective. Take precautions to protect your health and get plenty of rest in January. Check out a powerful memoir, like Julie Yip-Williams's The Unwinding of the Miracle: A Memoir of Life, Death, and Everything That Comes After. After receiving a terminal diagnosis, Yip-Williams tells her story, from being born blind in Vietnam to receiving a law degree from Harvard.
Gemini (May 21–June 20)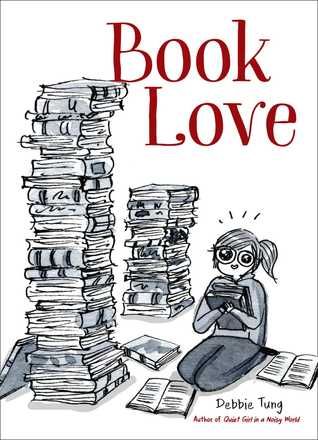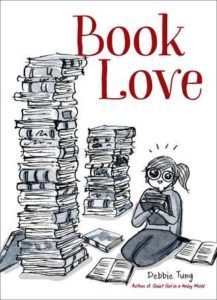 Your role during January will be the peacemaker, Gemini. At home and work, tensions are high and disagreements abound. You have the balance and open-mindedness to solve any interpersonal problems. Keep a cool head and look toward long term goals. Your social life will bring great joy this month, so take advantage of opportunities to visit with old friends. For a bibliophile like you, I recommend Book Love (Jan. 1, Andrews McMeel Publishing) by cartoonist Debbie Tung. It's a collection of comics dedicated to the joys of reading, sure to warm your book-loving heart.
Cancer (June 21–July 22)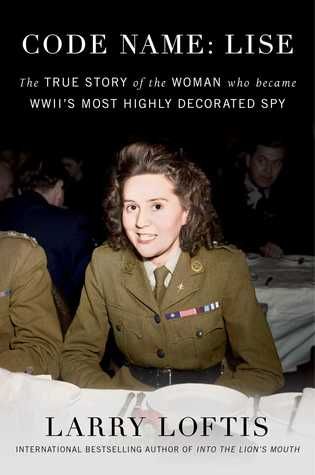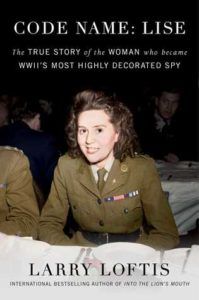 The start of a new year is the perfect time to focus on learning something new. Cancers will have great opportunities this month to expand their minds through travel or business. Colleagues can provide interesting new information or perspectives. Health may be challenging in January, though, so avoid straining your body and drink plenty of water. You might enjoy Code Name: Lise: The True Story of the Woman Who Became WWII's Most Highly Decorated Spy (Jan. 15, Gallery Books) by Larry Loftis. This narrative nonfiction tells the thrilling and true story of Odette Sansom, a British spy in occupied France who fell in love with her commanding officer.
Leo (July 23–August 22)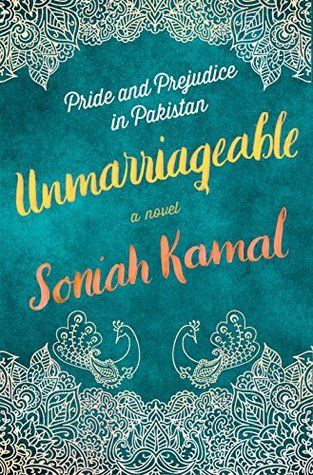 Love is in the air for Leos in January. Single Leos will make interesting new connections. Leos with significant others may take a new step in their commitment. Family relationships will also be harmonious this month. Work may be less in focus as you spend time with your loved ones. If you have the opportunity to travel with family, take it! You won't regret it. Check out Unmarriageable (Jan. 15, Ballantine Books) by Soniah Kamal. This modern-day retelling of Pride and Prejudice is set in Pakistan, where Mrs. Binat tries urgently to find eligible suitors for her five daughters.
Virgo (August 23–September 22)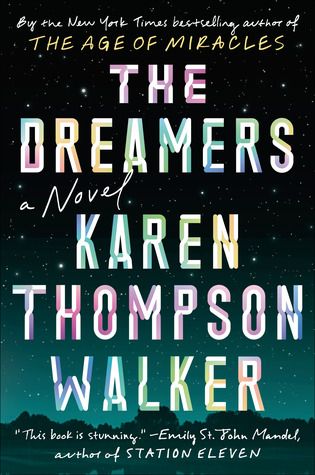 January will be a very social month for you, Virgo. Much of your time may be spent traveling with or visiting family. While this may create many memories, it may also be emotionally exhausting for you. Schedule alone time to rest and recharge. Although your time isn't focused on your career this month, your finances will still be strong. Save any excess income for harder months to come. Read a mesmerizing novel, like The Dreamers (Jan. 15, Random House) by Karen Thompson Walker. A college town is struck by a strange illness that causes citizens to fall asleep and not wake up. Those left awake must find a cure.
Libra (September 23–October 22)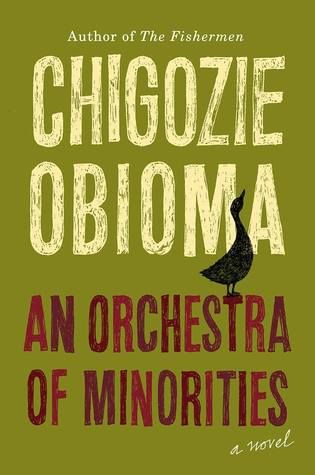 Libras will spend much of January focused on relationship management. You value harmony and cooperation, and that may be hard to come by this month. Much of your time and energy will be spent settling arguments among your family and close friends. Use your strong social skills to find compromise. Conserve energy to avoid health problems this month. You might enjoy An Orchestra of Minorities (Jan. 8, Little, Brown & Company) by Chigozie Obioma. Nigerian poultry farmer Chinonso sees a woman about to jump off a bridge and throws two of his prize chickens over the edge to change her mind. His daring act changes both of their lives forever.
Scorpio (October 23–November 21)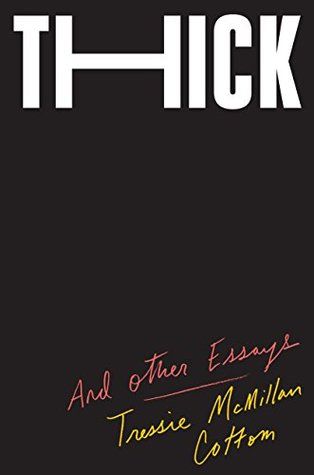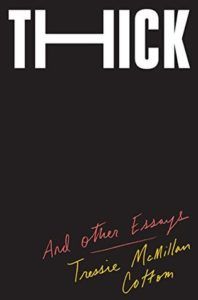 January is a time for exploration, Scorpio. The new year has brought you new energy, and your curiosity will lead you to see and learn everything you can. Take advantage of opportunities to travel or meet people. New acquaintances may prove helpful for your career later in the year. Children in your family may look to you as a role model this month; offer advice and support if you can. Read something insightful, like Thick: And Other Essays (Jan. 8, The Free Press) by Tressie McMillan-Cottom. This collection explores race, beauty, money, and social norms in a smart and humorous way that's sure to get you thinking.
Sagittarius (November 22–December 21)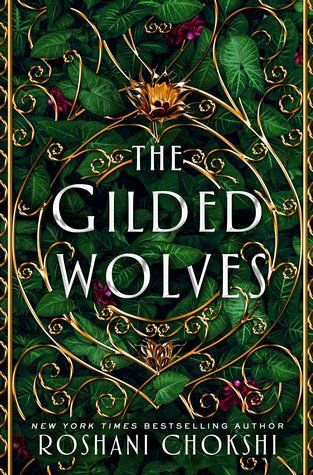 You're a busy bee this month, Sagittarius! Your social life will keep you running around throughout January, and additional obligations from family and your career will make your schedule challenging. But you thrive in chaos, so you'll find fulfillment in all of this activity. Single Sagittariuses may meet promising new romantic prospects at social engagements. Check out an exciting fantasy novel that can keep up with you, like The Gilded Wolves (Jan. 15, Wednesday Books) by Roshani Chokshi. Set in 1889 Paris, it follows a darkly glamorous secret society on the hunt for a mysterious artifact that might change the world.
Capricorn (December 22–January 19)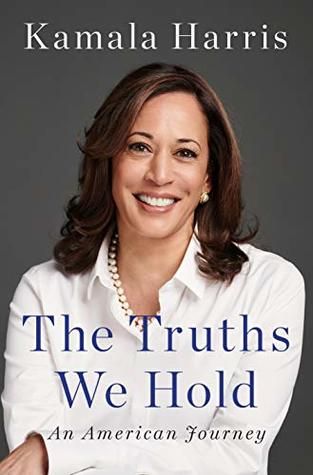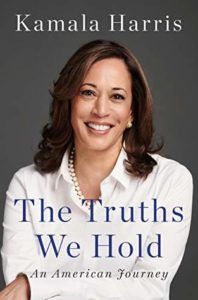 Happy Birthday, Capricorn! You'll make big strides this month. As a go-getter, you love setting goals and making plans to reach them. With your resolutions in place, you've got the drive to make great progress in your home and professional life. You may experience some roadblocks early in the month due to family conflict. Take time to settle these disputes and the rest of your month will go smoothly. Read The Truths We Hold: An American Journey (Jan. 8, Penguin Press) by U.S. Senator Kamala Harris. In this memoir, she looks back on her career and explores the struggles and truths that unite us.
Aquarius (January 20–February 18)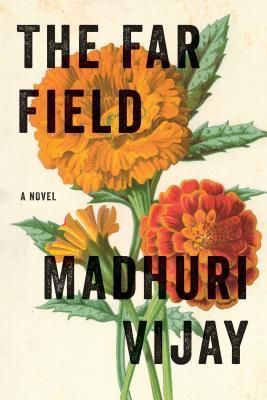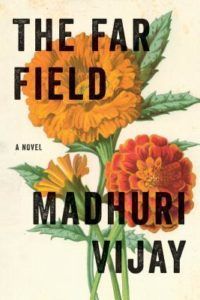 You will find joy with your family this month, Aquarius. Whether it's your family by blood or by choice, time spent with your loved ones will lead to happy memories and emotional health in January. You will receive good news this month related to your home life. Problems in your career may arise, but they can be solved with the help of your social circle. You might enjoy The Far Field (Jan. 15, Grove Press) by Madhuri Vijay. When a young woman's mother dies unexpectedly, she goes on a journey to Kashmir to seek answers and becomes entangled political unrest.
Pisces (February 19–March 20)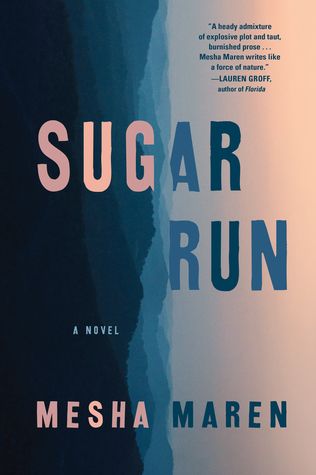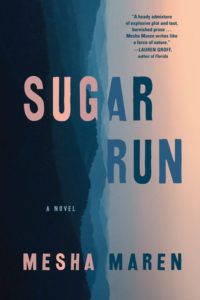 Success for Pisces this month will be found through your social network. Working diligently on your own won't help you overcome obstacles, but your loved ones and colleagues can help you reach your goals. Focus on collaboration and don't be afraid to ask for help if you need it. Finances may be tight this month, so watch your spending and be frugal when possible. I recommend Sugar Run (Jan. 8, Algonquin Books) by Mesha Maren. Jodi was sentenced to life in prison for killing her girlfriend as a teenager. When she's released eighteen years later, she learns that rural West Virginia is a hard place to start a new life.
---
Looking for more? Check out your October, November, and December horoscopes and book recommendations!