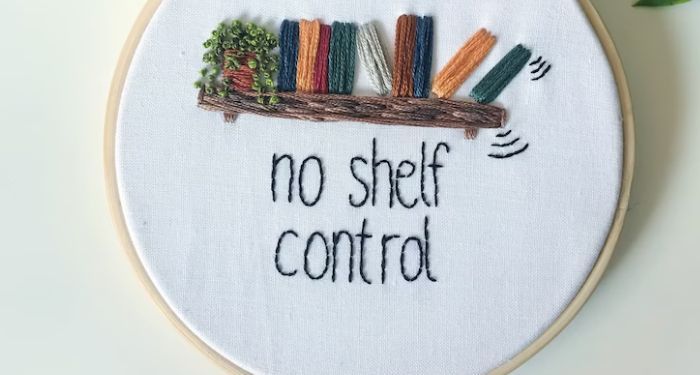 Book Fetish
More Bookish Embroidery Patterns for Stitch-Savvy Readers
This content contains affiliate links. When you buy through these links, we may earn an affiliate commission.
Almost two years ago, I bought my first embroidery kit. It featured a uterus bedecked with flowers, and I wanted it so bad. When I realized I'd have to make it my own damn self, I surprised myself by clicking the "buy" button.
I use the word "surprise" because, at that point, I couldn't even thread a needle. In fact, whenever I needed a hole mended or a patch sewn onto a sash or a pants leg hemmed, I had my spouse do it for me.
But that first embroidery kit got me hooked. I now have a pile of finished embroidery hoops in my home office, waiting to be hung. A bag of clothing waiting to be mended. A craft cart for all my sewing supplies. A separate storage cabinet for my embroidery floss. Who even am I, now?
Because I enjoy stitching the things I love, I do have a collection of book-themed embroidery patterns, some of which I've completed, others of which I've bookmarked for a rainy day. If you, too, have been bitten by the embroidery bug and want to fill your home with bookish stitchwork, I've got you. The patterns below are all beginner-friendly, though the more experienced among you may want to go rogue in terms of color and stitch choices. You do you.
Feeling inspired? Yay! Feeling intimidated? That's okay. Check out this list of nine awesome embroidery books. You'll be stitching away in no time.