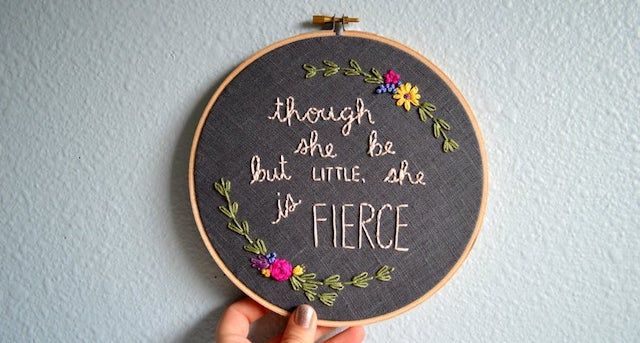 Book Fetish
Loops On Hoops: Literary Cross Stitch and Embroidery
This content contains affiliate links. When you buy through these links, we may earn an affiliate commission.
If there's one thing that can be said about readers (or at least the readers at Book Riot), it's this: many of them are also avid crafters. Chances are good that many choose to make things while also listening to an audiobook, thus creating reading time while also making something. Given how popular this round-up of book cross-stitch patterns has continued to be, it feels like time to add some more badass literary cross stitch patterns that readers might want to try their hands at. This time, I've expanded and added a few awesome literary embroidery patterns, too. The basic theme being these needle-and-thread creations are done on hoops and most are perfectly displayed on them, too. Most of these book hoop crafts are downloadable patterns, meaning that you'll get the pattern and provide your own tools. Those which are kits, I've noted.
Never cross stitched or done embroidery before? This is your opportunity to start. If you need a guide to help you get an idea of how needle work works, you'll want to check out these best cross stitch books.
Oh and…did you know that Book Riot has a book full of rad bookish cross stitch patterns coming this may? You can learn a little about it now and order Lit Stitch.
Can't get enough of Anne with an "e?" You'll want this Anne of Green Gables cross stitch pattern. $7.32.
Last, but not least, the only thing that's wrong about this cats and books cross-stitch is how none of the cats are chewing the books (that can't just be my house!). $6.30.