This content contains affiliate links. When you buy through these links, we may earn an affiliate commission.
The first time I ever went into a comic book store was on Free Comic Book Day. It was crowded and I kept knocking over superhero figurines every time I turned a corner. There were little kids in costumes, and older men flipping through comic books in milk crates. They all seemed very confident and it was intimidating. At that time I didn't even know the difference between Marvel and DC. I was a novice, but I'd read a few graphic novels, loved movies like The Dark Knight and Spider-Man, so I decided to persevere. I ended up buying a Hilda comic, because it felt less intimidating. Hilda quickly became one of my favorite comics.
My nearest comic book store is an hour's drive from my house. I try to take my niece to Free Comic Book Day, but I missed it this year. Buying comics from an actual brick and mortar store is not an option for me. It's not an option for most people (find your nearest comic book store here). So how do you get your hands on comic books if you don't live near a comic book store?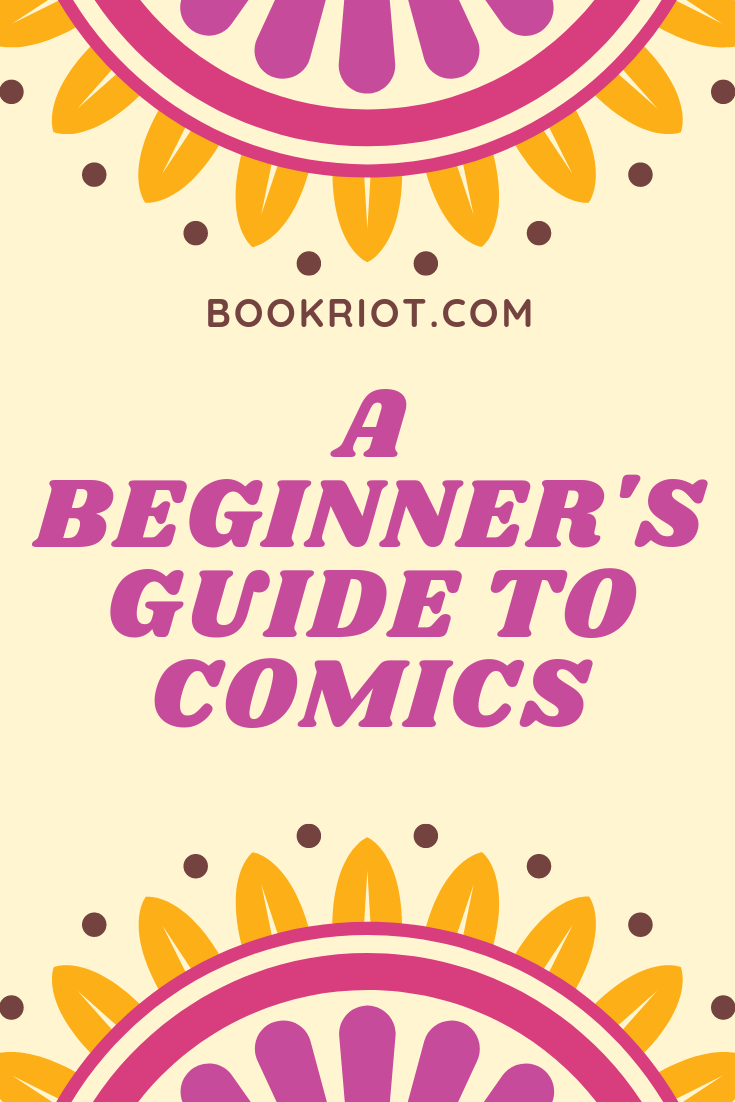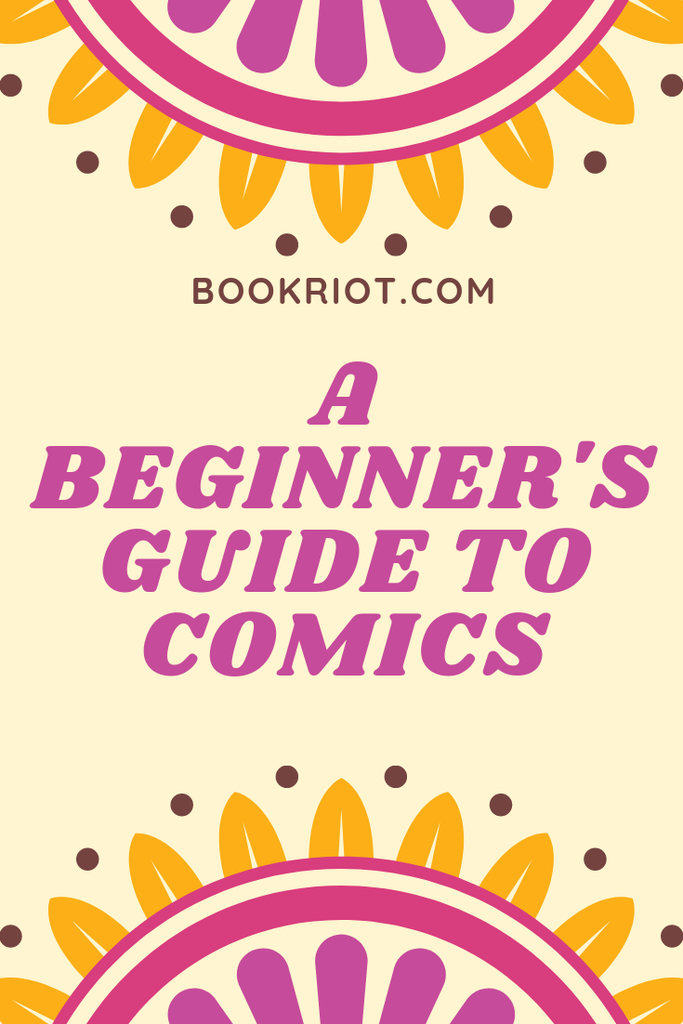 Where Can I Find Comics?
Digital Comics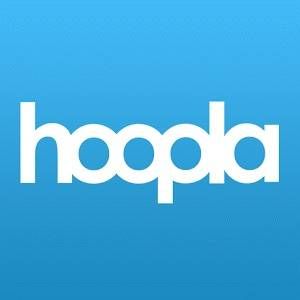 I read most comics on my iPad. Mostly, I use Hoopla Digital, a free online streaming resource that is provided by most libraries. I have, ahem, two library cards. One is for a larger library system, so I use that card with Hoopla, because I have access to 12 items a month. Hoopla items are always available, so you won't have to wait forever for a book to become available like with Overdrive and Libby. The only catch is that you're quantitatively limited on what you can check out each month.
If you're planning on becoming a prolific comic book reader, and plan on reading more than 5–15 comics a month, you'll need to pick a different service for your comics. There are options. I use Amazon's Comixology, because it's convenient. The app is on my iPad, I buy the comics through Amazon (1-click buy, just like a Kindle), and it automatically downloads. It's too easy, really, because I buy way too many comics. You can also use Marvel Unlimited for $9.99/month or DC Universe for $7.99/month if you're interested in the superhero comics.
Single Issues
What if you don't have a tablet, or prefer to have a physical copy of a book in your hand when you read? There's always the option, if you're able, to get single issues of comic books from a comic book store. There's a nifty little website called ComicList that will help you figure out when single issues of comics will be released. But, if that's not an option, instead of buying singles, which can run $5 an issue, you'll probably want to buy trade paperbacks.
Trade Paperbacks
Trade paperbacks (or just trades) collect single comic book issues into a complete story. If you enjoy cliff hangers, unresolved story arcs, and paying $5 for fifteen pages of content, you'll enjoy single issue comics. If you want a more complete story, you'll want to find a trade paperback. Trades can be found at the library, most bookstores, or online. This is the only way I buy comics. It's too expensive to buy the single issues.
**Quick Tip**
If you're used to reading books, it can be disorienting to start reading comic book panels. The biggest complaint I hear about comic books is that the type is too small to read. A solution to the "I can't see the print; therefore, I can't read this book" problem is to read the books on a tablet. That way you can read each panel zoomed in, and there's no problem seeing the print.
Now that you know how to find and read comics, how do you decide which comics to read first?
A First Comic Book Reading Guide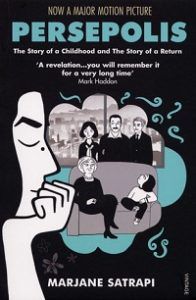 I didn't start with comics. I started reading graphic novels, loved them, and then decided to convert to comics. The first graphic novel I ever read was Maus by Art Spiegleman. This is where a lot of people start. Maus won the Pulitzer Prize in 1992 and garnered critical acclaim for a medium that had been given little to no serious respect since its inception. Like Maus, Marjane Satrapi's Persepolis is also very popular. It's Satrapi's graphic memoir of growing up in Iran. Graphic memoirs, in general, would be a great place to start if you're used to reading prose, and you haven't yet oriented yourself to reading thought bubbles and captions.
We have a couple guides if you'd like to get start with graphic memoirs:
100 Must- Read Graphic Memoirs
Love Nonfiction? Try These Moving Graphic Memoirs
Okay, now you're hooked and you want to try something new. In fact, you'd like to try a superhero comic series or fantasy or just something great. Where do you go from here?
Well, that depends. If you're looking for superheroes, Marvel and DC comics are a great place to start.
DC & Marvel Comics/Superheroes
If you like Batman, Superman, Suicide Squad, Justice League, and Wonder Woman you'll want to read DC comics. Some of the most popular DC comics have been Alan Moore's Watchmen and Frank Miller's Batman: Year One and Batman: The Dark Knight Returns. These are classics, and a great place to get started.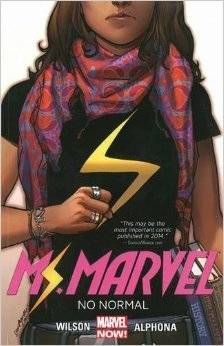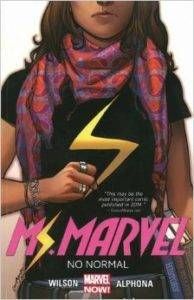 If you're into Iron Man, Thor, Captain American, Guardians of the Galaxy, and Spider-Man (and you enjoy all the Avengers movies) you'll want to read Marvel comics. I read more Marvel comics than DC (probably because I'm inundated with the MCU everywhere I go, and I've just found it easier to give in than to fight it). I think the Marvel Universe is more varied and diverse, and a little more light-hearted. I generally don't read the main Avengers' stories (Thor, Captain America, Iron Man). I prefer the side characters like Kate Bishop's Hawkeye, Moon Girl and Devil Dinosaur, Black Widow, Kamala Khan's Ms. Marvel, The Vision, Black Panther, America Chavez, She-Hulk, or Squirrel Girl.
It's completely up to you and your taste. Where you start reading comics is very subjective.
I enjoy superhero comics, but my first love is the quirky, odd ball comics that exist outside of the Marvel/DC Universe.
Non-Superhero Comics, AKA What I Read
Outside of Marvel and DC, some of the best comic book publishers are: Image, Dark Horse, Vertigo (owned by DC), Valiant, Archie Comics, Dynamite, IDW, Fantagraphics, Oni Press, Drawn & Quarterly, and BOOM! Studios. These publishers range from superhero-friendly to not-a-superhero-in-sight. Many are independent publishers, and some of these titles were never released in single issues (which technically makes them graphic novels (?), but let's not quibble).
Image Comics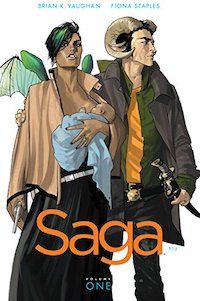 Saga by Brian K. Vaughan and Fiona Staples (my favorite series)
Rat Queens by Kurtis Wiebe and Roc Upchurch
Sex Criminals by Matt Fraction and Chip Zdarksy
Pretty Deadly by Kelly Sue DeConnick, Emma Rios
Papergirls by Brian K. Vaughan, Cliff Chiang, and Matt Wilson
Prism Stalker by Sloane Leong
Infidel by Pornsak Pichetshote, Aaron Campbell, José Villarrubia, Jeff Powell
Unnatural by Mirka Andolfo and Milo Manara
Monstress by Marjorie Liu, Sana Takeda, Russ Wooton, Yoshi Yoshitani, and Jennifer M. Smith
Vertigo
Transmetropolitan by Warren Ellis, Darick Robertson, Rodney Ramos, Garth Ennis, Nathan Eyring, and Patrick Stewart
Y: The Last Man by Brian K. Vaughan, Pia Guerra, and Jose Marzan Jr.
Sandman by Neil Gaiman, Sam Keith, Mike Drigenberg, Malcolm Jones III, Todd Klein, and Karen Berger
Dark Horse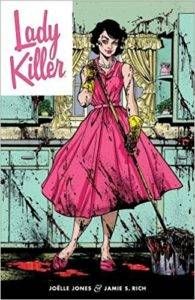 Black Hammer by Jeff Lemire, Dean Ormston, and Dave Stewart
Hellboy by Mike Mignola and John Byrne
The Umbrella Academy by Gerard Way, Gabriel Ba, and Dave Stewart
Find MGMT by Matt Kindt and Damon Lindelof
Lady Killer by Joelle Jones, Jamie S. Rich, Chelsea Cain
Valiant
Faith by Jody Houser, Francis Portela, Marguerite Sauvage, Andrew Dalhouse, Dave Sharpe, Joe Quinones, Stephanie Hans, and Michael Spicer
Harbinger by Joshua Dysart, Khari Evan, Lewis LaRosa, Ian Hannin, and Mico Suayan
Generation Zero by Fred Van Lente, Francis Portela, Derek Charm, Andrew Dalhouse, Dave Sharpe, and Steven Mooney
Archer & Armstrong by Fred Van Lente, Clayton Henry, Matt Milla, Dave Lanphear, and Mico Suayan
Dynamite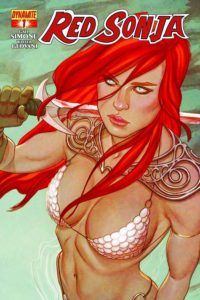 Nancy Drew by Kelly Thompson, and Jenn St. Onge
Red Sonja by Gail Simone, Walter Geovanni, and Jenny Frison
Archie
Archie comics are what their name portends: comics about Archie, Riverdale, and the side characters that exist within the Archie universe. Those side characters include: Betty, Veronica, Jughead, Reggie, Sabrina Spellman, and Josie and the Pussycats.
If you want a better idea of where to start with Archie Comics, try this guide.
IDW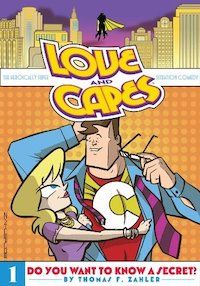 Locke and Key by Joe Hill and Gabriel Rodriguez
Transformers: More Than Meets the Eye by James Roberts, Nick Roche, and Alex Milne
Love and Capes by Thomas Zahler
Fantagraphics
My Favorite Thing is Monsters by Emil Ferris
Drawn to Berlin: Comic Workshops in Refugee Shelters and Other Stories From a New Europe by Ali Fitzgerald
Love and Rockets by Gilbert, Jaime, and Mario Hernandez
Oni Press
Aquicorn Cove by Katie O'Neill
My Boyfriend is a Bear by Pamela Ribon and Cat Farris
Spectacle by Megan Rose Gedris
Drawn & Quarterly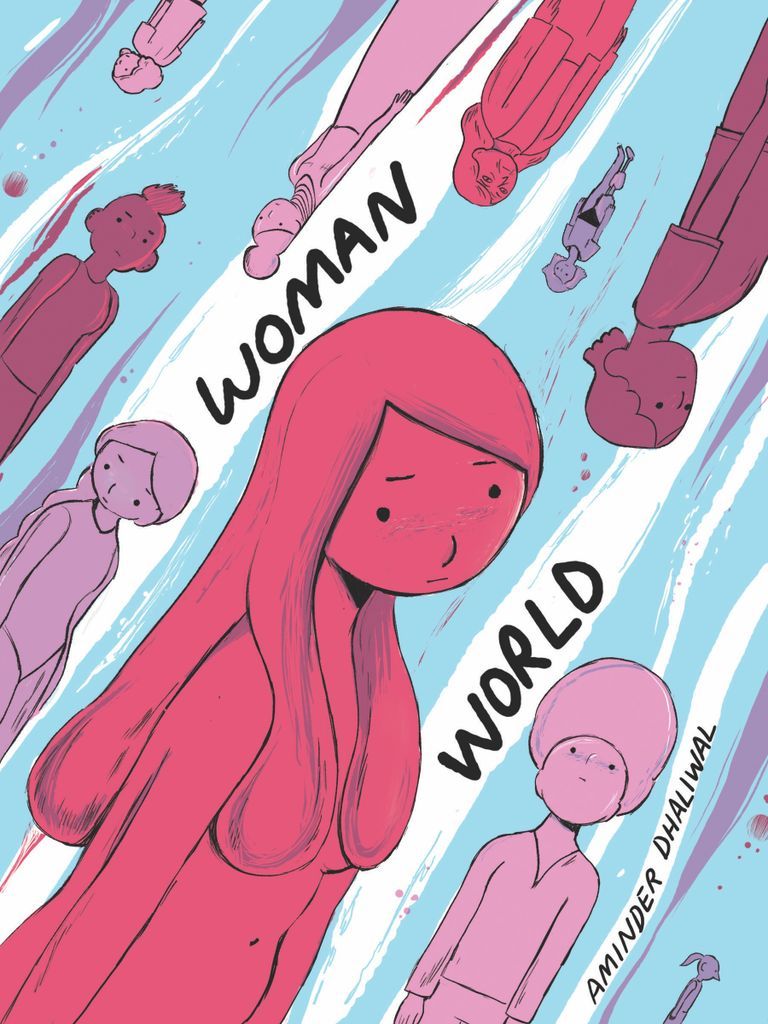 Sabrina by Nick Drnaso
Coyote Doggirl by Lisa Hanawalt
Woman World by Aminder Dhaliwal
BOOM!
Coda by Simon Spurrier, Matias Bergara, Michael Doig, and Laura Allred
Giant Days by John Allison, Lissa Treiman, and Whitney Cogar
Lumberjanes by Noelle Stevenson, Grace Ellis, Faith Hicks, Brooke Allen, Shannon Watters, Kat Leyh, Brooke Allen, and Carolyn Nowak
Goldie Vance by Hope Larson and Brittney Williams
The Diversity Problem
Comics have a diversity problem. Recently, some comic book publishers have been making a valiant effort to include more diverse voices, but the problem persists. Here are a few of my favorite diverse comics:
Diverse Comics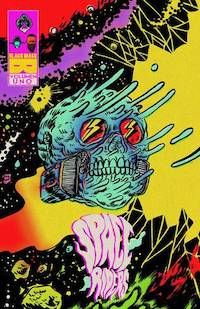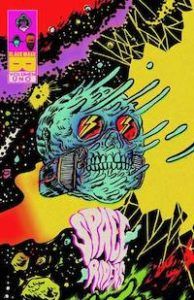 La Borinqueña #1 by Edgardo Miranda-Rodriguez
Andre the Giant by Brandon Easton and Denis Medri
Malika by Roye Okupe, Chima Kalu, and Raphael Kazeem
Deer Woman: An Anthology by Elizabeth LaPensée, Allie Vasquez, and Jonathan R. Thunder
The Outside Circle by by Patti Laboucane-Benson and Kelly Mellings
Space Riders by Fabian Rangel Jr. and Alex Ziritt
Black Panther by Ta- Nehisi Coates and Brian Stelfreeze
Bingo Love by Tee Franklin, Jenn St. Onge, Joy San, and Cardinal Rae
The Less Than Epic Adventures of TJ and Amal Vol. 1: Poor Boys and Pilgrims by E.K. Weaver
My Brother's Husband by Gengoroh Tagame (this is the only manga I've included on the list, so if you're interested in manga, I'll include a link at the end)
And if you want more diversity in comics, make sure you support the comics when they're published! Too often a great comic book will get released to critical acclaim, only to be subsequently canceled due to poor sales. If you want them (AND WE DO WANT THEM!) you must support them!
Need more? Try Book Riot's other guides to comics: A Beginner's Guide to Manga, A Beginner's Guide to Star Wars Comics, A Guide to Comic and Graphic Novels for Reluctant Readers, or the Comics/ Graphic Novels Archive!