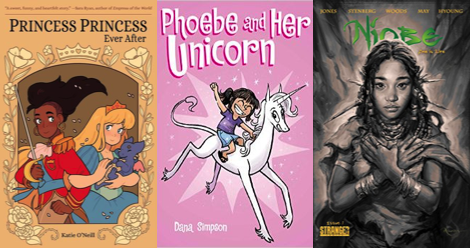 Comics Newsletter
A Guide to Comics, Webcomics, and Graphic Novels for Reluctant Readers
This content contains affiliate links. When you buy through these links, we may earn an affiliate commission.
I remember reading an article a long time ago about giving Calvin and Hobbes to reluctant or struggling readers. Whatever the article was, or wherever I found it, it stuck with me, and has guided my idea of reading and how to present reading to young readers. Few things are more tragic than a young child telling you they hate reading. But it's no wonder: we scare kids away from books with reading levels and preconceived notions of what an appropriate book looks like.
That's why reading Calvin and Hobbes and other comics to young readers is such a good idea. It makes sense: the comics page of a newspaper used to be a beloved section for kids. The writing is short, there are pictures, and the characters are funny. Most kids are visual learners, so why not include pictures with words? In the past few years, graphic novels have surged in children's publishing. What was once only found at a comic book store or in a newspaper can now be checked out in school and public libraries, and that's a game changer.
So, encourage your child to read with comic books, comic strips, webcomics, and graphic novels. You can check them out at the library, buy them, or read them online—the choice is yours!
Webcomics
Many small towns don't have a comic book store, but webcomics can help make up for the deficiency. Webcomics come in all different shapes and sizes, but they're a great novelty, and many webcomics have been collected, published, and released as books.
Here are a few of the best webcomics for kids:
(First, check out this awesome list of Harry Potter webcomics. I don't know that they're all kid-appropriate, but it's always a good idea to check out internet stuff before your kids look at it anyway!)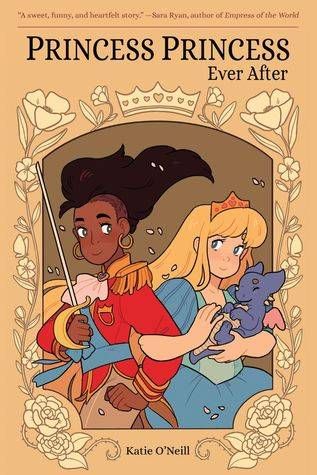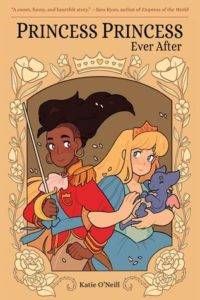 Princess Princess by Katie O'Neill would be great for fans of Lumberjanes or Nimona. This webcomic is about two princesses who "take their happily ever after into their own hands."
Sheldon Comics by Dave Kellet is, according to the website, about: "this odd little family: A boy, his duck, and the grandfather that raises them both." It's really adorable and touching.
Breaking Cat News by Georgia Dunn is CNN style news for…cats. This is a comic for cat lovers.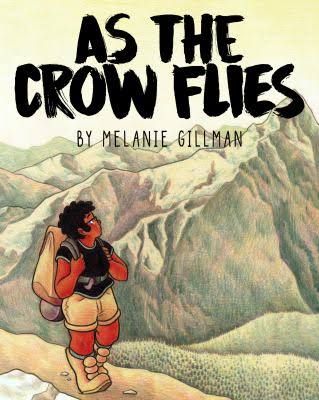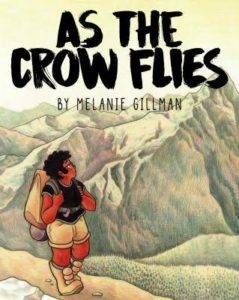 As the Crow Flies by Melanie Gillman is about a thirteen year old queer girl who gets sent to an all-white Christian summer camp. I'm sure this is equal parts horrifying and hilarious.
JL8 by Yale Stewart is one of my favorites. It's the story of the superheroes when they were in elementary school.
Solstoria by Angelica Maria is about a girl who trains to be a knight after her brother disappears. I mean, girls kicking some ass…come on, try to resist!
Also, just as a bonus, I found this short webcomic explaining the difference between Latino and Hispanic, and I loved it: You Say Latino by Terry Blas.
And, if you're still confused about webcomics, or their formatting, or how to find them, check out this guide!
Comic Strips
Comic strips are defined as: a sequence of drawings in boxes that tell an amusing story, typically printed in a newspaper or comic book. Some webcomics can be comic strips, but comic strips and comic books are different, which I'll explain next, but first:
Here are a few of the best comic strips for kids:
Obviously, Calvin and Hobbes by Bill Watterson.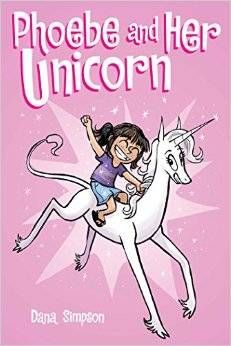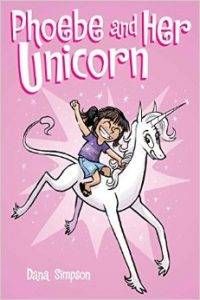 Phoebe and Her Unicorn by Dana Simpson
This is one of by favorite comics, and it started out as a webcomic. It's like Calvin and Hobbes—just swap Hobbes for a unicorn, and you'll know what you're getting into!
Peanuts by Charles Schulz
Again, obviously.
And, The Far Side by Gary Larson, because every year, as a kid, we'd buy my dad a tearaway Far Side calendar just so we could tear the page everyday to read the new joke.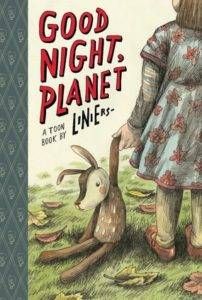 I'm also going to include TOON Books here. They publish comics for early readers. They have books by Kevin McCloskey, Elise Gravel, and Jeff Smith. I highly recommend checking out their books, and BONUS: most of these books can also be checked out at the library!
Comic Books
Comic books are longer than comic strips, and rely on action. A comic book is generally released in periodicals, and each issue is short—around thirty pages. Once a complete story is told, the issues might be collected and republished in volumes, and is generally called a graphic novel, which may or may not be the correct terminology. (Also, if you live near a comic book store, May 5, 2018 is Free Comic Book Day, which is a day that the comic book stores have free samples of comic books.) Anyway:
Here are a few of the best comic books for kids: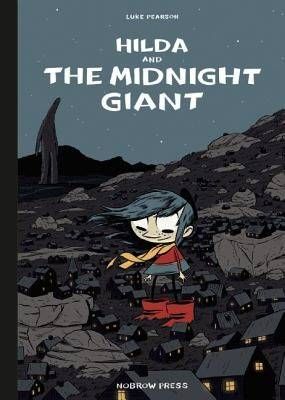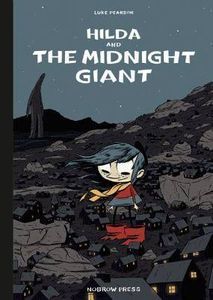 Hilda by Luke Pearson
This is a lovely comic about a little girl who has adventures in the magical land surrounding her home.
Adventure Time by Ryan North, illustrated by Braden Lamb and Shelli Paroline
Princess Bubblegum, Jake the Dog, and Finn the Human go on an adventure in the Land of Ooo– need I say more?
My Little Pony: Friendship is Magic by Katie Cook
If I need to tell you what My Little Pony is about, well, these comics might not be for you, but they're my niece's absolute favorite.
Ms. Marvel by G. Willow Wilson, illustrated by Adrian Alphona
This is the kind of superhero comic I love—it's funny, the characters are likable and relatable, and far from perfect.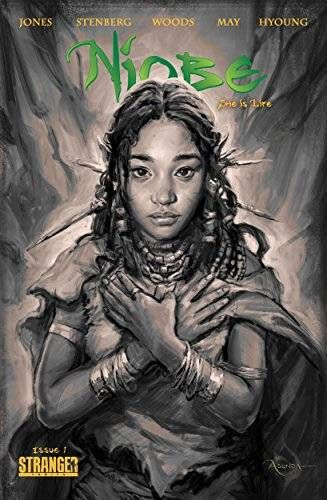 NIOBE: She is Life by Amandla Stenberg, illustrated by Sebastian A. Lones
This is about an orphaned elf teenager on the run from her past. It's full of action and would be great for teenagers.
Monstress Vol 1 by Marjorie Liu, illustrated by Sana Takeda
It's set in a matriarchal society, deals with war, has great characters, and beautiful artwork. This would also be more appropriate for older readers.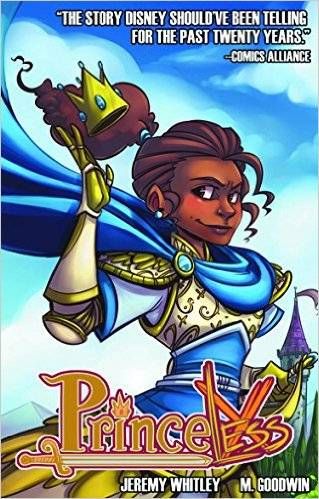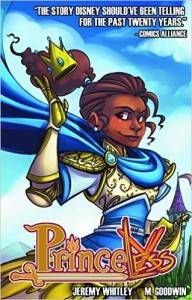 Princeless by Jeremy Whitley, illustrated by Mia Goodwin
A story about a princess that's tired of waiting around for a prince, so goes on a quest with her dragon and best friend.
Graphic novels
A graphic novel is simply: a novel in comic book form. It is published at once and in its entirety. Some comic books can be collected and called a graphic novel, but there's still the important difference between the two formats: a graphic novel has one cohesive story that has a foreseeable ending, while comic book stories can continue for years (see: any of the superhero comics).
Here are a few graphic novels for kids:
Roller Girl by Victoria Jamieson
The best part about this graphic novel is its illustrations. They remind me of old cartoons I used to watch as a kid. The sky's always bright blue, there's not a lot going on in each frame, very colorful, and very kid- friendly. Also, it's got a great story!
Binky the Space Cat by Ashley Spires
Binky is a space cat (he's not) and he wants to go into outer space (outside). I literally can't resist a book with a cat.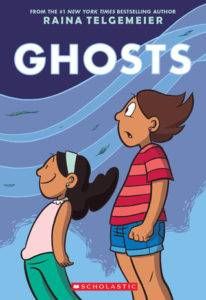 Ghosts by Raina Telgemeier
Any of Raina Telgemeier's books could have been put on this list. She's brilliant. Her books are brilliant, but this might be my favorite. It's about a family that moves to a new home because the youngest daughter has cystic fibrosis. It's sad, but endearing.
Anya's Ghost by Vera Brosgol
After falling into an old well, Anya discovers that she's brought a ghost up with her, and the ghost wants to be her friend.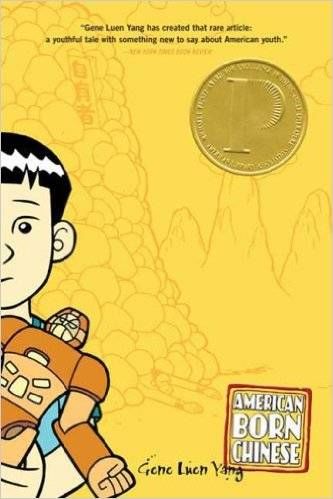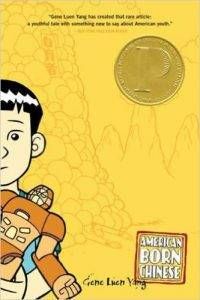 American Born Chinese by Gene Luen Yang
Three storylines that come together into a pretty nice little twist. This is a book about identity and fitting in.
Diary of a Wimpy Kid by Jeff Kinney
Kids love these books! Don't deny them!
The Red Tree by Shaun Tan
You don't even need to be able to read to enjoy Shaun Tan's books, because they're all silent graphic novels. Shaun Tan is an outstanding artist.
Amulet by Kazu Kibuishi
Think: Coraline, meets Harry Potter, with a dash of the Chronicles of Narnia, plus awesome pictures.
Also, try novels that have been adapted into graphic novels, like:
Miss Peregrine's Home for Peculiar Children by Ransom Riggs, illustrated by Cassandra Jean
The Graveyard Book by Neil Gaiman and adapted by P. Craig Russell
A Wrinkle in Time by Madeline L'Engle, adapted by Hope Larson
Monster by Walter dean Myers, adapted by Guy A. Sims and Dawud Anyabwile
If this list didn't have what you were looking for, try these:
ALA's exhaustive guide to graphic novels for kids
Scholastics' Guide to Using Graphic Novels With Children and Teens
I didn't include manga on this list because I don't know enough about it, but I know kids love it, so here's a beginner's guide that might help!
I hope this guide to comic books, comic strips, graphic novels, and webcomics can help a reluctant reader, or a kid that's said they don't like reading, because I believe if given a chance, every kid can find a way to love reading!